Oneness with sound
Dr. Usha Arunachalam gave up her successful career of 20-years in Biotechnology to become a student again of Indian classical music under Pt. Shyamrao Kulkarni, and to help propagate and preserve his music. At INK2012, the duo performs a breathtaking rendition of Raag Nand.
Recorded at INK2012, Pune, India
About the Speaker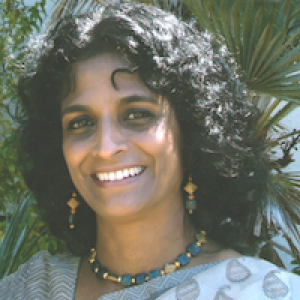 Bio-Technologist, Hindustani Vocalist
Dr. Usha Arunachalam is a biotechnologist with over 20 years of business experience with biotech companies, especially early-staged biotechnology companies. She currently consults for IndUS Pharmaceuticals, an India-US cross border biotechnology company. Since 2008, she spends most of her time in learning, preserving and propagating classical Hindustani Music. Her chance encounter with Pt. Shyamrao Kulkarni was a turning point in her life, since which she has dedicated herself to music. In addition to learning music from Pt. Shyamrao Kulkarni, she has assisted him in writing his books on "Shyamrao Gharana" and continues to assist him with book translations and other publications. Prior to 2008, Dr. Arunachalam was VP of Business Development and led the business development and strategic efforts of FivePrime Therapeutics, a privately held early-stage biotechnology company in California. At Fiveprime she was an integral member of the executive team and was instrumental in raising more than $ 120 MM in near term investments for collaborative research from strategic partners, primarily large Pharmaceutical companies. Her group was also responsible for all in-licensing and out-licensing activities, and the management of collaborations with both strategic and academic partners. Prior to joining FivePrime, she served as Vice President, Business Development at Intrabiotics and served as a member of the executive team. Prior to joining Intrabiotics, Dr. Arunachalam was Sr. Director of Business Development at Kosan Biosciences, where she was responsible for all in- and out-licensing and business development activities for multiple projects. Among her many accomplishments at Kosan Biosciences, Dr. Arunachalam was instrumental in identifying, initiating, structuring and negotiating a major agreement with Roche to globally co-develop and co-commercialize an anti-cancer drug candidate then in Phase I clinical trials; a deal that was valued at >$220 MM and provided Kosan over $ 70 MM in near term research and development funding. Further, at Kosan she also was responsible for in-licensing the geladanamysin portfolio from NIH and established 2 large CRADAs with the NIH, which resulted in the successful acquisition of the company by BMS. Prior to Kosan Biosciences, Dr. Arunachalam was Associate Director at Chiron Corporation (now acquired by Novartis), a publicly traded global biotechnology company. Here she was responsible for research strategy, strategic planning and business development and reported directly to the Head of R&D. Dr. Arunachalam received her Ph.D in Biochemistry from the Indian Institute of Science and received a pre-doctoral fellowship from University of Michigan to work on her thesis. She received her MBA from UCLA's Anderson School of Management.
View Profile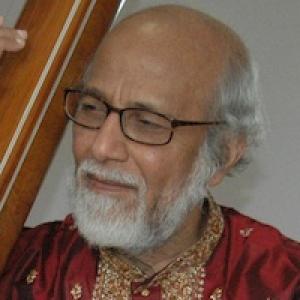 Hindustani Music Guru
Pandit Shyamrao Kulkarni is a doyen of North Indian Classical Music. He is a vocalist of the highest caliber, whose voice provides an effortless rendition of his musical thoughts as he creates beautiful expositions of various raagas. The typical description of an Indian classical musician starts with a description of his gharana or his musical lineage. But such a description would serve little purpose in describing his music. He does indeed have an exalted musical lineage as he was taught by Bhimrao Kulkarni and Ingle Bua of the Gwalior Gharana from a very early age. During his formative years he also had the opportunity to closely interact with many Indian Music stalwarts of the time from many other gharanas. As he analyzed and dissected their music he acquired and improved upon many elements of style from the strict and somber khayal singing of Vilayat Hussain Khan of Agra Gharana to the light qawwali singing of Shankar Shambhu. Of particular formative influence during his younger years was the musical style of Ustad Alladiya Khan as delivered by the likes of Kesarbai Kerkar and Anandrao Limaye. His music, however, eventually evolved beyond what can be described by a listing of musical lineage. In his music sur (notes) and taal (rhythm) find a perfect balance. The unfolding of a raag is always thought out in a manner such that the various musical phrases fit together into a consistent whole. Nothing is performed merely for the sake of a display of virtuosity. Instead notes flow with accuracy and grace in service of a greater aesthetic of creating an artful whole. Pandit Kulkarni never actively pursued a career in the concert circuits, preferring instead to focus on his music. He has, however, been highly respected and regarded by musicians and connoisseurs in Maharashtra, India, for the last six decades. He has written many widely acclaimed books in Marathi, Hindi and more recently in English on various aspects of Indian music. Now in his seventh decade, he has been thinking about the most efficient and streamlined way to teach North Indian Classical Music. To this end, he has created a unique functional classification of raagas based on similarity of their characteristic melodic patterns and he is continuing to write and publish new books. He also continues to occasionally provide lecture demonstrations and performances to share his music with lovers of Indian Music.
View Profile