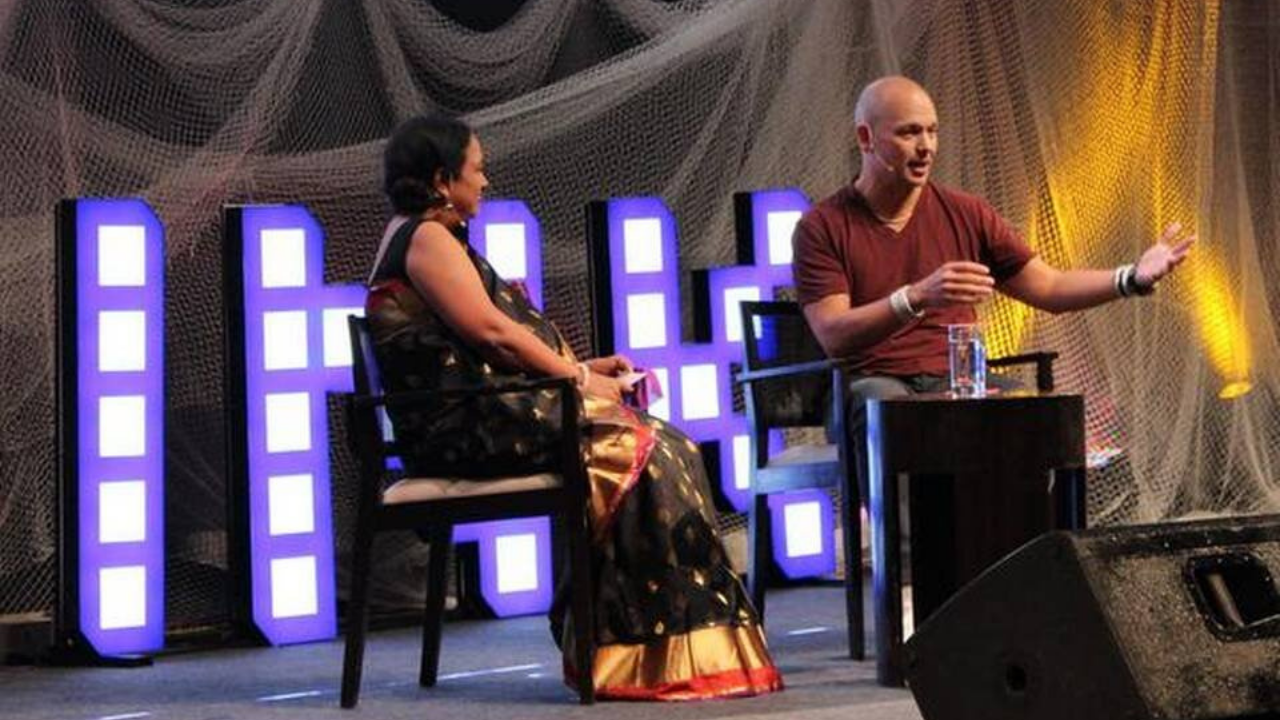 In a rare interview, deep-tech godfather Tony Fadell talks going greener in 2019, the Indian tech-preneur space, and the realities of productive failure and success
A packed room of 500 — delegates, speakers, fellows, staff and volunteers all sit in total silence, engrossed in the trailer of General Magic: The Movie, ahead of Tony Fadell's speaking session at INKtalks 2018 in Hyderabad on December 1. Tony — iPod inventor, iPhone co-inventor, Nest founder, and Principal at Future Shape — who's featured in General Magic as a much younger Tony with thick golden locks, rubs his head, joking, "Now I'm Tony 2.0."
We've seen fantastical Tonys across pop culture and technology, Stark and otherwise, but the celebrity of Tony Fadell is clearly stratospheric. It's funny to think the man who's been vocal about tech addiction remains one of the biggest names in technology.
In an exclusive interview , he talks about his brainchild Future Shape LLC, which isn't your run-of-the-mill investment and advisory firm… then again, we can't expect run-of-the-mill from Tony. Working hand-in-hand with some of the most innovative technologists and entrepreneurs, Future Shape is all about aggrandising foundational deep technology, disruptive in all the right ways — just like what was done at General Magic who were one of the biggest revolutionaries in hand-held communications devices in the early 1990s.
INK, meet iPhones
For Tony, creating the iPhone wasn't about creating an iPhone: "The iPod in 2004, started to see how people were really starting to become all about their mobile phones. The mobile phone companies and the carriers got jealous of the iPod. They thought 'It's just a processor and a speaker; we got all that stuff. We can just put it on our phone. So here's Apple finally starting to see traction as iPods were 50% of sales and we go, 'Uh oh, these guys are going to take that away because people want to carry just one thing in their pocket.' First we were going to put iTunes on mobile phones, working with Nokia and Motorola. It didn't go well. That's where it really hit all of us that we'd have to leapfrog ourselves."
The now is green
Future Shape has invested in Modern Meadow, a biofabrication pioneer that has created a cow-free alternative to leather. So what does 2019 have in store for Future Shape? More link-ups? What about green tech? "For sure! It's what we do at Future Shape, we invest so we can do what really matters — coach the next generation of engineers, scientists, and entrepreneurs. We are finding innovative, disruptive technologies that will not only change industries, but also change our future and quality of life," nods Tony. "When it comes to green tech, it's about finding entities which cater to the planet and the consumer; it has to be scalable and accessible."
In fact, the Climate Change Act 2008, courtesy of the Intergovernmental Panel on Climate Change (IPCC), is just 10 years old to the day. The bill was simple, introducing a law to compel current and future governments to cut greenhouse gases by a little bit year on year. With this in place, one can argue more technologists are given a green-friendly playground upon which to innovate and thrive, with little governmental intervention.
Tony shares that "International friendly business regulations and practices will be important for ongoing and larger growth. Even more importantly though, we need more startups who are challenging the big corporations in how they are doing things. Entrepreneurs have the opportunity to disrupt the traditional and drive a new way of thinking and doing."
Tony adds that during the first 10 to 15 years of his career, he experienced a lot of failure, but sees failure as a key to success, explaining, "Each failure teaches you something and prepares you to create a product that people not only want, but need. And you learn a lot during this time of failure. You can't be afraid to fail, and be so risk-adverse that you don't think outside the box or do things differently. India is still developing its startup ecosystem. Silicon Valley is a product of 50 to 60 years. It takes a decade or two decades to replicate Silicon Valley; it takes entrepreneurs failing because that's the way we learn."
An INKprint on India
Hyderabad has been likened to a thriving Silicon Valley, but with its own valuable and unreplicable trademarks as Tony agrees, "What I love about entrepreneurs in India is the ties to their culture. So many of the entrepreneurs here at INK India have seen a problem unique to their community and have acted on it. To be successful, founders need to do something completely new, not copy tech already out there in attempts to bring it to their country; they need to resolve a problem that resonates with their community. Be it to do with river cleanup and waste or with infrastructure, INK India showcased these ideas and creativity that has roots in the community. My advice at the end of the day is, be authentic, show how you are solving a real problem, and be able to show actual market demand."
Tony's time in India has been rewarding. He's utterly unaware of the wide-eyed glances he receives as he navigates through the crowds at INKtalks, giving a cheery hello to delegates and speakers alike. And he's just like everyone else, especially when he adds that the previous evening, he had biryani at Shah Ghouse.
(Written by Divya Kala Bhavani. Originally published by The Hindu on December 3rd, 2018)