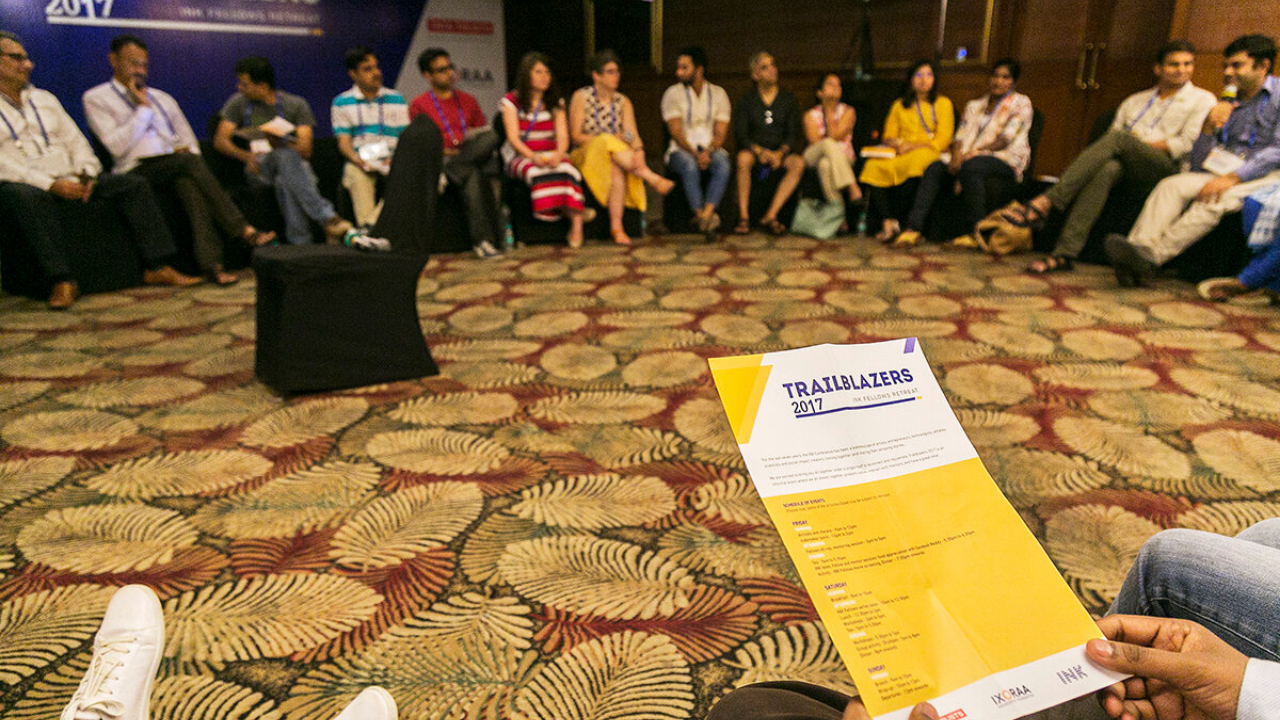 "Trailblazers 2017", a special retreat for the INK Fellows, was held from March 10-12 at Clarks Exotica Resort in Bangalore. 35 INK Fellows (in addition to INK staff, carefully selected mentors and other special guests), with their unique stories and lofty aspirations, gathered under one roof to exchange ideas, hold discussions with mentors, build collaborations, learn from workshops and work towards the next step in their journeys!
Day 1 – Let's sit back and talk
Day 1 began on Saturday with a light lunch and a sit-back session, hosted by Founder and CEO of INK, Lakshmi Pratury. Anu Sethuram and Lalitesh Katragadda, the Fellows co-chairs, welcomed everyone to the retreat and gave a brief introduction of the agenda.
"INK Fellows became Fellows because they are already extraordinary. Let other people help you be more extraordinary"
The Fellows present took turns giving 3 minute updates where they talked about their work and outlined the specific areas they needed help with, to take their work further. The conversation was interspersed with comments and advice from our carefully selected group of mentors and other Fellows, who exchanged ideas and brainstormed. A very interactive and hopefully valuable session!
On a lighter note, Zorba's Sarvesh Shashi shook the audience out of their talking-induced daze during half-time with a few fun (and confusing!) fitness exercises.
The long evening ended with dinner and a food appreciation session with chef Sandesh Reddy, who took the group through a sensory experience on how to savor the taste of different foods (hint: the trick is to attune yourself with surrounding smells!). Not to forget, the delicious chocolate brownies from Sandy's also made an appearance!
Day 2 – Fellows Series Salon
"Alone we can do so little; together we can do so much" – Helen Keller
The above quote pretty much summarizes Day 2 of Trailblazers 2017, which kicked off with a special Fellows Series Salon, carrying the theme "Collaborations". Quite a perfect theme, considering the thinkers and changemakers gathered there! The morning opened with a musical performance by Joi Barua followed by an opening note by Fellows co-chair Anu Sethuram. Lakshmi Pratury took the stage and talked on the importance of collaborations between different entities to create change for good, while also narrating a humorous childhood memory involving grape juice and her father.  "Memories make connections", she said and encouraged the audience to share their own. 
The first speaker was Sanjay Swamy, Managing Partner of Prime Venture Partners, who spoke on his passion – creating financial services to cure social problems. Vidya Laxman, Technology Director at Tesco followed up and took the audience through her 5 mantras to build a successful corporate career.
Next up was Madan Padaki, CEO of RubanBridge, who talked about his work with Global Action on Poverty (GAP), an organization which builds and supports communities to eradicate poverty. Madan also unveiled GAP's #alittlechange movement towards this goal, from 12-17th March, 2017 and invited everyone to support the cause. (If you want to be a supporter too, go here!)
The next few talks were exciting updates given by our Fellows. Samyak Chakrabarty came up to introduce his new initiative X Billion Skills Labs, – he announced a special collaboration with INK, to empower at least a 100 women in Mumbai with skills such as coding so that they can earn the domestic respect and integrity they deserve.
Shannon Olsson followed up with a talk on her progress with environmental conservation of honeybees while Manvendra Singh Shekhawat delivered a visually rich update showcasing his collaborations with INK Fellows Joi Barua and Shubhendu Sharma to develop his stunning hotel in Jaipur. Sandhya Goli rounded things off by taking us through her various chess accolades.
Day 2 – Workshops!
Three exciting workshops were on the afternoon's agenda. Tarun Kochhar took participants on a short journey of self discovery, to define and shape their personal brand with his workshop, "The Business and you", while in "Designing Experiences", Bhanu Potta introduced the concept of Experience Mapping framework as a tactical in their pursuit to creating amazing experience around their initiatives.
True to the theme "Collaborations", film maker Ranjan Kamath hosted a workshop where he made everyone participate in a series of fun and wacky improvisation exercises to help develop a clarity over their understanding of disruption and collaboration, and connection between the two.
The event closed with a rousing Drumjam, led by social musician duo Vasundhara Das and Roberto Narain! With an energizing and rambunctious drum jam circle, they succeeded in getting the entire audience on their feet to dance (no doubt, it was a great form of stress release)! And so came the end to an action-packed weekend of networking, conversations, bonds formed and barriers broken. We hope the Trailblazers 2017 Fellows Retreat along with all the ones to come, open up vast new doors for further interesting and impactful collaborations between our Fellows, mentors and guests!