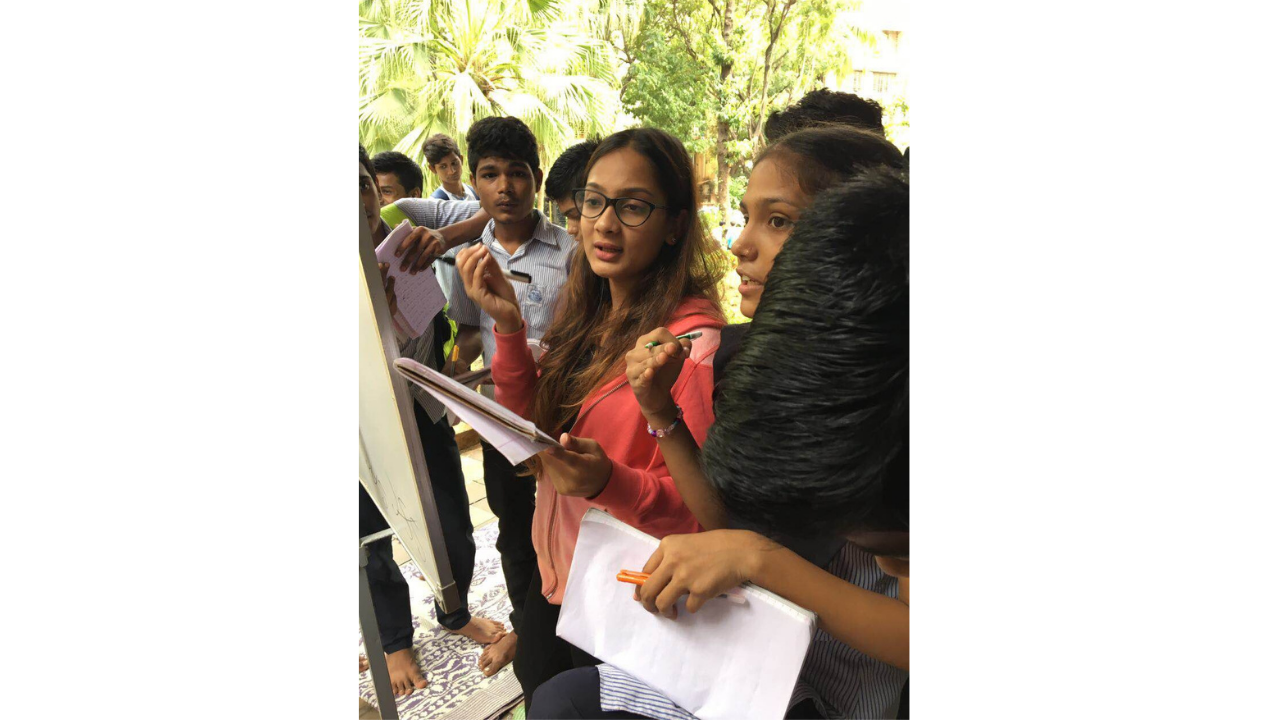 Blogger and fashionista Natasha Kothari is one of our returning INK Conference volunteers. An English literature and law student by day; she spends her evenings and weekends teaching English and Math to underprivileged children through the NGO Spark-A-Change. Always cheerful, smiling and ready to help, she is a favorite among the INK community! She also does some interesting work of her own in the social field. Below we have her talking about her inspiration and passion.
Q. Tell us a bit about your experience as an INK volunteer for the past few years?
When I came to INK for the first time my expectations were very different. Initially for me it was just another volunteering experience that would look good on my CV. Little did I know that it would be the place where I would live some of my best experiences, create some amazing memories and connect with such great people! Those 3-4 days of the conference are so exhausting and chaotic, everybody is just running around to get work done, so much needs to be organised and planned, to put up an excellent show.. But it is all worth it in the end, the whole environment is so positive and energetic, you feel lucky to be a part of something like this.
Q. You've been creating quite a buzz on the internet these days for some really amazing work you're doing. Tell us more about that and how it all started.
I started social work when I was about 15 years old and soon I knew that it was something I am passionate about and something that I would go on to do for the rest of my life. Blogging about it is my way of showing the world why it is so special to me.
I have always felt that limiting yourself or tagging yourself is not a good option. When I started blogging, I knew I was writing from the POV of a social worker/teacher, but I also knew that there always exists a side of me that loves fashion, food and all the other lifestyle-related stuff. Now if I were to stick to either of them, I would be limiting myself, so that's where the word "Tailor-Made" came into place. When you make your own rules, there are no limits! Following this, I realized whether you're poor or rich, it doesn't matter; everyone tends to have a positive self-image about themselves. But for the poor lot, only seldom do they get to show that to the rest of the world or do things to heighten it. This makes them feel inferior. That is why through my blog I started a project called "Beauty Lies In The Eye Of The Beholder" through which I give kids at my NGO, makeovers to show the world that there is really no difference between them and other normal teenagers and more importantly so that the kids feel empowered and confident. In one of my projects I even made one underprivileged kid and one not so underprivileged person do a photoshoot together and then posted it asking my readers if they can spot which one is who. Of course, they couldn't.
Q. What impact do you hope to spread with your initiative?
I hope that more and more youth of today get inspired into doing something useful for those with lesser means. We live in a world where everybody is so into themselves that they rarely have any time for others, let alone the underprivileged. The amount of power and exposure the youngsters of today have access to, makes them capable of great things. More than that, I want to bridge the gap people create between the have and the have-nots, and get rid of all the stereotypes that limits any kind of person living in our society today.
Q. On a personal level, what is the passion that drives you?
Well I have been through my own set of struggles from a young age and I realize what it feels like to be at your absolute rock bottom. It is one place I never want to go back to and neither do I want anyone else to. Besides that, I know I have the power to make a change, I know that if I want, I can make a difference and when you know you have the opportunity to make life better for someone else, you should make the maximum use of it. That is what drives me to do the work I am doing today!
To learn more about what she does and receive regular updates, follow Natasha's blog  tailormadeteacher. Maybe you can help and make a difference too! She has been featured in a number of articles in leading publications as well: Indiatoday, Yourstory, ScoopWhoop