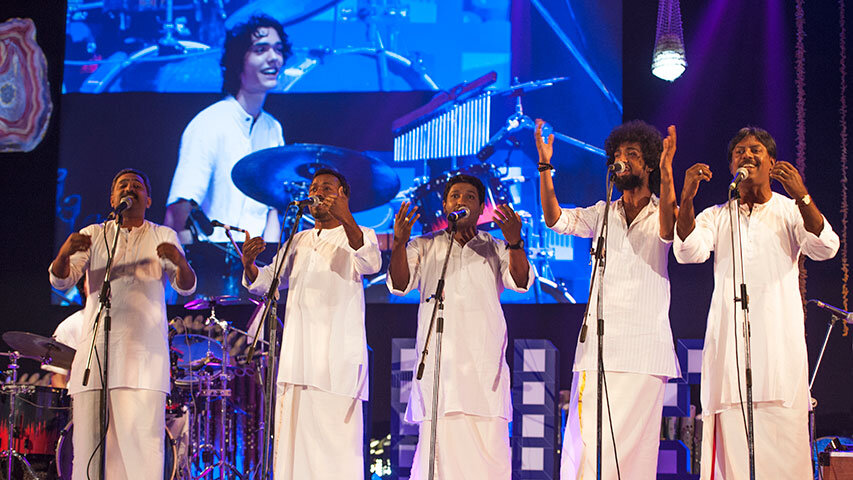 We try our best to mix serious with fun at the INK Conferences, to give you a break from all the talking and an opportunity to shake a leg! Watch some of the foot-tapping  musical performances we've had over the years on the INK stage and maybe you can dance along to the beats (like some of our enthusiastic INK members on the right)!
The Voice
Skyfall in a Sari
Legendary singer Usha Uthup is joined on stage by her daughter and granddaughter for some foot-tapping, soulful music. In a sari, no doubt!
New-age percussionist
Rhythm Jam
Celebrated percussionist Bickram Ghosh introduces the language of rhythm, and ends with a high-spirited, improvised performance on the tabla and drums.
Musical Duo
Boondan Boondan
Listen to Nirali and Kartik from Maati Baani narrate their approach to working with street musicians and also perform their most popular single, Boondan Boondan!
Vocal and percussion ensemble
Blue Throat Shiva
Clad in their distinctive white mundus, Kerala's Asima ensemble gives the ultimate jazz treatment to lyrics in praise of Lord Shiva with their funky beats.
Music director, composer
Singer, actress
Understanding Tagore
Musicians Shantanu Moitra and Monali Thakur perform some deeply moving songs of Rabindranath Tagore's compositions.
Singer and composer
Everyman's song
Raghu Dixit combines ethnic music and styles from all across the world to create his own unique blend of beats.
Classical Tabla ensemble
Tabla Ecstasy
In one of INK's favorite performances, the group Talavya rock the stage with their translation of classic Tabla into contemporary music.
Actress, singer
Tamil meets Assamese
With the tamil lyrics penned by the legendary actor Kamal Haasan himself, Shruti Haasan and Joi Barua perform "Prithibi Ghure" — a beautiful fusion of South Indian and Northeast Indian music.
Clarinetist, composer
Sound of the Hindustani clarinet
INK Fellow Shankar Tucker mesmerizes the audience with his soulful clarinet — a Western instrument he modified to play his distinctive Hindustani style.
Singer,actress
The Shah Hussain Project
Vasundhara Das romances the poetry of the 16th century Sufi poet Shah Hussain, beginning with the soulful "Saiyion Assi," followed by a song about divine love — "Range So Range," and ending beautifully with an original composition — "Tum Se."
Junk Percussion Band
Spirit of Mumbai
An enthusiastic group of children from the Dharavi slums in Mumbai along with musician Abhijit Jejurikar together form the band Dharavi Rockers. Creating music out of waste materials like dru barrels, paint cans and plastic bottles, the group waste no time in getting everyone jumping on their feet!
Happy listening!