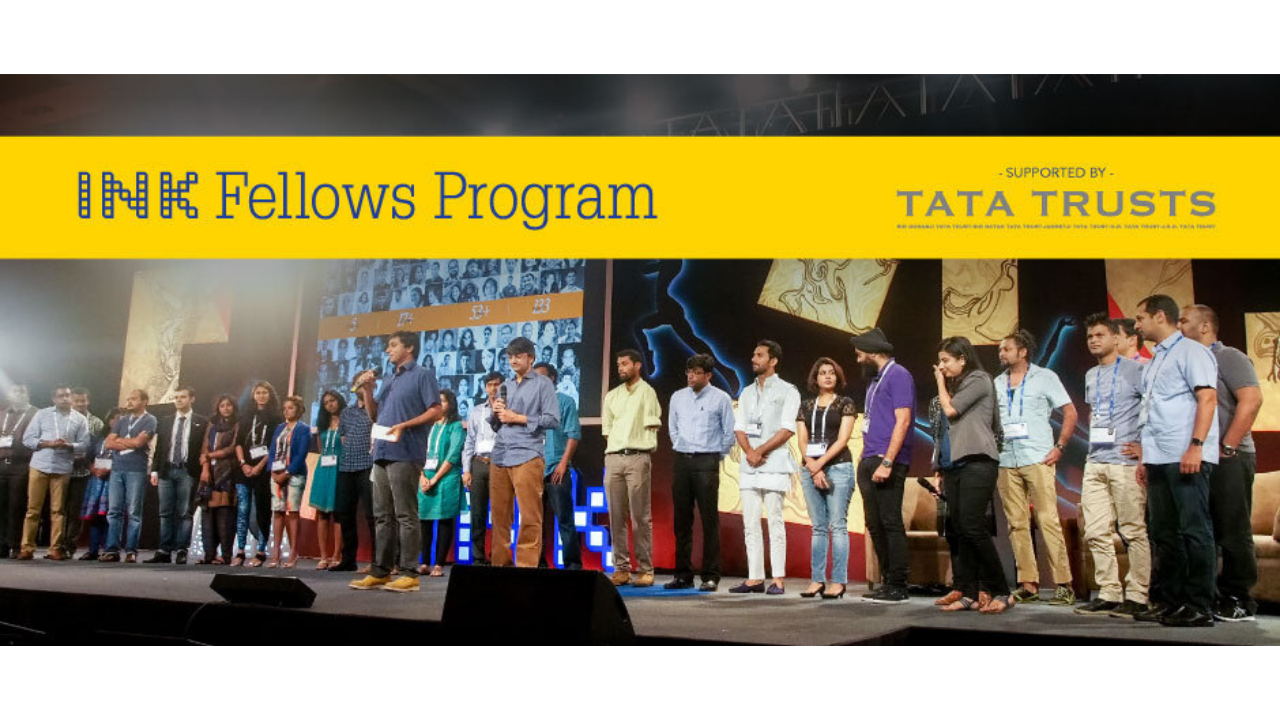 We always try keep upto date on the remarkable work our Fellows around the world are doing. Whether it be new projects, collaborations or launches, we want to be the first in line to know! So today we have a download on some of our Fellows' recent journeys, and some who have something interesting brewing in their lives. Scroll below and find out (you may want and be able to get involved/help out as well).
Artists
Following the amazing success of their 2014 installation, 'Pulse and Bloom', INK Fellows Shilo Suleman and Saba Ghole came back to Burning Man last year with 'Grove', an interactive art installation that uses breath sensors to create a meditative and immersive experience. Visualized as a grove of beautiful low hanging trees, it uses biofeedback sensors, connecting our inner workings with tangible art installations.
Grove brought together artists from India with neurotechnologists and architects from America, making it a truly global collaboration. It was a meditation on the interdependence of breath. Every time we breathe in, we inhale the 'out breath' of a tree around us, placing ourselves in a constant state of union between the macro-forest outside, and the micro-forest of alveoli within our lungs.
Using technology related to the quantified self, it breaks down the idea of self entirely and reminds us that we are all interconnected, through breath, to every living creature on this planet; from the leaves on trees to the sand of the desert.
Architect
Mahesh Jadav's Mahesh Foundation is a non-governmental organization working for the welfare of children and youth affected by HIV/AIDS in society by providing them education and encouraging them to fight against HIV/AIDS and its surrounding stigma. In addition to various other types of support, Mahesh is also in the process of constructing a residential school for the children. In the school, they plan to use a unique methodology that believes in multiple intelligence theory and cultivates the natural curiosity of a child. The Mahesh Foundation is hoping that this will enable our HIV+ children to stand out of the crowd and make a good life for themselves.
INK Fellow Alok Shetty,  has designed the school to be eco-friendly and spacious. The construction involves using natural elements as far as possible to reduce carbon footprint. Even during operations, they will be relying on solar lights, solar fans and solar water heating to consume as little grid electricity as possible.
Currently, The Mahesh Foundation is the process of raising funds. As they near completion though, the shortage of funds is affecting the progress of the building. Since the new academic year begins in June 2017, the Mahesh Foundation needs to keep up the pace of construction and the building has to be completed by May 2017 in order to move the children into their own school. The overall cost of the building is approximately 180,00,000 (One crore and eighty lakhs). So far, they have raised and spent nearly 90 lakhs of which approximately 20 lakhs is left in hand and they are looking at further raise INR 70,00,000/- (INR Seventy lakhs) in order to complete the construction on time.
Co-founder, Inclov

Kalyani is the Co-Founder of Inclov, the world's first matchmaking app for people with disability and health disorders. Inclov is accessible to people with visual impairment and cerebral palsy among others. The app matches people on the basis of cure availability, medical condition, level of independence and lifestyle choices. Kalyani successfully crowdfunded Rs 6 lakhs for the prototype of this app with the help of 143 global backers, on India's leading online crowdfunding platform, Wishberry.
Social Spaces is Inclov's offline meetup platform where they aim to bring people with and without disability to come and meet in-person. The meet-ups are 100% accessible through ramps at entry-exit doors, accessible washrooms and sign language interpreter.
This year, Kalyani is launching Inclov 2.0 and has set a target of 100 Social Spaces in 2017. She is looking for venues and accessible spaces to host Inclov meet-ups as well as sponsors and investors for Social spaces.
Photographer

Vicky's project "The Banality of Brutality" is an exploration of the uncomfortable relationship that nature shares with man-made structures that have emerged in the pristine Himalayan towns suffering from unorganized urbanization. This massive drive is robbing these Himalayan terrains of their individuality and homogenizing the landscape, leaving behind the banal motives of brutality like incomplete houses, worn out machinery and land slide ravaged mountains.
The project is an attempt to bring forth the tragedy that is slowly unfolding in the Himalayas, but goes unnoticed because of the grandeur of the landscape and the awe it inspires. So far, Vicky has already bought the body of the camera thanks to Ms Nityangi Kejriwal, who after his talk at INK Asia in August 2015, offered to donate funds towards the project. The INK team also helped Vicky with a campaign (read more here) on INK Fellow Anshulika Dubey's crowdfunding platform Wishberry that successfully raised more than Rs 8 lacs from over 20 backers, including a Rs 5 lac donation from Adobe as a part of their CSR activity.
Currently, Vicky is working on compiling a stunning photo essay book of his travels and hopes to publish it later this year.
Mental health advocate
Co-founder of Mind Arcs, and a member of several other national and international groups for persons with mental illness, Reshma entered the field of mental health advocacy during her own battle with schizophrenia. Her work uses a variety of creative tools to address issues and challenge stereotypical models of living through a group she runs called The Red Door.
She is currently working with a changemaker school to convert bullies into healers using a 'Warrior changemaker' program. They initiate kids with button badges that read 'Peaceful warrior'. Many of these kids are already using their recognized 'powers, empowerment and codes' to help others in their own communities. She also teaches sex ed. through the same program while creating support systems for children who experience bullying outside of school, in their homes.
Educator

Babar Ali started a school Ananda Siksha Niketan "home of joyful learning" when he was 9 years old. The school is running classes for students, up to 8th standard. There are 10 teaching and non- teaching staff who volunteer their time to educate the 400 students who are currently enrolled. There are no tuition fees, thus making it affordable for the poor in this economically deprived area and thereby helping increase literacy rate there. Six of the students joined back as teachers to give back what they had learned as students.
Ananda Siksha Niketan's mission and goals are mainly to enlighten the students of their community in Murshidabad and help them to stand on their own feet by trying to impart modern education. So far, Babar has received Rs 15 lacs in contributions from Silicon Valley investor and INK Inner Circle member, Ms Asha Jadeja. These funds have gone towards the purchase of land for the Ananda Siksha Niketan's school building and of course towards construction costs itself.
In 2016, Babar received a grant that was provided towards an honorarium for the school's teaching and non-teaching staff, books and stationery as well as benches and desks for the students. The school aims to impart quality, modern education and in the near future, they hope to extend it up to college level. With construction and expansion of the building well under way, Babar is now looking at raising 4 lacs per year towards yearly operational costs.
Co-founder, Graviky Labs
Anirudh Sharma's love for using technology to inspire wonder has taken him to MIT Media Lab, where he invents across disciplines. Currently, he and his team from Graviky Labs have invented a device that captures air pollution and turns it into safe, high-quality ink for art -'AIR-INK'. They are currently running a campaign on Kickstarter to allow them to scale up and bring AIR-INK to as many people in the world as possible. Learn more here on you can also contribute and get your hands on AIR-INK for the first time––as safe, refillable, high-quality, water resistant markers and screen printing ink. By using 30 ml of AIR-INK, you can negate 45 minutes worth of pollution. They also explain their inventive process of manufacturing the ink, so don't forget to read that as well!