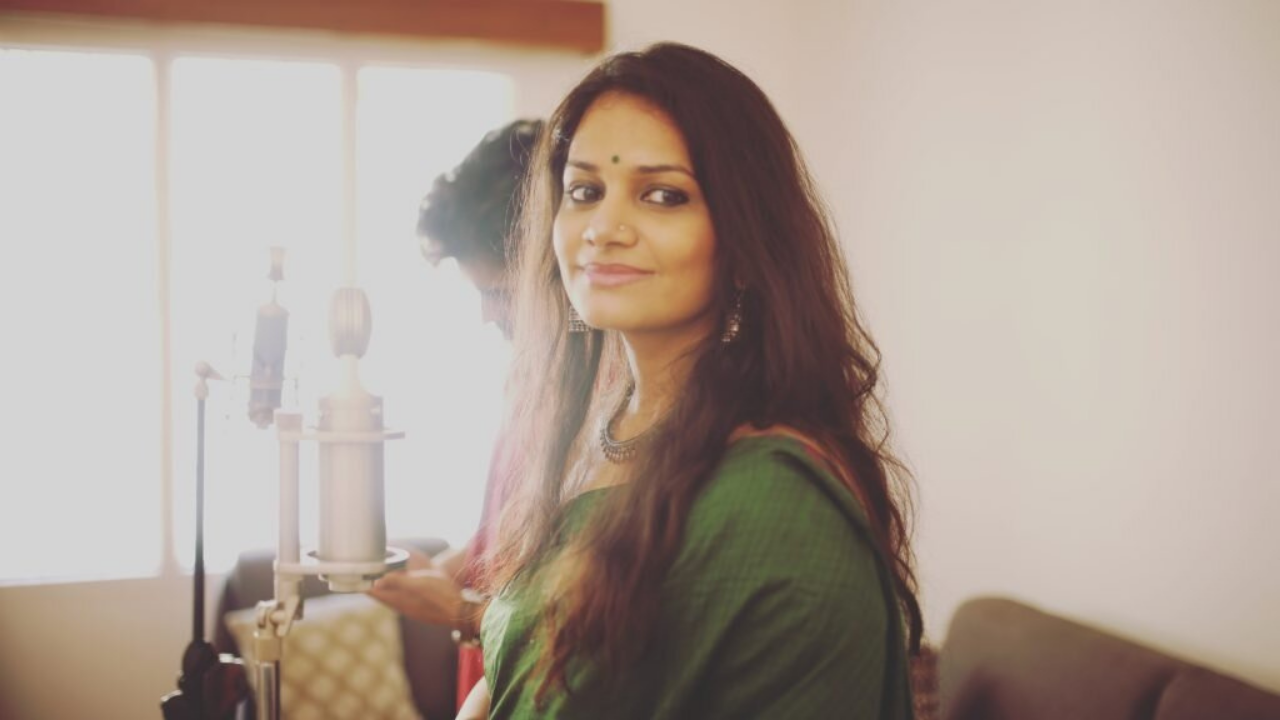 INK Fellow, playback singer and independent musician Vandana Srinivasan takes us through her  journey of chasing after music, performing at the London Olympics 2012 and her various musical collaborations!
I remember when I first got the call regarding the INK Fellows program, I went through a mix of emotions, ranging from excitement to anxiety (a part of me even thought it was spam because how could I possibly make it to something like this!?). All those feelings settled into something more stable following long (and multiple) conversations with Lakshmi & Raghava K.K, the artist. The INK Fellows program has made a huge impact on my life; from instilling more confidence in me to exploring other avenues as a musician. INK gave me another lens through which i could view my art. I joined their family in 2013 and it has been a wonderful association ever since.
I was born and brought up in the Middle East (Qatar) where I trained in carnatic music. I moved to Madras after high school to do my undergraduate studies in Psychology and pursue music at the same time. This was when I trained in Hindustani music as well. I tried to get acquainted with the recording experience and meet folks within the music industry. I made many demos of my voice, recorded a few jingles and got comfortable inside a recording studio. After that, I moved to London soon after to do my Masters at the London School of Economics. The decision to return to Madras was massively influenced by the role music would eventually play in my life, and so I came back with the idea of working in a consulting firm, ensuring that music would take the forefront.
After a brief stint, I quit the corporate world in 2012 to become a full-time musician. The unflinching support of my loved ones saw me through some turbulent times initially, which I now believe were life lessons in disguise. There have been some incredibly special experiences since then. Being selected to perform at the London Olympics 2012 will always be a highlight. That feeling of euphoria when I won the Filmfare Best Debut Award for my playback singing debut will be imprinted on my mind forever. I would not have in my wildest dreams imagined that I would receive even one Filmfare nomination, but it happened twice!
Some beautiful songs have come my way, and I cannot explain to you in words how it feels every single time I listen to my voice in a cinema theatre. Needless to say, it has not been entirely rosy but you gradually learn how to handle the highs and lows, provided you have a great support system.
In the years following my debut, I have had the opportunity to establish myself as a playback singer with noted music directors in the South Indian Film Industry. I have also been involved in many collaborations with artists in different parts of the world, thanks to the all encompassing Internet. In the collaborative sphere, my husband Anand and I launched Musicalorie Productions last year to promote traditional forms of music with a contemporary approach, using social media as a platform. I have had the privilege (it certainly is) to travel the world for my live concerts. An album of my own is also on the cards.
When I look back, I realize I have come a long way. But when I look ahead, I see there is so much more music to make. Thank you, universe, for all that has been. And for all that will be, bring it on!
Vandana Srinivasan is a playback singer, independent musician and live performer based in Madras. She has several noteworthy songs with reputed composers in Tamil as well as releases in the Telugu and Kannada film industry. She has toured the world with multiple performances in Australia, Canada, Singapore, Dubai; the most special one being at the London Olympics 2012 where she showcased Indian music along with her band Staccato.