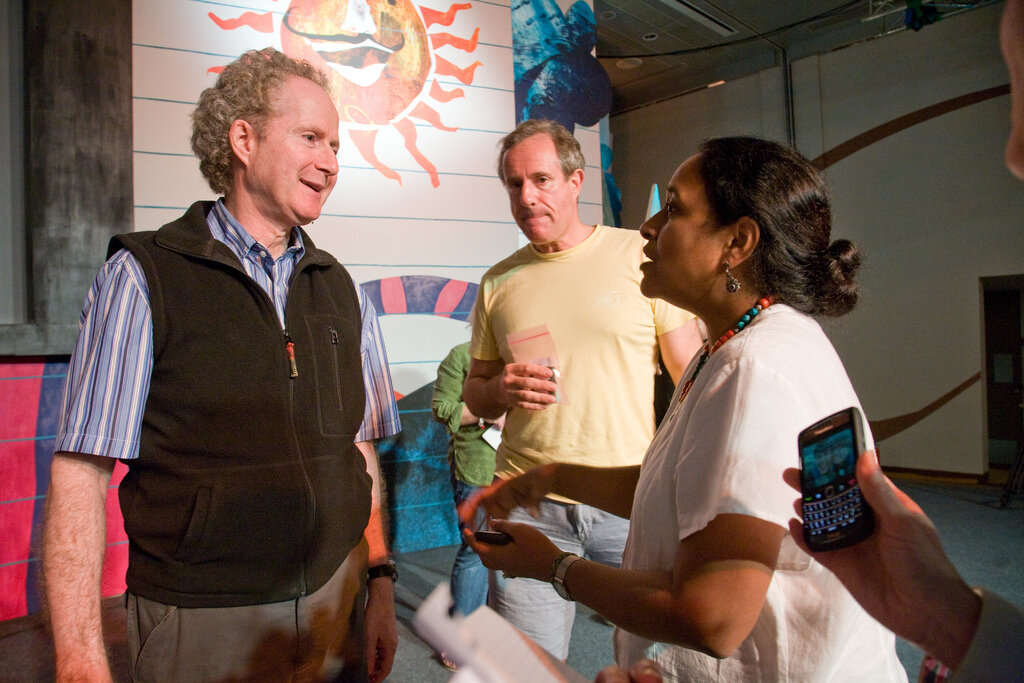 Sunny side up: Simon Lewis (left) rehearses his talk with INK curator Lakshmi Pratury at INK 2010. Simon's brother David looks on. (Photo credit: Gene Driskle)
It was the last day of the first INK Conference. The INK team was finally breathing easy and had gathered for celebratory drinks. Amidst all the chatter and laughter, one could catch snatches of conversation that pretty much had the same subtext: "can't wait for the next one."
Slowly, we were joined by the extended INK family of Speakers, attendees and voltuneers who were yet to leave. Producer and author Simon Lewis and his brother David were among those who had dropped by for one last goodbye. Simon Lewis' talk had had a deep impact and his story made us marvel at the human spirit.
The ever smiling, soft-spoken Simon has a way of surprising even those who know him well. After an exhaustive three-day conference, that involved a lot of travelling and preparation, he was ready for more. He was going on a 10-day trip to Rajasthan where, he told us, he planned to climb old forts and ride camels. We knew Simon always believed in taking "creative risks and leaning out over precipices," but to actually meet him and hear his story first hand was a great learning experience.
Simon's book, 'Rise and Shine' and his INK talk (click here) details his journey from near death to consciousness. There's some more good news for those who would like to know more about Simon Lewis. 'The Atavist' released his biographical profile, 'Blind Sight' today. It was released on Kindle (text-only) and iPad/iPhone (enhanced multimedia version) simultaneously.
Says Simon, "I'm so grateful to both INK and TED organizations for spreading my ideas into both hemispheres. This is beyond my greatest hopes when I wrote the first words of 'Rise and Shine'.
INK Correspondent