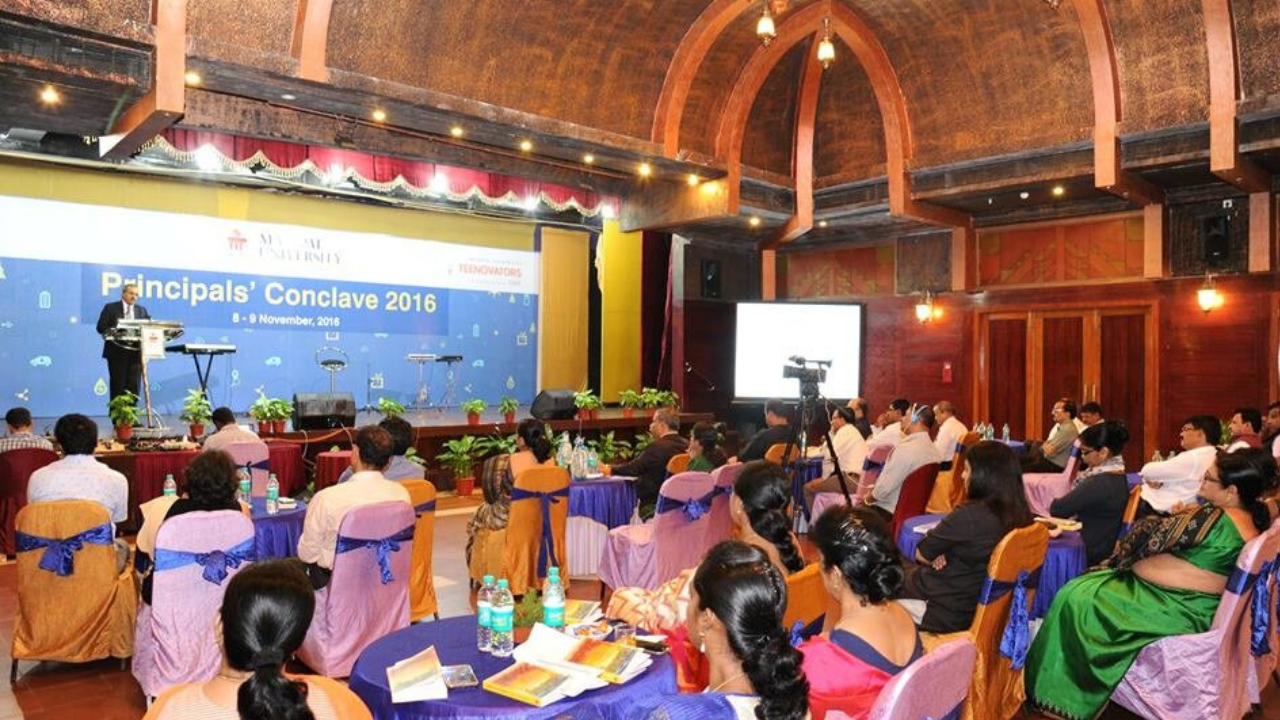 Last week we wrapped up one of our big events at Manipal University – the Principals Conclave!
As part of Manipal University Teenovators, a youth innovation program, run in association with INK (read more about the program here), the Principals Conclave was aimed at empowering the school management community through talks and workshops designed to help them bring out creativity in educating today's students.  As this is a big concern amongst educators today, the guest talks were curated around topics like learning by millennials, sustainable education, designing learning spaces, learning civic awareness and citizenship, handling competition & stress management and so on.
The conclave was held from 8th– 9th November at the Manipal Campus, carrying the theme "Educating the Millennials".
Event Overview
Day 1:
The curtain raiser event was held at 6pm, at the Chaitya Hall in Fortune Valley View hotel. With an introduction and welcome by Dr. GK Prabhu (MIT Director) and Dr. Sabhahit (MU Registrar), the evening kicked off with an an interactive icebreaker session by our CEO and Founder Lakshmi Pratury. This gave the audience-comprising principals from different schools – a chance to loosen up a little and get to know each other better. Something which is very important for a formal crowd like this!
It was then down to serious business. The first speaker, Harvard-educated Architect Danish Kurani took the stage and delivered an in-depth talk on the concept of learning spaces. He focused his talk on the research, execution and impact of designing learning areas, which will affect and benefit students with different learning styles. He showcased examples ranging from project based learning, social and emotional learning among teachers and students, to reconnecting and rehabilitating former convicts back into society through architecture to support open dialogue, conversations and learning new skills.
An electrifying performance by musical artist Aneesh Vidyashankar followed this talk. With his multi faceted fusion of Indian and Western Classical, pop culture and retro tunes, he managed to get the audience on their feet! The evening ended on a high note with a group picture and a gala dinner.
Day 2:
The day began with a short introduction by Lakshmi about millennials and how different they are from previous generations. She also stressed on the word "perfect" being most redundant when it pertains to defining a child's achievements.
The first guest speaker of the day was Glenn Chickering, Headroom teacher at Green School, Bali. He spoke about various aspects of sustainable learning at his school and gave interesting examples of how these learnings reflected in the projects taken up by the students at school and outside of it.
Next was, Maj. Gen Prasad from the NGO program Bala Janaagraha, who covered civic awareness. He spoke on how good governance would require responsible and participative citizens and stressed on the need to imbibe citizenship among students through their curriculum at a very young age.
This was followed by a conversation between Lakshmi and guest speaker Richa Singh, CEO and Co-founder of Your D.O.S.T.  Richa, who is also an INK Fellow, spoke about her personal experiences that led to her set-up an anonymous platform that allows adults and youngsters with various issues (depression, competition and stress management, abuse etc) to seek help about their struggles.
The last speaker of the day was Pavan Soni, who conducted an interactive workshop on "Creativity : Origins, Practices and Preaching". He took the attendees through the process of learning creativity and how it can be induced in everyday life.
Finally a feedback session was conducted where attendees gave their unbiased opinion about the conclave as well as the Teenovators program. Here are some nice things some of them had to say!
"Being a Principal for over 13 years now I have attended a number of conferences/seminars/workshops. In all of them Teenovators 'Principal's Conclave' was the best!!! All talks and presentations were immensely meaningful. It actually threw light on 'how' to do expected things rather than simply preaching about what needs to be done,which is the general framework of other programs. Keep it up!!!"
Smitha Rai,  Indian Airlines School
"Thank you so much for making me a part of this greatly enriching and enlightening Principals'Conclave. Congratulations to INK-Teenovators & Manipal University for everything -hospitality,campus tour,lectures,interactive discussions and performances.I'm sure all of us have come back truly enriched and will double our efforts in making the teaching-learning experience for the students an amazing one.Thanks and congratulations to Lakshmi Pratury, Srimathi and their entire team. For me it was a great honor and a blessing ,something that will remain etched in my memory forever.Thanks once again!"
Smitha Kshirsagar, Blue Ridge Public School, Pune
Teenovators is now charging ahead with regional events planned in Hyderabad, Chennai and Chandigarh. We will come back soon with all the updates!