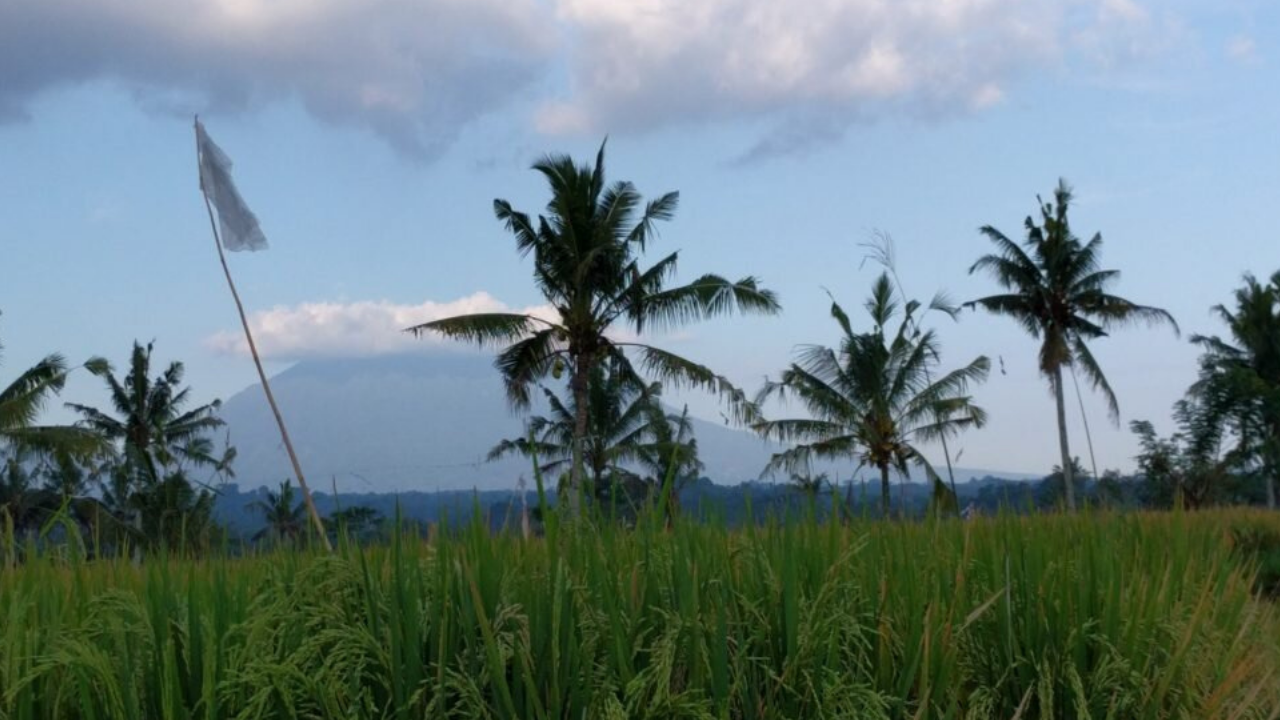 As I brush my teeth before going to bed, I look to my left into the dark curtain of a banyan tree with its branches and leaves forming a natural curtain to the shower. With loud sounds of gekkos as background music, I feel so far away from Bangalore and Singapore – two cities that I traveled through, to get to my final destination of Ubud in Bali. I am the guest of my friend John Hardy, who straddles the fashion world of New York (jewelry design) and the serene natural world of Bali (creator of Green School in Bali).
I came to spend a week in Ubud, visiting the Green School, Green Village, Green camp, Kul Kul farm and a few other locations to explore options for INK salons and gatherings. Since my son Arnav had his Dusshera holidays, John was kind enough to invite him to attend the school for the week.
Which Indian mother would not want to have her son go to school while he is on vacation? So, off we went on our trip to Green School.
Green School:
I have known John since Green School was just an idea in his head. He started it in 2008. I wanted Arnav to see the school and declare that he WANTED to go there so that he could never turn around as an adult and write about his cruel mom who put him in school even on vacation. This way, it would be HIS idea .. right? Our visit started with meeting Helen, who works at the school. After we entered through the visitor gate, we were seated at the guest area on chairs made from old tyres and upcycled fabric. As Helen walked us past to the kitchen, she introduced us to Ibu Kadek (Ibu is akin to Ms. – an address toward all women. I would be Ibu Lakshmi) and in that minute, I knew that Arnav was hooked because Ibu Kadek is the personification of that school. She is warm, smart, talented and offered a great meal to us. Since Arnav loves to talk about food and harbors a dream of being a Chef, he took to her immediately. When she invited him to come over and help her cook Mexican food the following day, I knew we were all set!
Helen walked us around the school – past the kindergarten class with the beautiful décor and swings made of wood on sand pits, the primary school on multiple levels, the yoga studio. Then, we came to the middle school which was at the lower end. She said that middle school was usually alongside the high school but the younger kids would talk loud and make a lot of noise. They did not want the middle school kids to be asked to be quiet. So, they moved it away from high school so that they can make all the noise that they naturally want to make and yet not disturb the high school. This is one of the things that I love about the place. They allow kids to be kids and not be in a hurry to grow up and be serious and behave well…. whatever that means! To top it all off, they have a mud pit, where kids can have mud fights, per the local custom. On one of the days, I saw the 2nd grade kids and their teachers going at it while covered in mud, and how I wish I had a childhood like that!
There are kids from over 25 countries at the school and only 8 kids in boarding. The rest of the kids are with their parents, who have chosen to relocate to Bali to let their kids go to this school. Over 300 children go to school and almost 70% of them are from out of the country. I met a family where the husband travels for business half of the year and the wife stays with the family in Bali; a husband and wife duo of jewelry designers who have their staff in charge of their business in NY while they telecommute and take turns traveling; a fashion editor from Mumbai who is working from there to be with her daughter while she waits to get admission into the dorm; a hedge fund manager and his wife who is a media personality taking turns with their assignments across Asia; a Dutch couple who are on a sabbatical with their kids. Many parents end up becoming teachers, administrators, coaches at the school. There is a strong sense of community and a collective belief to build a world where sustainability is integrated into the way we live and is not an external fabric to adorn at convenience. The central administrative building where the Principal Leslie, Co-founder Ibu Ika etc., sit is called "The Heart of School".
When Arnav saw the football field, his enthusiasm to attend school was complete. After the walk through, I shamelessly gorged on a late lunch of brown rice, salad and mixed vegetable dish freshly prepared for me by Ibu Kadek and washed it off with a recyclable bottle of fresh coconut water.
Bamboo Indah:
When we came back around 3pm, Arnav and I decided to explore Bamboo Indah, which is a set of bamboo and wood cottages that John built for guests. It is one of the most beautiful hotels which is really a home stay. I think that John knew he would be inundated with friends who would be visiting him and decided to make enough rooms for them so that they would leave him alone! The paths weave around a group of cottages with a small swimming pool and a bamboo bridge over it. Past the bridge, there is a look out area from where one can experience a breathtaking view of paddy fields, flowing river and many other things that we have managed to wipe off from most of this earth. Somehow it is preciously preserved in this side of the world. Arnav and I took to climbing down the 100 odd spiraling iron stairway, crossed a swinging bamboo bridge, walked down further wood and mud steps to get to the river where some young folks were lighting floating lamps. The beauty was so breathtaking that many a sly mosquito feasted on my fat infested blood without any interruption. Well! All good things had to come to an end and I had to disturb the feast and head back up. By the time Arnav and I got back to the top, we were sweating and I was happy to have completed my 10,000 steps. Initially, it was intimidating to have the shower have no wall and open up to a large bamboo tree and its century old branches but then, it was truly magical to be so integrated into nature. Being the eternal optimist that I am, I was convinced that I was beyond the need for earthly things like the mosquito repellent that was placed in our room. Sadly, I have the bites now to prove that I am a mere mortal. Now, back to the room – I simply must talk a little bit about the room! As you enter, you see a beautiful double bed with white mosquito net. To the left, a narrow passage takes you to the foot of the bed where there is a bamboo bench to place your suitcase on. Facing you is an open rack made of bamboo, where you can keep your clothes. There was a safety box but I did not feel the need to use it for its purpose, but instead used it as an extension of my clothing cupboard. Three quarters of the room is of glass with thick white curtains that can be drawn for privacy. As you pass the narrow passage and complete arranging your clothes on the open rack, one would be compelled to open the door of the bathroom and have a good face wash to feel afresh. And you look to your left, you see the previously mentioned banyan branches greeting you and to your right is the toilet. The towel racks are made of rope and bamboo so that your towels are swinging gently while having a great deal of fun. When you come outdoors, you would see a great wooden deck with a few chairs and on the right, a small shrine, nested in a tree where fresh offerings of flowers are made every morning. The deck offers the view of the valley below, the river, and that night, we could see the floating lights that we saw being lit earlier that evening.
Each morning, I would sit on the deck and be lost in the sounds of silence and be content. After five days, Arnav asked me if I could live in a place like this for the rest of my life. I said that I might need a little bit of room and he said to me that this was all he needed to be happy. Our children have so much to teach us, if we only listen to them. What else would one need beyond this beauty and basic necessities?
Food in Bali
The kitchen at Bamboo Indah is exquisite. We were happy to have all our meals in either in this café or with Ibu Kadek. Between the two of us, we tried pumpkin pancakes, home made granola with coconut milk, kale salad; Ibu Kadek fed me omelette stuffed with cheese and mushrooms, Indonesian breakfast, nachos and home made guacamole and salsa, vegetable dishes of lotus roots, sprouts, green vegetables, raw jackfruit , chips made of many different vegetables like uka and banana. Arnav tried every possible meat preparation.
John's son Orin started the Kul Kul Farm where they grow organic vegetables, give courses on perma culture and host camps for those who want to know more about farming. On our last night, I made a dinner for 10 people at Kul Kul farm. YES! You heard that right …ME, I cooked. Usually, my husband Rajat is the gourmet cook in our family but he wasn't there. So, I had this unique opportunity of impressing a few of my friends with my basic culinary skills. It was so interesting to see our interpretations of ingredients. I asked for turmeric and I meant turmeric powder and they got me actual turmeric root. I am ashamed to say that I did not know where turmeric came from till I saw the root. So, instead of powder, I grated the fresh turmeric and used it. I made masoor dal, two vegetables – cabbage, cauliflower, tamarind rice and yogurt rice – both with brown rice. I missed having curry leaves and cilantro but I was rewarded with hing which I used generously in both preparations of rice. I think that all of them were expecting a max of one hour cooking time and were not expecting the two hours I took – partly due to the number of dishes I made and partly due to my pretend professionalism with not much practice to support. It was a wonderful evening where everyone participated in cutting vegetables and probably the only dinner party where everyone cried because they all had to cut the shallots. The best recipe that Arnav claims to have mastered out of this trip was to make the sambar with thinly sliced green chilies marinated in a base of slightly roasted shallots and garlic in coconut oil. When he prepares it, I will be sure to post a few photos of it.
Glamping
If you are wondering what that means – yep! You guessed it right – after we mastered the art of fusing names like Brangelina, we have now graduated to fusing concepts – glamour + camping becomes glamping. This means that instead of pitching a tent in the middle of nowhere and experience excretory practices behind shrubs and not coming out of the week long trek with enough personally generated fragrance that no one wants to even shake your hand, let alone hug you – one gets to stay in little more stable structures with mattresses, outdoor showers and other facilities. You may choose to see this as an uncomfortable hotel or an upgraded campsite – really depends on if you are a glass half empty of half full kind of a person. If you complain about any accommodation surrounded by the stunning beauty of Bali combined with the constant smiles and kindness of the people, in addition to being a glass half empty pessimist, you would also be deemed borderline blind. Jokes apart, I walked around for over four hours to see various types of accommodations available – from Green Village designed by INK Fellow Elora Hardy where there are three story bamboo homes with four to five bedrooms to Green Camp where 9+ huts accommodate 4 people in each room to two circular dormitories that can accommodate 20 people each to a row of 10 plus rooms that have a simple bed, chair and table. We also saw the Kul Kul farm where they have over 10 bamboo rooms and many tents. The range of accommodations was amazing and I have a lot of ideas running in my head for the next INK Salon in Bali!
Water Temple
We left Bali on Sunday morning and Saturday was a full moon day. A lot of the villages had huge celebrations and it was also the beginning of a week long vacation at the Green school. Ibu Kadek was heading to her village to celebrate the full moon night. Before she left, she really wanted us to see the water temple. So, after Arnav finished school on Friday and bid a reluctant farewell to all his friends, Ibu Kadek took us to the water temple. I asked Arnav if he got the email addresses of his friends, he said to me "Mom! Email is sooo ancient, I am already on Instagram with all my friends".
Being put in my place firmly, I decided to take on the less daunting task of enjoying the scenery. It took almost an hour and a half to get to the water temple, mostly on a two lane road meandering through abundant greenery. When we got to the temple, we changed into a sarong and cotton tops and went to the spring. We first sat together and offered prayers to take care of each of us, our family and the whole world. In Bali, I found that all the prayers included the world and it was so refreshing to have it that way. After praying, we went into the water and we had to cleanse our head under each spring and walk across over 12 springs. When we stepped into the water, it was so cold that I silently screamed but as we went from spring to spring, my body acclimatized and we had a great time. I was totally focused on not slipping on the smooth rock below and not to step on any of the fish that were swimming by. I did not want to slip, hit my head on shallow water and become the first person to drown and die in waist deep water. Ibu Kadek is a strict teacher and ensured that we went through each spring and let the full force of the water hit our heads while doing a Namaste to pray to the Gods. She has this amazingly graceful way of doing it all at once and for someone like me, who is terrified of slipping on the rocks, keeping my palms together, eyes closed while a forceful jet of water hit my head was a herculean task.
We then went into the changing area. Ibu Kadek produced another sarong for me and then I wore a shirt on top of it and tied my dupatta around my waist to simulate the traditional garment required to step into the temple. Arnav also wore the sarong and a ceremonial head gear and we all went into the temple.
The ceremony consisted of sitting on the floor for a few minutes while Ibu Kadek and her cousin placed their offerings on the wall to the God. The offerings were in a large colorful bamboo basket and it consisted of a group of small baskets hand made from bamboo filled with fresh flowers and some fruit. Ibu Kadek and her young friend balanced these baskets most effortlessly on their heads and walked into the temple and then sat on the floor. After praying for a few minutes, we got up and walked around the temple. We could wear slippers into the temple and the architecture was intricate, strong and yet soothing. Ibu Kadek pointed to the sculpture of the Sun God that was way up and said that it was placed near the entrance and at such height, because the Sun God belonged to everyone and should not be kept inside the temple. Much of the Balinese behavior and practices – their sense of sharing, their practice to pray for the whole world, their simple offerings – reflect the true intent of the Hindu philosophy. After the ceremony, we walked out and in the large courtyard of the temple, Ibu Kadek laid out a feast for us. On the way back to our home at Bamboo Indah, she stopped at downtown Ubud and took me to the temple and walked around because I did not get a chance to visit earlier. With a trip to her village coming up the next day, she took the time to ensure that I had the best experience during my stay. She did not know me a few days ago but now it felt as though I have known her all my life. As I bid farewell to Ibu Kadek, I felt as though I added another sister to my family.
Lakshmi Pratury