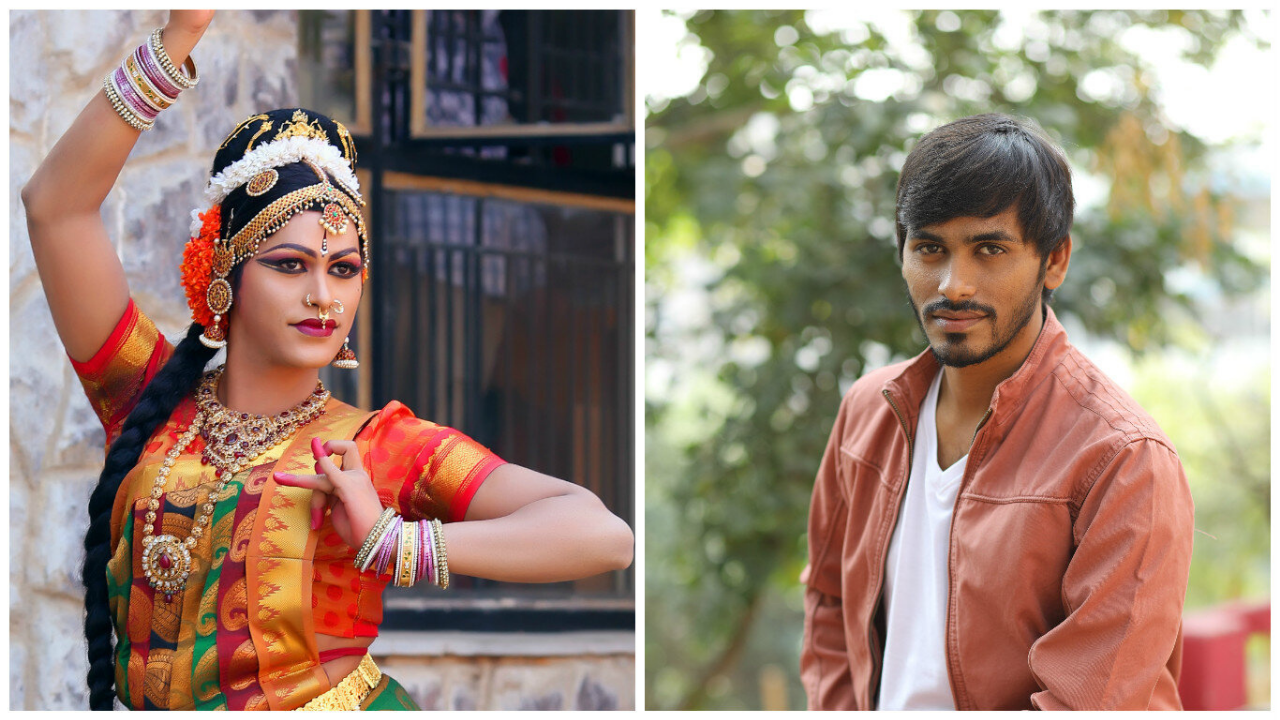 Hailing from the small city of Ongole in Andhra Pradesh, Haleem Khan faced a lot of hurdles – both from his family and society – when he decided to pursue his passion for the Kuchipudi dance form. Today, he enjoys immense success and has given more than 800 solo and group performances all over India and abroad!
Scroll below to read our conversation with him, where he tells us a bit about this journey, the workshops he conducts around the world and his experience adopting the guise of a woman whilst dancing.
1. Growing up in Ongole, what sparked your interest in the Kuchipudi dance form?
Actually, I'm not sure till this minute what made me go after the Kuchipudi dance. As a child I was never exposed to any live dance performance or any dancer in my neighborhood. I grew up watching the DD 8 channel, which had a handful of classical dance performances, and I also saw few dance related Telugu movies. Maybe that's where my love for classical dance started? I guess I was also inspired by actors like Kamal Hassan and Bhanu Priya. And later Vijaya Lakshmi too. But still, I believe that destiny had a major role to play!
2. How did your family react when they learned of your decision to stick to your passion?
My family strongly opposed my decision, right from the stage of learning, but after many, many fights dramatic scenes and discussions, now they kind of understand that dance is my passion, one I can't live with out. So, I can say that they are better than before and just a little supportive now.
3. You adopt the guise of a woman while you dance. Tell us, was it difficult to imbibe the style and gestures which accompany a women's dancing style?
Female impersonation started off as a social necessity and more importantly, was a prime pillar of Siddhendra Yogi's Kuchipudi. It's purpose was to enlarge the repertoire of the performing artist. There are arguments that the female impersonation is no longer necessary as female dancers are also proponents of the dance form. However, the female impersonation in Kuchipudi serves as a supreme test for the dancers, especially male, to transcend the barrier of gender in their pursuit of pure art. The capability of the dance to banish the barrier of gender in the mind of the dancer, and the dancer's expertise in imbibing the rasa and bhava of the opposite gender, is such a magnificent level of artistry that it would be churlish of me to not continue this tradition. It is a feeling that cannot be explained but only be experienced.
4. You are now into teaching dance, choreography and conducting workshops in different countries. What makes you the most happiest in all this and why?
Traveling is my second love. Right now my profession is giving me the opportunity to travel and interact with many art lovers and enter into numerous collaborations. When ever I conduct a workshop, especially international workshops in America and other countries, I am amazed by the diverse set of people who attend, all carrying new energies and intriguing ideologies. This gives me the freedom to teach new techniques and also experiment with different dances and concepts. I sometimes feel that the Indian arts are more appreciated abroad than in India. That's why I make it a point to keeping traveling and teaching. Now we also have the novel way of teaching anything through Skype classes, which I also enjoy!
I always like innovation in dance and through the many workshops I conduct, I get a chance to meet and interact with many children. You may see that children are more focused when it comes to Indian art forms and so I feel proud to pass on my knowledge to the younger generation. It is my responsibility too, of course! I guess I would say that my first love and what makes me happiest would be imparting this knowledge I hold to others.
5. What do you think you have contributed to the field of Kuchipudi dance so far?
I am a professional Kuchipudi dancer of international repute. Amongst my many endeavors to perform, preserve and propagate this art form, I have recently launched an Instructional Dance DVD so that almost anyone from any walk of life, can learn Kuchipudi Dance on their own. This is a step by step instructional DVD, whereby people who may not have the time to attend regular classes, can learn and practice according to their own convenience. Quite a lot of research and investment went into its production. Nearly 20 dance professionals of the likes of Shobha Naidu and Kaza Venkata Subramanyam have contributed, all the way from guidance in production to the actual steps to be followed by the student. The DVD was launched at the hands of Minister Harish Rao, and has been sold and appreciated widely both in India and overseas.
6. What has it meant to you to be an INK Fellow?
Something that was always missing from my childhood, was a strong support system. I always used to think if my parents would have agreed to accept and encourage my passion to dance, I probably would have done many more things and I wouldn't have had to spend my energy in hiding what I really love. I have always missed that support one gains from people who are near and dear, but now I don't have that feeling any more. I now have a team who understands me and wants to support me – the INK community.  It's a feeling of joy to have such a supportive family. And I am very proud to call my self as an INK 2016 Fellow.
Follow Haleem on his website www.haleemkhan.com. You can also check out his dance video here!