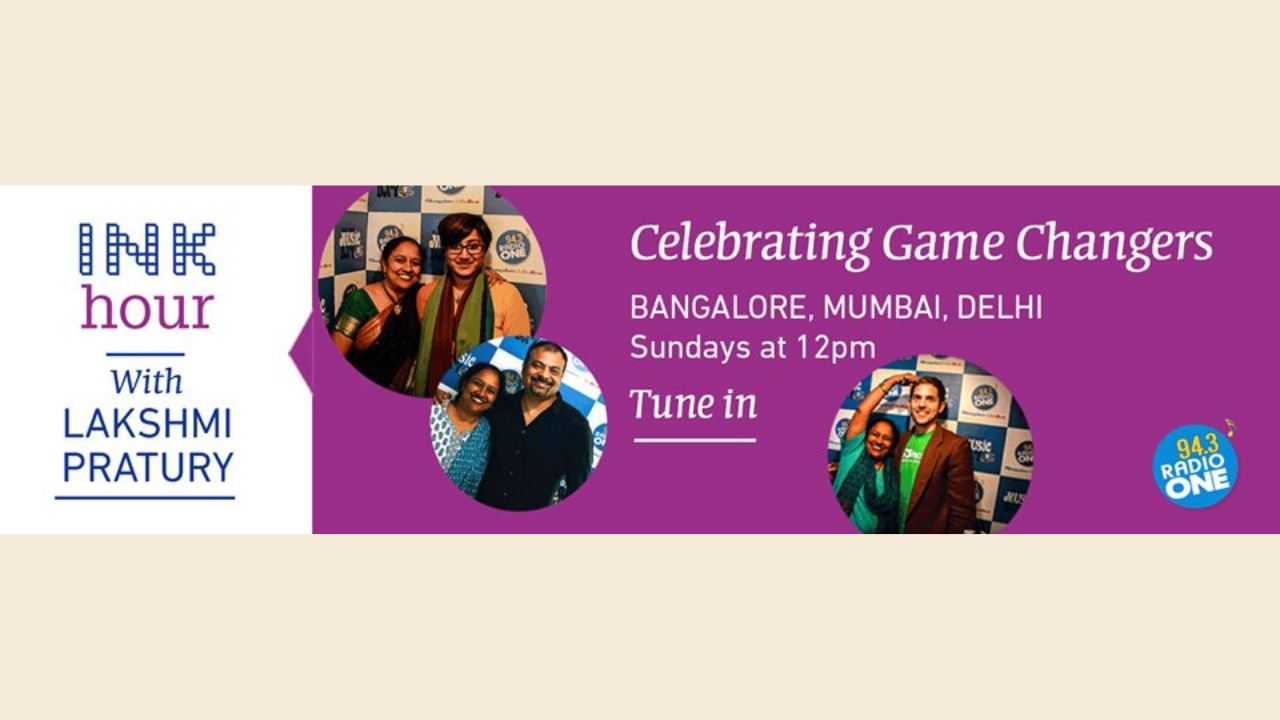 Acting as an accelerator for ideas and people, the INK network brings together people through different impact-driven programs such as the mentorship of INK Fellows, innovation exercises in colleges with INK Makers, engaging storytelling events like INK Salons and our annual INK Conference, to help people turn their ideas to reality.
We'd like to put the spotlight briefly on our radio show, 'The INK Hour with Lakshmi Pratury'. It airs every Sunday on 94.3 Radio One (Bangalore, Delhi and Mumbai), 12-1PM IST. The weekly one-hour series celebrates the journeys of achievers and disruptors, entrepreneurs and artists – in short, India's game changers.
Our host, Founder and CEO of INK, Lakshmi Pratury, leads the main interview in a segment she calls, 'The Billionaires of Moments'.  In her signature warm and engaging style, Lakshmi connects with her entrepreneurial guests, inviting them to share the successes and challenges they've endured.
"Wealth ought not to be measured by the number of breathes we take but by the number of magical moments we create and share with others"
Our second segment follows the unfolding journeys of a featured INK speaker or one of our INK Fellows. Introduced with excerpts from their live staged INK Talk, our RJ, Timbre Media's Supriya Jambunathan, catches up with them for real-time updates on their latest accomplishments and future aims. Since August 21, 2016 through  o this Sunday, Jan 29th, the INK hour will have hosted 24 episodes highlighting the journeys of 48 game changers.
Some of the eminent guests who have been on the show include singer Usha Uthup, Ruban Bridge's Madan Padaki, architect Alok Shetty, Founder of Taxi Fabric Sanket Avlani, Indian government official Amitabh Kant, creative director Adam Sadowsky, paleontologist Kenneth Lacovara, Founder of OYO Ritesh Agarwal, Lightspeed's Sunil Rao and INK fellows Richa Singh, Kenta Koga, Shilo Shiv Suleman, Laura Kriefman among many others!
Catch us every Sunday on 94.3 Radio One (Bangalore, Delhi and Mumbai), 12-1PM!  If you miss it or want to listen back to a previous show, head to our SoundCloud!