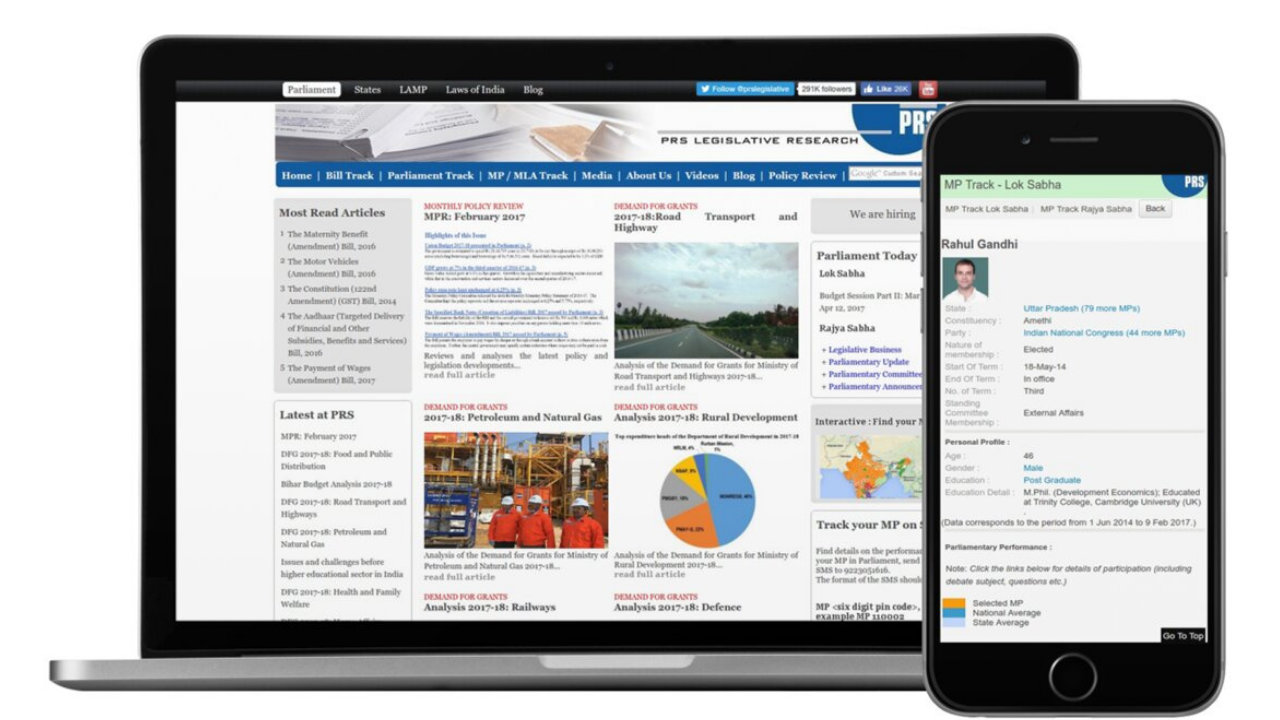 INK Fellow and political technologist Chakshu Roy of PRS tells us how technology, conversations and knowledge sharing are important elements for civic engagement.
(The above picture: PRS Legislative is the first port of call for Parliamentary information in the country. It's tool, MP Track, is used extensively by media and citizens to follow the work of MPs in Parliament)
Conversations and networks are essential ingredients in making a dent in the world. And when you add innovators from diverse fields into this mix, they accelerate the process of change. Outside of academic institutions, there are limited opportunities for interdisciplinary exchange of ideas. In the Indian context, it changed when the INK Conference and its Fellows program started in 2010.
I lead legislative and civic engagement at PRS Legislative Research. Laws made by Parliament and State Vidhan Sabha's form the bulwark of the governance framework of the country. These institutions impact every aspect of our lives by making or amending laws. The focus of my work is to strengthen the law-making mechanism to improve governance in our country. Our technology tools track the work done by our elected representatives and the institution of Parliament.
I was an INK Fellow in 2010 when the program first started. We were an eclectic group – a professional magician, a gifted singer, a celebrated author, and a bunch of innovators and social entrepreneurs across diverse fields. A common theme was our attempt to create some scalable impact in our respective areas of work. The three days at the INK conference gave us the opportunity to learn from each other, and broaden our ideas by engaging with others at the conference. The conversations were insightful, inspired and continued over coffee and music, way after the official close of the day's talks.
As I reflect on my time as an INK Fellow, I value the opportunity of having conversations that catalyzed my thinking. Conversations are important, more so when they directly impact the governance of our country. A law made by Parliament affects the lives of everyone in the country.
In the last session of Parliament, a single change in law, more than doubled the maternity leave available to expecting mothers. Another law created a comprehensive mechanism for mental health care in the country. However, in spite of the scale of impact of legislation, there is limited engagement with the law making process.
Technology has so far been used to open up government functioning. However, transparency in governance also requires an increased depth of engagement in the law making process. The use of technology for sharing knowledge and giving inputs has been under-exploited when it comes to making laws in our country. If leveraged effectively, it can empower citizens to have a louder voice in shaping governance and also transform their engagement with government. My colleagues and I are currently working on tools to catalyze this bottom-up engagement.
Over the years, I have reconnected with the diverse and talented individuals that I met at INK in 2010. We have been able to discuss issues and bounce off ideas based on the foundation of a conversation that we started seven years ago. Possibly, these experiences will give birth to a wealth of interesting collaborations in the future.
Chakshu Roy was an INK Fellow in 2010. He is an expert on parliamentary procedure and heads legislative and civic engagement at PRS Legislative Research. PRS was awarded the Marico Innovation Award in 2010 and the NDTV Indian of the year award in the public service category in 2013.