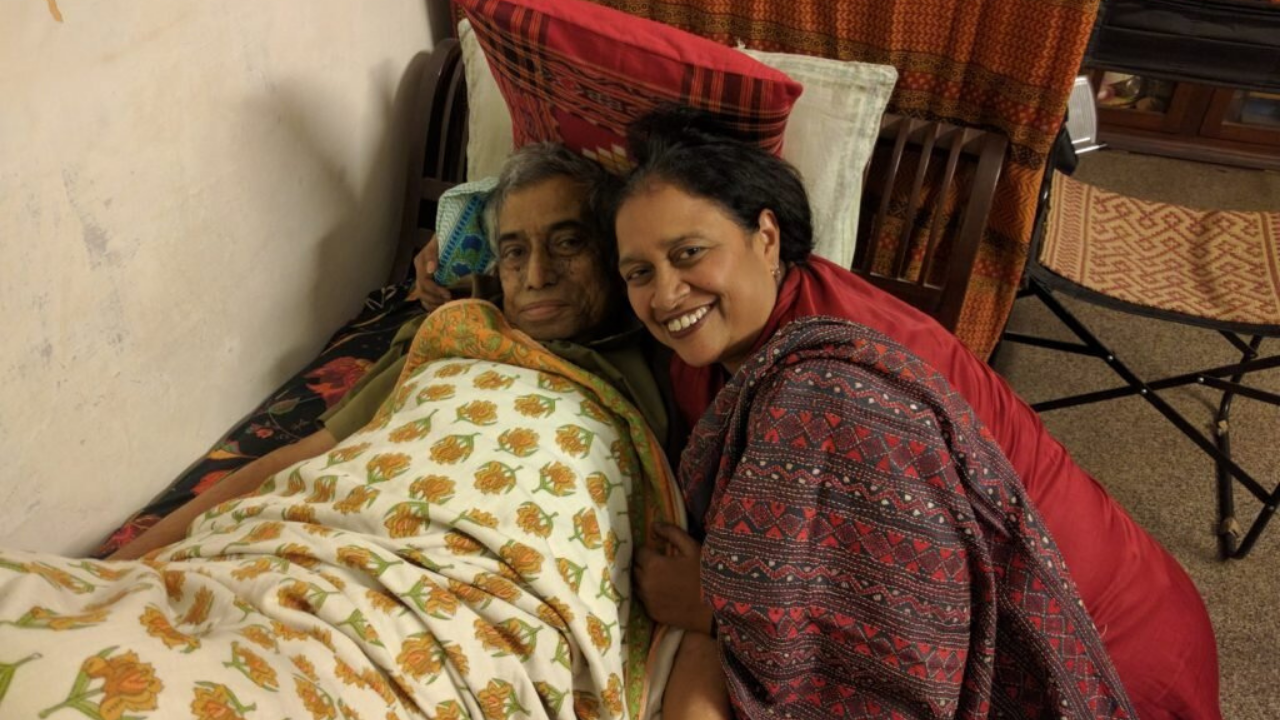 In our busy lives, we often miss the most magical moments. I am so thankful that I took the time to visit Anupam Mishra-ji on Dec 8th because I would have missed a hearty laugh and a warm hug if I did not visit him that day. I was in Delhi for a meeting and I met Onkar, who said that he heard about me through Anupam Mishra. That brought a smile to my lips when I remembered all the harassment I put Anupamji to be on the INK stage. Onkar then told me that Anupam-ji had cancer and has been spending a lot of time at AIIMS. As soon as I heard it, I pushed out my flight and went to visit Anupam-ji ,as he occupies a very special place in my heart. He also reminded me of my father. We spent the evening laughing and agreed to meet again soon. We agreed to work together on a talk for INK 2017 and I left his home, energized.
As a curator of storytellers, I am often asked about what I look for in a speaker. I talk about this indescribable quality that comes through when you see a person. You want to spend time with them, get to know them, want to find out about their work and you do not want the conversation to end. There is such a purity of purpose in that person that you can't wait to work with them on telling their story.
When I first met Anupam-ji, that's exactly what happened. When I was curating TEDIndia, I asked my friend Rohini Nilekani about some thought provoking people. The first name she suggested was Anupam Mishra. She said that he might not agree to talk, as he does not much like public appearances and that it was up to me to convince him. She said that IF I could convince him, I would be in for a treat. She was absolutely right. I had to chase Anupamji for months before I went to his office in Delhi. I saw the books he wrote, spoke to him about his views on Gandhi-ism, water harvesting, about how our history can teach us a lot about sustainable living. I learnt about the thought processes that went into designing ponds and step wells. He showed me a water tank that had beautiful carvings of horses, elephants and other such animal heads inside. He explained to me that each animal head represented the level of concern for water. If the heads were all submerged, there was enough water for everyone; when it went down to a level where the next head could be seen, say that of an elephant, it was a sign that everyone should conserve water. If it went down to the next head, that of a horse, it's time to prepare for a water disaster! He spoke about how design, architecture, water and overall sustainability were all integrated. I knew that hit the jackpot!
It took me another month to convince him to join our conference as a speaker (he suggested 10 other speakers' names but I refused) and then another three months to convince him to give his talk in English for TEDIndia.  For the INK Conference, I asked him to give a talk in Hindi, which really thrilled him. He asked me if he could give a talk on Gandhi and I thought that it was a wonderful idea. That is how Anupam Mishra came to me.  One of the most charismatic, genuine, selfless persons I have ever met, all characteristics of a bygone era along with a killer sense of humor, very dry and unassuming.
When I got the message from Onkar that Anupam ji passed away on Dec 19th, 2016 (the day after my father passed away 19 years ago), I felt as though I lost my father once again. But, I was happy that we reconnected. I was happy that he left his imprint with us to inspire many more to think like him and do more for others.
Hope all of you will pay homage to him by enjoying his talk which he gave at INK 2011 in Jaipur.