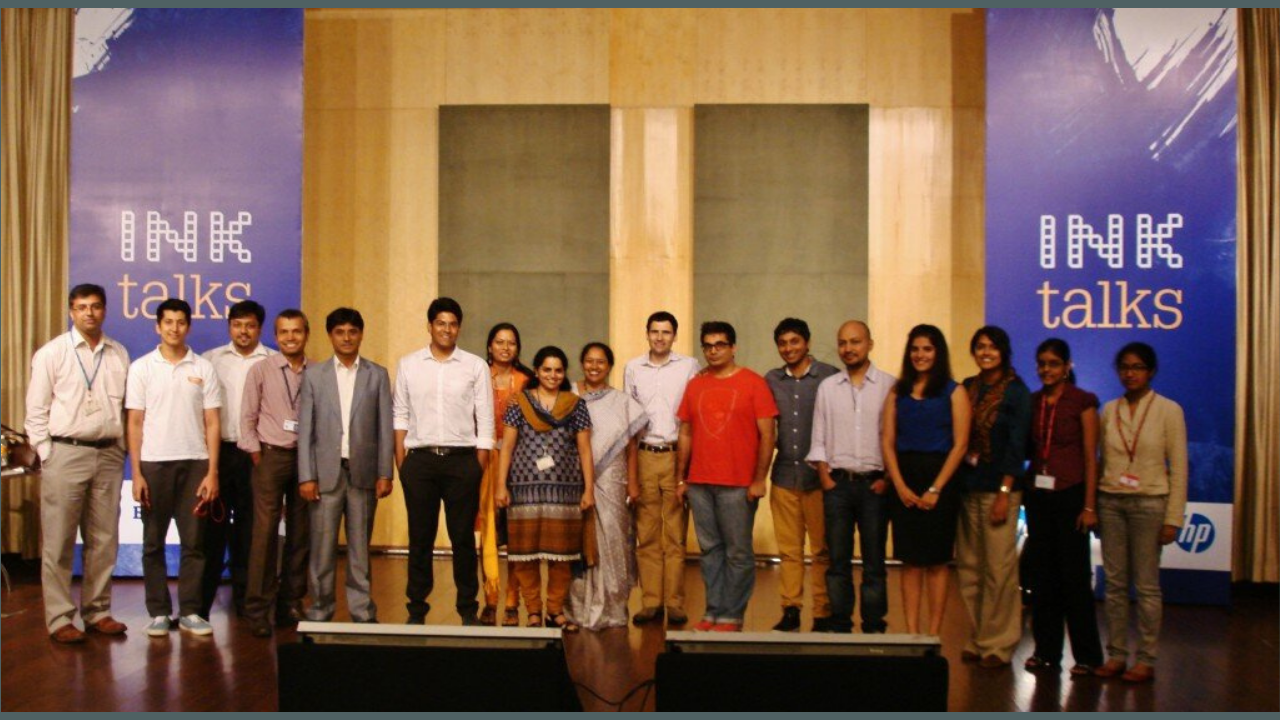 When I joined INK, I always found it intriguing that everyone said that I absolutely need to attend an INK Salon to fully grasp the quintessence of INK.
So here I was, in a huge auditorium, geared up for my very first INK Salon at HP to see what all the fuss was about.
The auditorium was completely full and brimming with the INK spirit, with people even sitting on the stairs. The same atmosphere prevailed in the hall outside the auditorium where there was a live streaming feed of the salon.
The event started and we were all warmly welcomed by the VP of HP, who saw the salon as an unique opportunity for his company to learn from our amazing innovators. Lakshmi Pratury then took to the stage and highlighted how everyone at INKtalks tries to see the world from different perspectives, instead of simply complaining how bad the world is and doing nothing to change it. ''I collect people," said Lakshmi, ''people across the world from different disciplines, who are doing their own bit to change the world- people who are valued for their ideas and contributions for a better world.'' This beautifully depicted the essence of INK.
Anupam Mukerji, founder of The Fake IPL Player blog, was our stunning host of the day. He introduced our  first speaker, Mansukhbhai Prajapati, who is a  rural entrepreneur. A clear message seeped out from Mansukhbhai's talk– if something is wrong, one can come up with his own solution with whatever resources one has to solve the problem. After starting a 'tawa' making factory, he went on to create a water filter and a refrigerator – with clay! He now aims to create a 'mitti cool house' that would run on solar energy.
Clearly awed by our first speaker, the audience were waiting in anticipation for the next speaker to sweep them off their feet, which is exactly what Naganand, co-founder and president of Embrace did. As one of the creators of the ''infant warmer'' – a low-cost product that keeps premature babies warm without using electricity.  He believes that ''social enterprise is 1% production and 99% distribution.'' This is why his team is now aiming at empowering rural mothers by making this easy-to-use product accessible to them as well as decreasing the infant mortality rate in India.