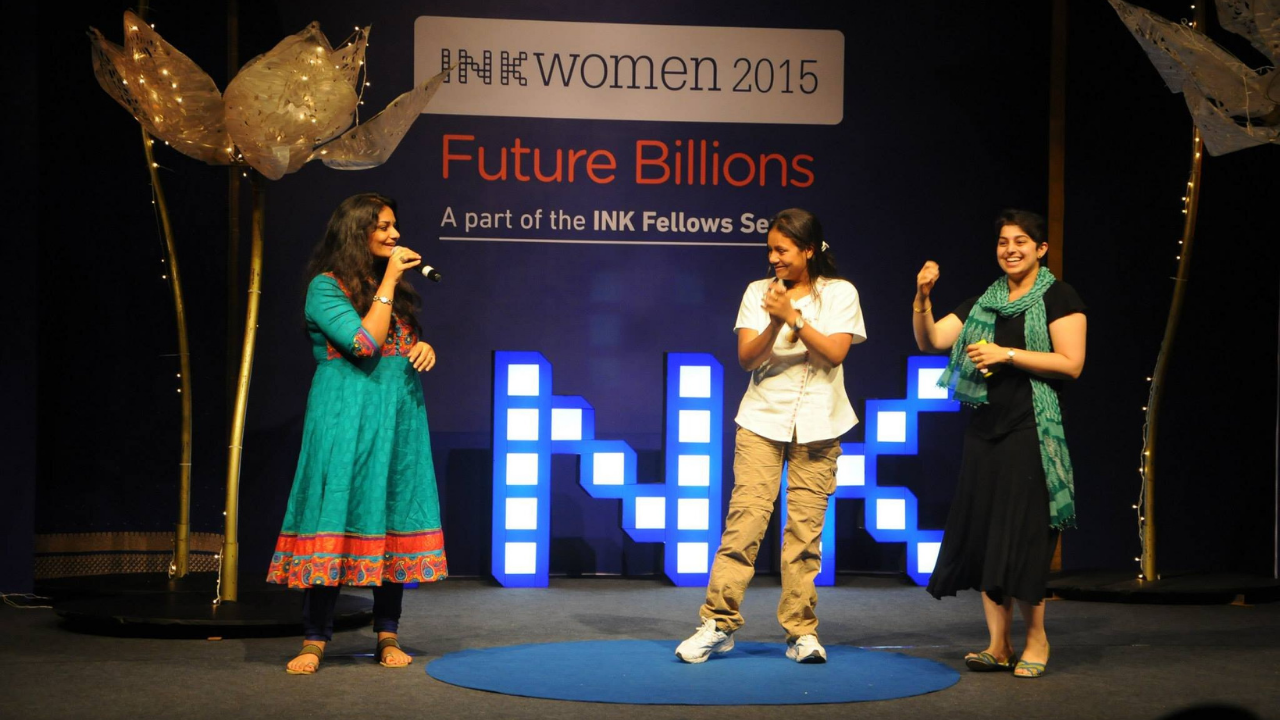 Session 1: Future, Now
This session explored the meaning behind this years' theme – All that matters. It questioned what we would take with us the Ark in our journey to the future. The ideas presented at INK 2013 are the ideas we want to bring with us in our own Noah's Ark.
The first session of #INK2013 began with some heartwarming melodies from Shankar Tucker. A hush fell over Oman Hall as the sound of clarinet filled the air.
The peaceful atmosphere shifted to excited anticipation as Lakshmi Pratury, the curator took the stage to welcome the attendees and kick off the conference.
With this metaphor of the Ark, Lakshmi introduced the first speaker- David Gallo, the intrepid deep ocean explorer. David reflected on how little we really know about our planet. While 70% of our earth is covered in water, only 5% has been truly been explored. The presentation explored the many misconceptions about the ocean held by most of the world. The ocean's importance to human existence was also highlighted. David ended his presentation with a challenge for us all to understand the ocean more fully so we can change how we interact with it. David concluded, "We need to learn how to live on this planet, and with each other, better."
Following David Gallo was Pushpa Basnet, also lovingly known as "Mamu" by her 40 or so children she looks after. For the past seven years, Pushpa has dedicated her life and her home to caring for the children of Nepal's incarcerated parents. If a parent is sent to jail, and has no guardian to care for their child, the child is forced to live in jail with their parent. Pushpa's presentation focused on the incredible joy her children experience because they are free to be themselves, outside of the confines of a jail cell. Pushpa explained that she works hard to ensure that her children know that their parents are not bad people, but instead people without options, forced to turn to crime. She concluded her presentation by revealing her dream – to someday be able to care for the 80 children still languishing in Nepal's jails.
"Coming to this conference was my first time on a plane," confessed the third INK2013 speaker, Sunil Khadbahale. Sunil, a passionate wordsmith, described his journey from terrified student, unable to understand English, to the creator of a series of digital dictionaries with 100 million users in 150 countries. After finishing first in his class, Sunil tried to enroll in a university for technology, but was refused because he lacked the necessary funds. He taught himself how to code, and began programming digital dictionaries, until he noticed a huge digital divide. He shifted his focus to a mobile dictionary series, as well as an SMS service. Despite his huge success in breaking down language barriers, for Sunil, this is only the beginning. He explained that he is currently biking to rural communities to hand-deliver his dictionaries. Sunil is truly going to change the way we communicate.
What stories can light tell us? Rajeswari Kannan, our fourth speaker and the head of Media Technologies Lab at Nokia Research Center, Bangalore, answers that question with her innovative app, Lightspeak. Rajeswari explained the new camera technology: mobile phones can snap a picture of light, and decode the messages hidden in the photons of the light. She demonstrated this groundbreaking technology by aiming her phone at a movie poster lit by a pre-programmed light. As her phone took in the light from the poster, a trailer for the movie began to play. When Rajeswari moved her phone's camera away from the poster, the trailer stopped. The audience was completely captivated by the show of technological genius. Rajeswari concluded that Lightspeak will be able to democratize public spaces and alter how consumers interact with brands. As long as you have a story tell, Lightspeak can help you deliver it.
Rounding out the docket of impressive presenters was  Dr. Uma Ramakrishnan, a DNA-decoding extraordinaire. Uma described how she uses science to trace our past in an attempt to better predict our future. One way in which Uma is already altering the future of India's biodiversity is her innovative way of tracing where poached tigers are coming from. Using non-invasive DNA collection methods (collecting and testing tiger feces!) Uma has been able to create a landscape of tiger variations throughout India. With this information, she has been able to help police crack down on tiger poaching, using the DNA variations to trace where the tiger skins are coming from. Uma's view of the future is one in which India's urban population does not threaten its vast biodiversity.
To end session one, Shankar Tucker, Puneet Gabriel, and Mugdha Hasabnis took the audience on a musical journey. The melodic sounds gave the attendees time to digest the fascinating information presented, while enjoying a truly unique musical experience.
View more pictures from INK2013 Here