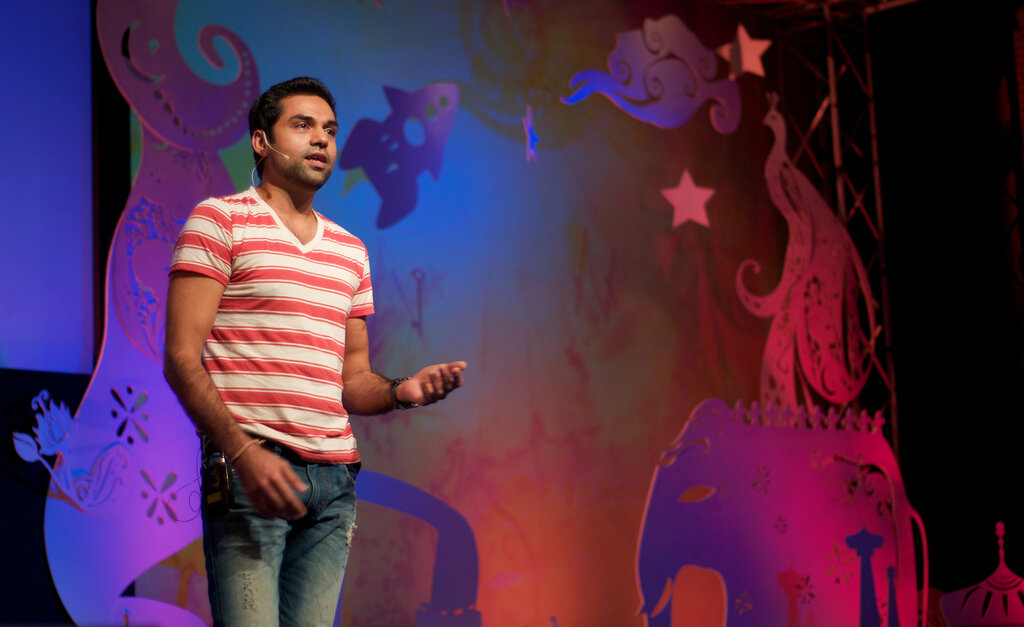 The third day of the INK Conference, in association with TED, was a power-packed day with new ideas and  revelations. The sessions titled 'Facing your fears', 'Magic flight', 'Challenges & Obstacles' and 'Revelations',  included a range of emotions that informed, entertained and inspired.
The day began with INK Fellow Suman Sridhar whose spoken word piece made a point even as it entertained.  World's youngest headmaster Babar Ali returned again this year to receive some good news that his students would  soon be able to have a proper school building of their own. One of the many INK projects that envision making ideas  real, Babar Ali's school has been on INK's wish list for a while. With support from the INK community and the YPO,  Anand Shikha Niketan, the school run by Babar will finally have a permanent roof.
INK Fellow Krushnaa Patil, who became the youngest Indian woman to successfully climb Mount Everest in 2009, faced her fears when she 'cat walked' the ridges and had to "work high and sleep low."
Beginning the next session, Lakshmi Pratury said, "What is standing in between us and that magic flight is the mind." Composer Shantanu Moitra has dreamt of a day when international flights will have a button for folk music beside Bollywood music. He has already begun his magic flight by setting up a repository of folk music in association with INK. Anyone can upload a piece of folk music to preserve it, so that it can be enjoyed by generations to come. He introduced Gokul Das, a dhak (drum used during festivals in Bengal) player to showcase his music which is an amalgamation of classical and folk.
Vikram Bhaskaran has also created another kind of repository. Samposapedia, is an example of the rich cultural heritage of Indian lingo both past and present. Sample this: Mother Promise, Chuddi Budddy, Chammak Challo, Aadhar and now Kolavari di.
Anousheh Ansari, first woman private space tourist, said because of her once-in-a-lifetime experience she learnt to do new things, made friends of foes and never stopped smiling.
 Anupam Mukherji, creator of the hoax cricket blog Fake IPL Player, regaled the audience with his story of the biggest  ever prank that almost threatened to destroy an IPL team.
Composer Italy Talgam showed all those leaders a thing or two of leading teams using the examples of some great  orchestra conductors. Raghava KK's talked about his iPad app that allows you to look at both sides of the coin.  Shake it and you have the New York Times perspective, shake it further and you have the Al Jazeera take on things.  Revolutionizing journalism, anyone?
Actor and filmmaker Abhay Deol and Dibakar Banerjee showed how the art of filmmaking was a spontaneous  process. Dibakar gave the INK audience a sneak preview of his soon-to-be released film starring Abhya, called,  'Shanghai'.
INK Fellow Anusha Yadav is documenting India's cultural history through her project called, 'Memory Project' through  pictures sourced from the public as "India's available history is prisoner to political power."
 Michael Pollack, a venture capitalist, shared how his whole life changed post 26/11 when he was caught in the  crossfire following the terrorist attack at the Taj Palace Hotel in Mumbai.
 Bhavik Gandhi, Arpit Mohan, Zohre Elahian, Budhaditya Chattopadhyay, Alexander Asseily, Ramji Raghavan, John  Mathew, Reena Esmail and John Frame were some of the other speakers.
 Dipti Nair