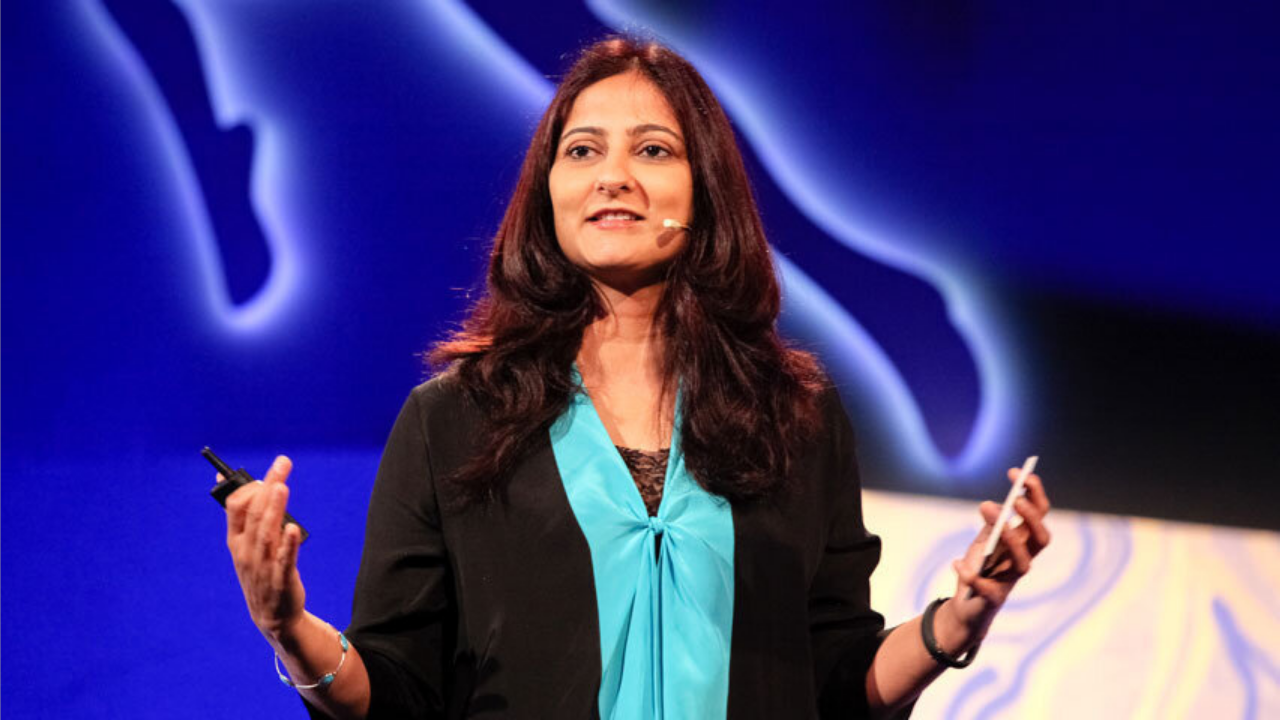 Disrupt – A theme that is relevant for the day and age that we live in. Because;
-To disrupt is to change the way we conduct our business!
-To disrupt is to change the way we treat our fellow humans!
-To disrupt is to change the way we lead our lives!
Grand Hyatt came alive on October 16, 2015 with Lakshmi Pratury taking the stage exactly at 9 am as always to kick-start the proceedings of INK Conference 2015 themed aptly 'DISRUPT'.
Even as the event started, the social world came alive with Harsh Mariwala tweeting this:
And the event is webcast live across the world. Here is another sample of how INK 2015 had triggered the imagination of people as far away as the Americas.
Lakshmi made it a point that INK 2015 is not a conference but a community people coming up with different ideas and perspectives. It doesn't matter where they come from. It is important to say 'Yes and…' rather than 'But no…'.
Session 1 – ERUPT
The first session curated under the theme ERUPT started with Anuradha Acharya of Map My Genome outlining how it is now important to have a 'Genomepatri' apart from having a 'Janampatri. With 80% of the deaths in Asia being caused by lifestyle diseases, it becomes important to progress on Genome based diagnosis which can help prevent diseases and eventually death.
Anuradha was followed by Anand Varma who is a NatGeo photographer who proclaimed that his goal is to use photographs to change the way we see the natural world. With his absolutely stunning images of parasites in insects, bugs and frogs. His absolutely funny way of approaching the topic along with showcasing his skills on dubstepping with his images had the audience in awe!
We then shot ourselves to the moon with Jack Hidary who urged us to think 100x where we can think of just 1x. Quoting Tesla which had the vision to think of an energy efficient car, Jack gave tribute to India as the 'Moonshot economy' with smartphones, digital payments, mobile broadband and distributed energy and storage.
We had the pleasure to interact with Alexandru Ionut Budisteanu – a 21 year old computer scientist from Romania who excels in turning prototypes into products which he believes is the 'Holy Grail of Makers'. Stuart Candy – a futurist and an INK Fellow on the other hand threw open his card game called – 'A think from the Future' which takes ideas from the abstract and helps in bringing them to reality – to creative commons. Here's what Verve Magazine had to say from Stuart Candy's session
Then came the big surprise of the day! An awesome Kuchipudi performance enthralled the audience and kept them spellbound. Amazement followed when we were told that the performer (add picture) was actually Haleem Khan. Haleem Khan used to steal time and hide his interest from his parents to learn this beautiful dance form and started donning the woman's costume in accordance with the tenet propounded by Yogi Siddhendra who said that only men should don the role of a woman in Kuchipudi dance form.
Here's what Haleem had to say; "
Session 2 – EXPAND
The second session began with Lakshmi stressing on the importance of people who can take us back in to the space of what is important in life and demonstrate how to expand our life!
The first speaker of the second session was Manvindra Singh Shekhawat who expressed his love for the Thar Desert, the space it offered him and the people who live in those desert contently despite the lack of resources. He outlined the work done by his team with the help of locals in building a lake which collects 12 Mn litres of water and also the clean up act in Jaisalmer where 150000 square feet of ramparts were cleaned in 25 days!
He rounded of his session with this quote:
"Our past is going to catapult our future beyond anyone's imagination"
– Manvendra Singh #INK2015
Lakshmi initiated the first discussion of the day with T V Mohandas Pai who reiterated his thoughts on how start-ups are solving India's problems. His firm belief that Energy and education being the next sectors that would disrupt the country and the world's prospects. With Solar energy getting cheaper than grids and Digital Learning Media assisting in opening up the minds of young Indians, he believes firmly that India is on the right path. He also stressed on the need for a middle-class lobby which can help in achieving the objectives for the common man.
The session with Mohandas Pai was followed by INK Fellows including Arshiya Bose – who has infused bio-diversity into our daily cuppa and Naved – India's first Hindi Rap artist who admitted that he went the wrong path before cleaning up his act. Our own Eminem – Naved had this advise for people who are walking the wrong path. He rapped in Hindi asking them to; "Search, search till you find your calling. And that will expand the scope of what you want to achieve in your life!"
The next session by Nina Tandon was an eye-opener and she explained how they are 'growing' bones in a lab using one's own stem cells separated from blood samplels. She also introduced the concept of #Cellfie to our audience.
"The next generation therapies are about looking within at the biodiversity of cells that make up our body" #INK2015
The second discussion of the day was with Harsh Mariwala. He outlined his contribution in building Marico and the brands under its fold including Parachute, Saffola and Mediker. The constant innovation in packaging which led to the success of Parachute as a brand was a wonderful story of disrupting common practices to achieve success in a relatively short time frame. He also outlined the importance of identifying the consumer insights which would help building a brand.
On the soft side, he declared "Culture is the source of competitive advantage. You need to create a culture to win in the marketplace. So we created a 'culture of innovation, openness and risk taking'. A culture where failures are not punished."
Fun for the day began with Arunabh of The Viral Factory. His dissertation on how the market has misunderstood the concept of 'Young India' was a laugh riot. Some of his gems:
• The best fictional show that Indian Youth get to watch is NEWS
• It's easy to think of ideas but it's important to put method into the madness!
• Startup is just like a guitar, every college student wants one!
• Get busy doing or get busy dreaming!
Session 3 – ENGAGE
The very different lunch was followed by Lakshmi getting M R Rangaswami to co-host the session which was kicked off by looking into the cosmos by Priya Natarajan. She said that our cosmic messenger is light and Astrology is actually Archaeology of the cosmos.
Balan Ayyar stressed on how small decisions that you make in your life continuously help you make the biggest decision of your life that would bring out your values!
And then appeared Tina Sharma – a wellness consultant who got the entire audience on their feet with her groovy moves to shake them up! It was a riot to watch audience trying to replicate her nuanced steps and laughing at themselves!
Seldom do we understand what goes inside a product reaching our doorsteps! Priyanka Kohli outlined the vastness of a warehousing operation and used that as a platform to explain how their organization helps in creating hardware which makes a complex operation so simple. Grey Orange – India's first hardware start-up went through many hardships in building a robotics based hardware set up in India
Richa Singh of YourDOST highlighted the social stigma of seeking psychological help. At 400 conversations a day, yourDOST.com is a technology solution which helps people to talk their problems and help alleviate suicidal tendencies
Ganesh Natarajan dwelled deep on how Digital tools can educate and create 'agency' in individuals in helping them dream and execute their dreams
The Oomph factor of the day was kicked off by Ayushmann Khurrana speaking about his journey to Bollywood. "There is a streamlined structure in casting these days and it is more democratic", he said. He signed off in style with the Pani da rang song from Vicky Donor.
SESSION 4 – EVOLVE
Lakshmi kicked off the fourth session by having a discussion with Kiran Rao & Anand Gandhi. The dialogue hovered around how films as a medium can be used to address social issues that the country faces. From manual scavenging to education system, Kiran and Anand had their pointers on how the film industry can help find solutions.
"Films is an art form and should not be looked at only as Friday Box Office system. The power of stranglehold on people's imagincation, we need to use this power to enable people!" said Kiran to wind up the conversation
Another INK Fellow Pavithra Mohan introduced us to Cool Hunting and how she overcame her Bipolar Disorder through curating art! This was followed by a session by Balamurali Ambati – the world's youngest Doctor who doesn't wants to be identified so! Bala stressed on the need to donate cornea tissues which can help provide vision to the challenged and emphasised the need with "Netra Daan, Maha Daan".
"To be able to see the smile of a patient is why I do what I do!" is the most profound statement by any Doctor!
Shamim Sarif weaved stories which can be a window of our past or a window to our future or about our personal evolution. "A million reasons to not walk a path and one strong reason to walk the path – passion to tell the story that I wanted to say!" was the reason for her to take up story telling and visual medium.
We all tell stories everyday to ourselves. We are only limited by our imagination!
When our minds are open to the idea there is a little light that no one can extinguish!
An intense performer, a down to earth human and a wonderful orator is how one can describe Irrfan Khan. Some of his quotes include:
• How things follow you and give you what you are looking for!
• Life shows some paths! It is for us to identify it and follow it!
While commenting on the Indian Film industry against Hollywood, he didn't mince words and said, "In India, the centre of the story is the image of the Star and all the departments serve that image! In Hollywood, the centre is the 'story'. Any big star there serves the purpose of the story! That changes everything!"
He is not an intense person after all. His goofy side was brought to life with his story on a tiger encounter and his love for forests which puts him into a deep silence and gives him a high!
What better way to end an intense day. MADBOY/MINK belted out their best numbers with the audience on their feet all over again asking for more.
More they will get. More will be given. For we have just seen day one of INK 2015. And there's two more days of intensity, relaxation and intrigue awaiting them. Till then…