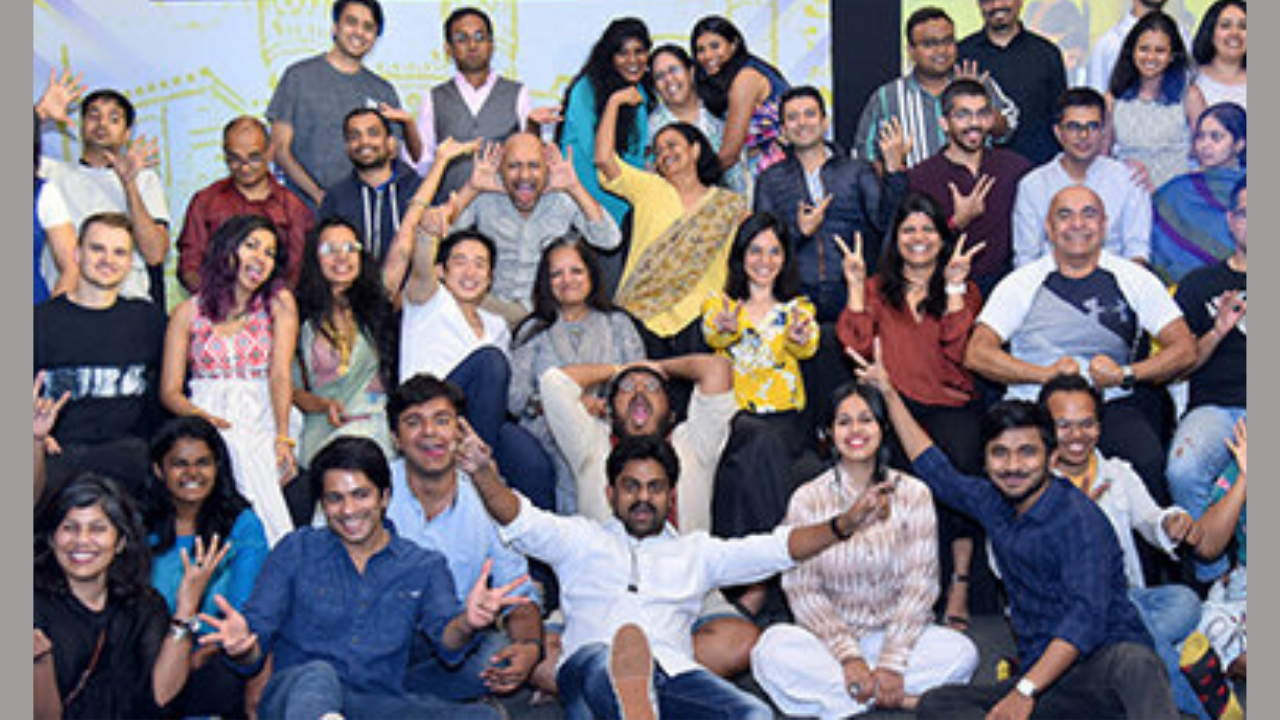 INK 2015: Disrupt took place from 16th-18th October; nearly a year ago to the date!
We were fortunate to have a wonderful group from SPI Cinemas join us in Mumbai. One of whom, Ratheesh Krishnan, working with post-graduate student Siddharth S has shown his appreciation for the experience through a 132 page deck, beautifully designed and complete with his 'sketch-notes and a thematic alignment to the speakers we were poised to listen to!'
Here's a flavour of what happened at INK 2015 – written and pictorial. You can view the full deck at the bottom of this page.
Session 1: Erupt
Anuradha Acharya – Anand Varma – Alexandru Ionut Budisteanu – Jack Hidary – Stuart Candy – Haleem Khan
Anuradha Acharya on personalized health care
Anand Varma's stunning photography – the smallest of insects to the vast wetlands of Patagonia.
Alexandru Ionut Budisteanu on the maker movement
Jack Hidary a green future pioneer
Stuart Candy on the importance designing and staging immersive experiences for the future.
Haleem Khan on the spirit of natya, that expression has no gender – through dance.
Session 2: Expand
Manvendra Singh Shekhawat – Mohandas Pai – Arshiya Bose – Naved Shaikh – Nina Tandon – Harsh Mariwala – Arunabh Kumar
Manvendra Singh Shekhawat with a  culture conservationist perspective.
Mohandas Pai on seeking to empower educators and enrich the future.
Arshiya Bose on encouraging farmers to grow coffee in sustainable ways.
Naved Shaikh a self-described desi rapper challenging conventional hip-hop.
Nina Tandon is on the frontier of biotechnology.
Harsh Mariwala talks about excellence and the continuous innovation that is necessary to succeed.
Arunabh Kumar on making of his hit series Pitchers.
Session 3: Engage
M.R. Rangaswami – Priyamvada Natarajan – Balan Ayyar – Priyanka Kohli – Richa Singh – Ganesh Natarajan – Ayushmann Khurrana
M.R. Rangaswami on eco friendly business practices.
Priyamvada Natarajan on plotting dark matter clusters.
Balan Ayyar on personal growth, and how adversity can transform into your greatest opportunity.
Priyanka Kohli on integral components of a business.
Richa Singh on her app, which provides mental health support to people in need.
Ganesh Natarajan on the digital transformation of urban slums.
Ayushmann Khurrana on journey from underdog to major Bollywood actor.
Session 4: Evolve
Kiran Rao – Anand Gandhi – Pavitra Mohan – Dr. Balamurali Krishna Ambati – Shamim Sarif – Irfan Khan
Kiran Rao and Anand Gandhi are filmmakers weaving fascinating tales – movies are culture creators.
Pavitra Mohan, a blogger, on spreading south Indian culture.
Dr. Balamurali Krishna Ambati the world's youngest doctor at 17, specializing in ophthalmology.
Shamim Sarif on the importance of story telling and the various thought processes that go into filmmaking.
Irfan Khan on his award-winning career as an actor, and all that the film industry has taught him.
Session 5: Merge
Annamma Spudich – Ravi Chaturvedi – Sharath Gayakwad – Anuraag Saxena – Mainak Chakraborty
Annamma Spudich on the importance of drug development and ethno-botany.
Ravi Chaturvedi on how to make work fun, and finding the balance between doing what you love and doing your job.
Sharath Gayakwad a Paralympic athlete, on not letting his disability stop him from being a record setting athlete.
Anuraag Saxena on the balance between religion, heart, and home.
Mainak Chakraborty on discovering new bioenergy sources.
Session 6: Emerge
Vidya Shah – Flavia Agnes – Babar Ali – Rashesh Shah – Pranay Chulet – Kathryn Myronuk
Vidya Shah on merging profit-making principles with the non-profit world.
Flavia Agnes, an inspirational activist who uses her legal background to fight for women's rights.
Babar Ali on beginning a school in his backyard that now caters to over 300 students.
Rashesh Shah started Edelweiss in 1996.
Pranay Chulet on the process of creating films, and the path that lead him to create Quikr.
Kathryn Myronuk on deep learning and her work on exponential technology.
Session 7: Evoke
Anu Aga – Seema Kamble – Sanaya Bharucha – Madhukar Dhas – Zoya Akthar – Sharad Devarajan – Kaushal Dugar – Josh Radnor – Emily Levine
Anu Aga on enriching India.
Seema Kamble on running an after school program to further the young minds of India
Sanaya Bharucha on the importance of the limitlessness of children.
Madhukar Dhas on aiding rural famers by instilling practices of holistic watershed management, mixed cropping strategies, and seed banks.
Zoya Akthar on her life as an award winning filmmaker.
Sharad Devarajan's on his mission of the rise of the Indian super hero.
Kaushal Dugar on Teabox, a service that uses technology and supply chain innovation to ensure that its global customer base can access the freshest and best teas, within days of production.
Josh Radnor on being more than just "How I met your Mother".
Emily Levine on what makes her tick; balancing on the fine edge of order.
Session 8: Embrace
Amanda North – KP Mohanan – Srikanth Bolla – Nishikant Deshmukh – Benitha Perciyal – Sandya Kola
Amanda North on Artisan Connect, which features curated artisanal décor and empowers thriving artisans.
KP Mohanan on radical educational reform, and diversifying education.
Srikanth Bolla has a vision; sight is just physical.
Nishikant Deshmukh on using ultrasound imaging to help the cancer community.
Benitha Perciyal an artist, highly influenced by her roots.
Sandya Kola, a self-taught violinist.
Session 9: Tandav
Angad Singh – Anshulika Dubey – Aparna Venkatesh – Catherine Mohr – Samyak Chakrabarty – Kirthiga Reddy – Kanniks Kannikeswaran
Angad Singh on the importance of creativity and its intersection between education, technology, and design.
Anshulika Dubey on the benefits of crowdfunding.
Aparna Venkatesh on studying Down syndrome on a genetic level with Nobel Prize winner Sydney Brenner.
Catherine Mohr on revolutionizing conventional surgical practice.
Samyak Chakrabarty on creating platforms for young India to enable positive social impact.
Kirthiga Reddy on the  intricacies of emoticons and acronyms.
Kanniks Kannikeswaran, a world-renowned composer – pairing of Indian vocals with traditional western choral traditions.
Here's the full deck – read detailed speaker biographies, and see all Ratheesh's doodles talk-by-talk.
We hope to see you at INK 2016: Kaleidoscope. Register here.