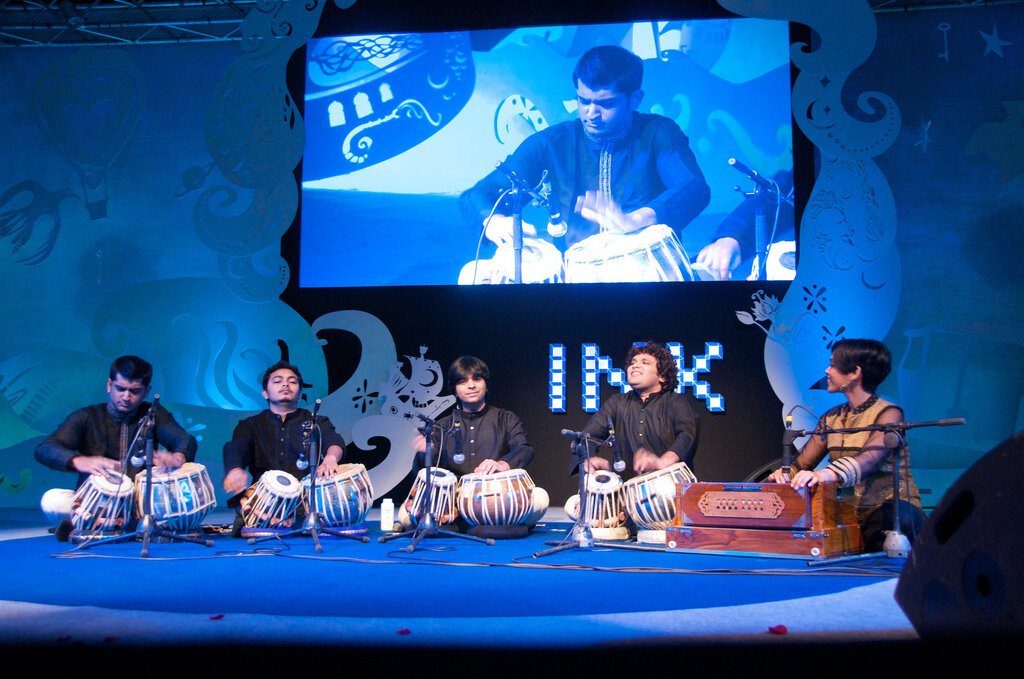 When we received the invitation to speak /perform at the INK conference 2011 (formerly TEDIndia), there was no question about accepting.  Several of us had been following both INK and TED for some time now and we were more than happy to be apart of the experience.
However, after accepting the invitation, we were faced with a dilemma.  What would we perform? For those not familiar with the INK and TED formats, each speaker is given a maximum of 18 minutes. 18 minutes to share your ideas, your work. Unlike most bands, Talavya does not have individual songs, we perform a group tabla composition which is about an hour in playing length without any breaks or speaking.
So what would we perform?
The obvious answer would be one segment of Tabla Ecstasy (the composition we currently perform). After all, Tabla Ecstasy is divided into four parts based on speed and each segment is between 7 to 18 minutes in length. It would be easy to speak for a minute or two and then perform a section of the composition. However, this would not reflect one of the primary purposes of Talavya – to showcase the depth and breadth of classical tabla playing. Tabla Ecstasy and all of the previous works of Talavya follow the format of a classical tabla solo performance. Playing one segment would only highlight one aspect of the instrument as each section is comprised of one or two types of tabla compositions.
It was not as if this was the first time we would be performing something less than the entire composition, but just minimal time allocation for an Indian classical music performance is largely unheard of. Thankfully, the INK team were agreeable to give us the maximum time possible of 18 minutes, but this still presented a challenge. The shortest length we've played was 25 minutes – a time length that left little room for explanations, but included the more serious and light-hearted aspects of the composition. Going back to the composition with scissors was not an option as it could not be furthered shortened while keeping its essence intact. Our work had to be reframed.
But how would this be done?
The beauty of Talavya and the work we perform is that our compositions are living compositions, in that, they are continually modified. Our composer and guru, Pandit Divyang Vakil (fondly known as "Guruji"), is always making changes to what is known as Tabla Ecstasy based on our inputs, improvements in playing, etc. A few months ago prior to the INK invitation, Guruji had created a new experimental piece for Talavya that brought together world rhythm patterns and Indian classical rhythms.This work was compositionally presented in a different manner than previous works and provided an ideal framework for an INK talk. Using the base compositions (ie. specific kaidas, relas,) of Tabla Ecstasy, Guruji recomposed Tabla Ecstasy to 14 minutes, leaving a couple of minutes to share the idea behind the work (given that it is the INK conference) and technical explanation (which we feel is integral to a Talavya performance). Ultimately, the performance segment incorporated three segments of Tabla Ecstasy (slow, medium and very fast tempo) and multiple types of compositions. Our objective was achieved – to showcase the breadth and depth of classical tabla and that too within the INK time limit, which you must believe us when we say is no small thing from the perspective of an Indian classical musician.
By Heena Patel 
Talavya