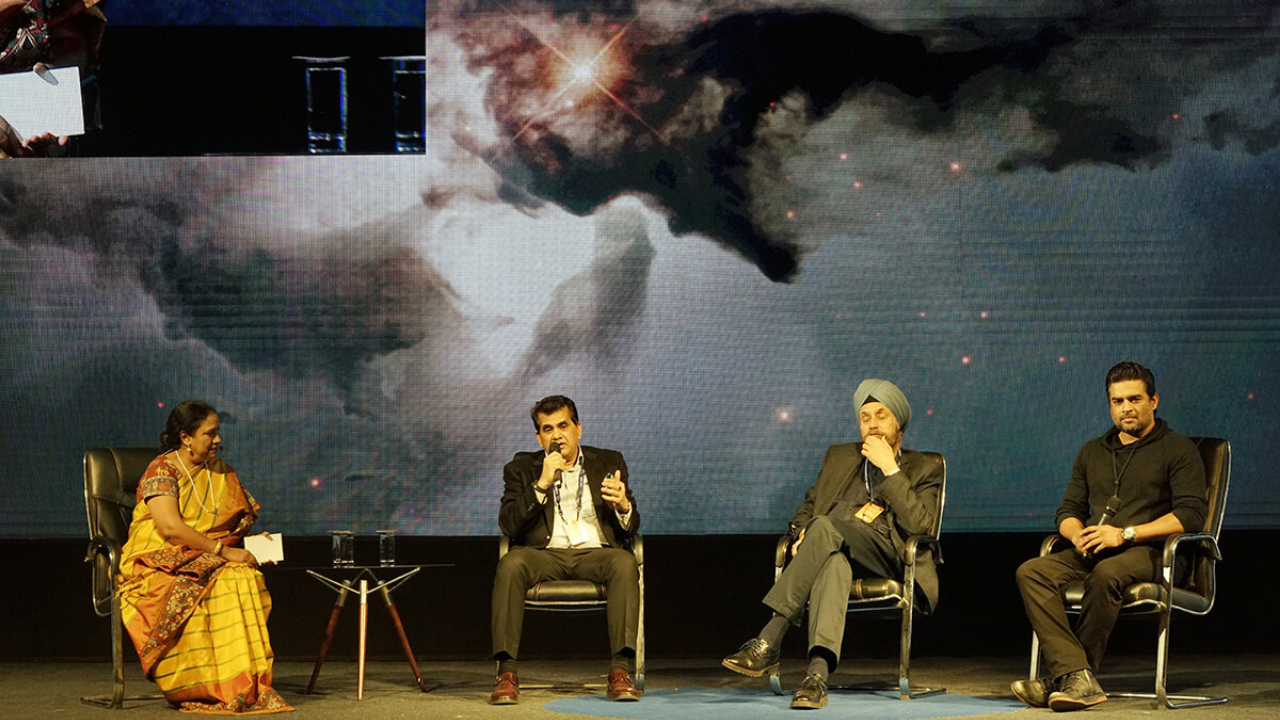 Our epic closer
20 years of films and award-winning actor, writer and producer R. Madhavan never ceases to charm us! Everything you do teaches you something, be it success or failure. How do you recognise the train that's taking you to FailureLand? Well, Maddy couldn't have put it better! When you think by constantly repeating those actions that brought you the success the first time, you're already on that train. You need to get off and go back, and catch another train! Change is necessary. Putting your life on cruise control is the stepping stone to failure.
The "me too" attitude is fine when you're at a restaurant and it's just quicker to order the same drink as your friend. But not when you are creating art and innovation. Innovation, by the virtue of its nature, is constantly changing. And Madhavan is an epitome of this imperative change!
We could listen to him talk for ages! Words and acting are as inherent in him as the sunlight is to the Sun.
"All you need as entrepreneurs is to find that tune."
What the entrepreneurial journey is all about!
Amitabh Kant, CEO of NITI Aayog, told us how GES is the first step in creating an ecosystem for entrepreneurship, innovation, and push the limits of disruption in many ways. Here, in India, we need innovation that solves our problems. "The Silicon Valley has the greatest number of innovators but the least number of problems." We have all the problems in India and the aim is to create innovators who will change the way we live for the better.
Navtej Sarna, India's ambassador to the U.S, is someone whose accomplishments precedes him. There is just one answer to all the big and small problems we are facing today and that's innovation. We have a great repository of resources that can be mined into advancing India's name in the field of technology. He has been instrumental in bringing GES to India. The Global Entrepreneurship Summit is a great platform for innovators to showcase their ideas and tell the world what Indian innovation is all about.
"When you are resource challenged, you have to innovate."
Madhavan told us a riveting story of how India was able to put their satellite on Mars at a cost that was a fraction of what NASA spent. How? We looked within ourselves to find a solution which came in the form of the Panchang. All we have to do is start with ourselves because we are unrelenting in our tradition, culture, brilliance, and innovation.
Srinivas Kollipara, Founder and COO of T-Hub, conducted the startup pitches and awards, where the top 3 startups battled it out to impress VCs and judges. Following that, he shared what they are doing now at T-Hub, which is getting new solutions to our age old problems. T-Hub is providing a brilliant platform where anyone who wants to create and innovate can find all the resources they need.
Finally, we had a breathtaking violin performance by Aneesh Vidyashankar, the 26 year old "Wireless Walking Violinist". He held the audience spellbound with his rendition of a few Bollywood songs and ending with a powerful and mesmerising Hungarian violin piece which literally shook our souls!
The closing session of the Road to GES 2017 event in Hyderabad thus ended with a hopeful message from people who have redefined the status quo and created great possibilities for the future.
Written by Varsha Venkatesh