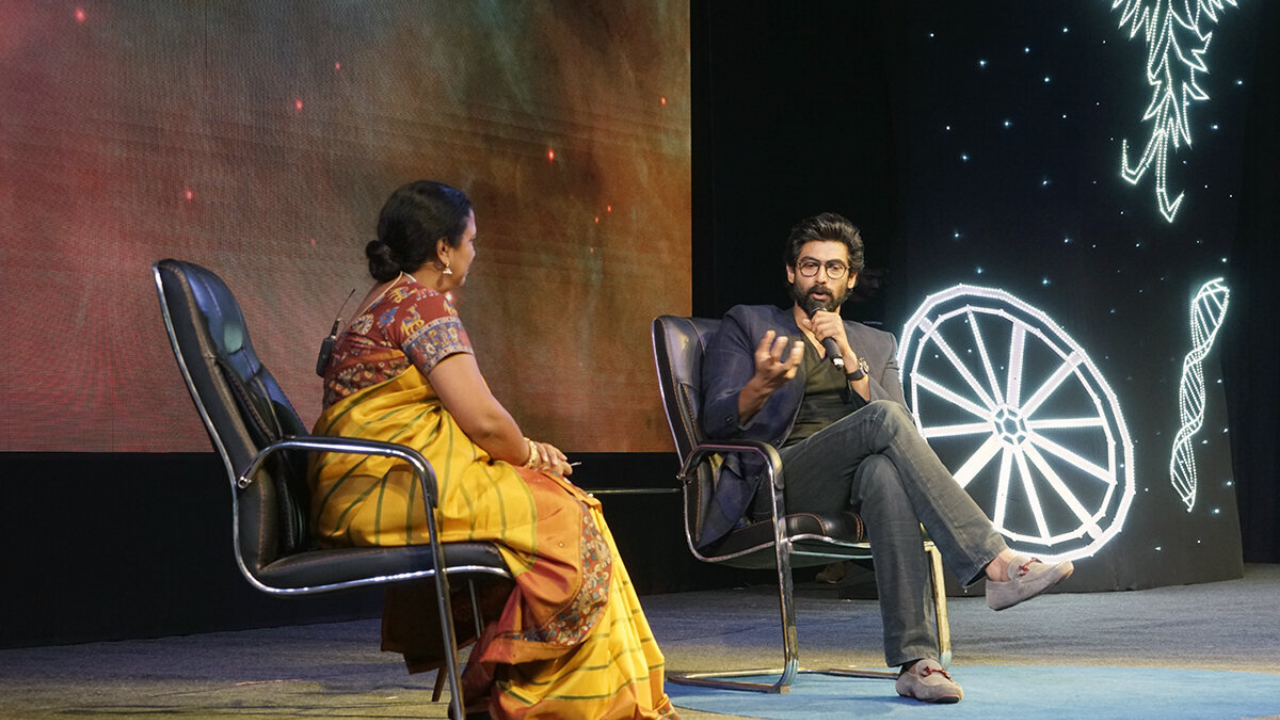 The fourth session "Scaling startups: The Mechanics" on Day 2, Road to GES started with a panel discussion, moderated by Rajesh Raju, MD of Kalaari Capital, where some successful entrepreneurs and strategists discussed various aspects of scaling a start-up.
"If we fail to scale start-ups, the entire eco system will suffer and hence we (the VC's) need to back them and help them both in the concept and execution stage" quoted Karthik Reddy, Managing Partner at Blume Ventures.
One of the most successful start-up stories on the panel was of Hari Thallapalli, CEO of Call Health Services. His company provides a single platform for all health solutions and is one of it's kind in the health industry. He spoke about the importance of managing the demands during the initial phase of scaling up, thereby gaining control.
"Sometimes we need to scale back to gain control", he advises.
Samir Sood, Founder of Venture Highway followed up with his story of  moving from business to venture funding. Another success story is the journey of CEO Jasminder Singh Gulati's Now Floats, who adopted the philosophy of market fit and innovation as a driving value to the success of NowFloats. He provided an insight on the scalability of start-ups by suggesting from his learnings – "Scale and Stage go hand in hand".
The fifth session of the day, titled Into the Unknown: The unfamiliar world of emerging Technology, Big Data, and IoT, explored the concerns and implications of all emerging technologies, as well as their potential.
The session kicked off with Dr. Kalyan Veeramachaneni, Principal Research Scientist at MIT revealing the recipe to build an Artificial Intelligence application to counter cybersecurity attacks. "They say cybersecurity threats are always evolving. Don't Worry, we will team up humans with AI and form a team to coevolve and counter them", explained Kalyan thought his AI Square Model.
Panel Discussion with Vikram Kailas, Vice Chairman and MD, Mytrah Energy (India) Limited and Vanitha Narayanan, Chairman IBM India Pvt Ltd
The panel, moderated by Lakshmi Pratury, discussed about digital transformation and the opportunities that it brings along with it.
Vikram Kailas gave an insight on how artificial intelligence is used in power generation that brings down cost and builds a turbine's efficiency. He foresees that the power industry will change and become more efficient in next few years due to the technological advancements which exponential technologies like AI, robotics, big data and so on will bring with it. Vanitha followed up with a highly optimistic conversation on how the opportunities that come along with such technological transformations will make available a platform for small entrepreneurs due to de-marketization.
We can learn by reading and listening and watching… but there's something magical about feeling someone else's energy. Such was the energy of Anil Nanduri, Vice President – GM Drone Group, Intel Corporation who spoke about how can drones could be used for business value.
Drone flights today have a game changing influence in almost all industries, by virtue of capturing real time data and generating a flood of data. Drones are being developed with advanced technological features like face recognition etc and today Intel is at the top of the ladder when is comes to developing innovative drone technology.
One of the biggest takeaway's came from another story of Vishal Gondal – Founder & CEO, GO Qii Inc, who accidentally came into the the health industry from gaming. He inspired many through his Get Fit Get Active campaign and is dedicated to innovate continuously to bring in trust into the industry. A very inspirational talk about helping humans live their healthiest and happiest… for the entirety of their lives!
Moving to another field, that of online content, Advait Gupt, Managing Partner of Supari Studios, presented answers to two of the toughest questions – How do we keep attention of viewers in an ethical way? and How do we remain owners of our own attention? Advait spoke about engaging online viewers by creating shorter videos respecting peoples' time and increasing the crispness of the topic for more consumer engagement.
On the fringes of where a good story begins, a few speakers leave imprints in your mind with their beautiful journeys. One of such speaker was Travis Wu, Founder and Storyteller, Lumiere VR who creates stories through Visual Reality. Travis and his team is committed to tell a story -''Any story that needs to be told or any voice that needs to be heard"
"Ideas are easy but it's the execution of ideas that really separates the goat from the sheep". Sandith Thandasherry, CEO, NavAlt Solar and Electric Boats spoke about executing his masterful idea to perfection by launching the world's first Solar Ferry that carries thousands of passengers in the backwaters of Kerala.
The highlight of the session was an on-stage interview of actor, producer and VR coordinator Rana Daggubati of Baahubali fame by Lakshmi Pratury. Being a VR enthusiast with his own agency, Rana answered candid questions on what he thinks is the future of AR/VR in India and how it can greatly impact the film industry.
It was a session where we heard from some truly amazing speakers who are making their mark somewhere in the world and sharing their knowledge and expertise. However it's important to remember, it not just the speakers but all of the other delegates as well, who are already changing or planning to change the world in their own ways, small or big!
Written by Jay Mohanty