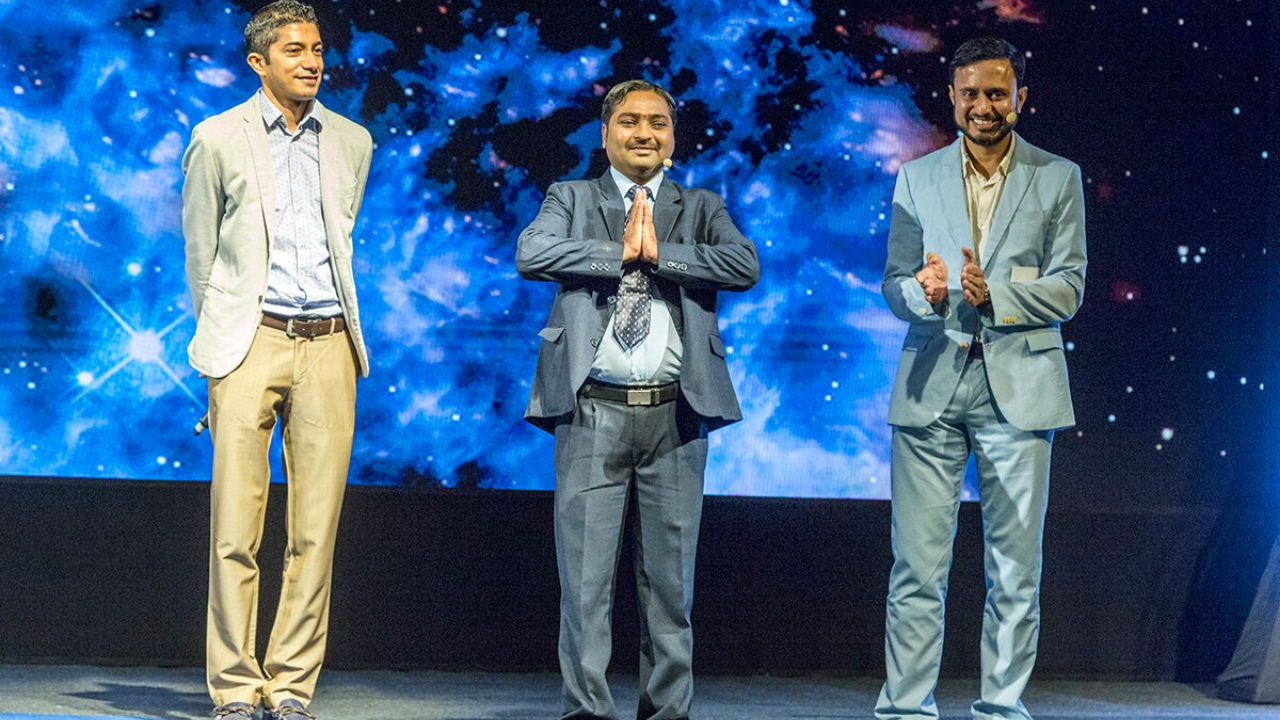 This session celebrates imaginative minds that have scaled new heights in what is most essential to us — our health and food.
Synthesising Innovation
Once upon a time, there was a beautiful orchid of fruits and flowers. Romeo and Juliet might as well have pranced around that orchid. The sun rose, the sun set, and life was fruity. Then one day, there was a small whimper amidst these fruity, laid-back people. It all started when Frederick Terman pioneered the inception, development, and growth of the Silicon Valley. The first wave of innovation hit and technological decadence descended on earth. That small whimper set off a series of innovations manifesting into the big bang that we call Silicon Valley today.
Building an ecosystem starts at solving the problems at home, not emulating one that exists in a different part of the world. Desi solutions for desi problems, as Jay Krishnan, CEO of T-Hub said, should be our mantra.
Fit as a fiddle or weak as a kitten? Rearranging those straws trying to break the camel's back. Our session titled Stuff of Life: Exploring Health and Wellness took off with a great start. Read on!
Are you in a pickle?
The kind when you are Atlas, carrying not just one but at least 5 worlds on your back and are crumbling under that weight? You can't slow down, you can't give up, you can't lose any of those worlds.
And..boy you're gonna carry that weight. Carry that weight for a long time. Pickle, right?
Angel investor and wellness coach Ravi Mantha began this session of exploring health and wellness by telling us that he knows and understand that those bales of stress cannot be removed. So, what else can you do? You make the donkey stronger.
It's all about the rhythm
People sacrifice health for a little wealth. Eventually, when the going gets really tough and we start living on borrowed time, people try to trade in that amassed wealth for health. If only things worked that way.
If your busy schedule is killing you, it will succeed. Affluence at the sake of your health puts you enroute to meet your maker. Nietzsche did say, "That which does not kill us, makes us stronger", but I don't think that applies to eating a huge bag of chips in the middle of the night and hoping that since it hasn't killed you, you're stronger.
We must participate in your own health and wellbeing, emphasises Dr. Suhas Kshirsagar who is the Director of Ayurvedic Healing Inc. More than the what you eat and how much you sleep, it's about the when. Keep up with those Circadian rhythms or you might have to sit this dance out!
A panel with a little bit of dance and whole lotta comforting tech
Dr. P Raghu Ram is the Director, KIMS-USHALAKSHMI Centre for Breast Diseases and has a very thought provoking take on treating cancer. He says, the most important part of this disease is comforting and counselling the patient. He stresses on including counselling as part of the curriculum in India because communicating comfort is crucial while dealing with a disease like cancer. He learnt that cancer wages a war not just on the body but also on the mind while his mother was battling this disease. Since then, he's been relentlessly working towards making sure the patient derives strength from you and not be a slave to fear.
His patient is the brilliant classical dancer, Ananda Shankar Jayant, who fought this war and won. She calls cancer an overwhelmingly needy disease that is constantly seeking your attention. With the help of Dr. Raghu, she shifted her focus to doing what she loves – dance. She danced her way through the cancer and now she sits as an embodiment of a riveting equanimity of the mind and body. She created Natyarambha to bring Bharatanatyam to your own home. It's the perfect composition of technology and tradition.
Raghu Gullapalli, Executive Director of Emerging Technologies, L.V. Prasad Eye Institute, is using technology to create solutions for visual disorders. He dreams of empowering our technicians to identify and screen visual diseases in the earlier stages. In 30 years, almost 34 million people have found solutions to their visual disorders and over 50% of them received free treatment. That is the work of superheroes!
Going beyond diagnosis and treatment is what changes a patient's life. They are pioneering this phenomenon and it's been an emotional whirlwind till now.
Hailing from a family with blindness in their genes, Shekar Naik gave a touching talk on how through surgery, he regained partial vision and developed a deep passion for the cricket sport.
"You should use your disability, not as a weakness, but as a strength". These words by his mother inspire Shekar and helped him overcome countless disabilities along the way to finally becoming the Captain of the Indian Blind Cricket team. 12 years ago, India had won no cup and there was zero awareness and zero support for blind cricket players. But in 2012, Shekar and his team won the first ever T-20 blind cricket World Cup and have never looked back since!
"My dream is that blind people should not depend on pensions, but should be proud taxpayers of India". Winner of the prestigious Padmashree award in the year 2017, Shekhar says his dream is to open a cricket academy for people with disabilities, search for hidden gems and encourage them to be successful, just like he was.
Mr. Venugopal gave a talk on "what happens when we go beyond our boundaries in infrastructure?".
Construction is a big driver of Indian economy, and Mr. Venugopal stressed how we have to find the best way to optimize various factors, right from construction work to funding to project management to productivity to demographic dividend to upscaling.
He talked a little about the RMZ Foundation's work in revaluing construction work in fields of basic planning, health, vocational training, recreation and building community spaces for the workers. The main goal is – "to get happy construction workers through abundance"!
Physicist Prerna Sharma studies cell membranes. She gave a 3-minute thought-provoking talk on the need and importance of basic science for ground-breaking discoveries that can push us beyond boundaries.
"Science is based on a human trait – curiosity. You get curious and start to observe, understand and finally get the thirst to explore knowledge. It is a quest to understand. I personally do science because it is beautiful like art. Beauty is truth and for me, my truth is science".
Imagine a guy who was a graphic designer, got frustrated every morning in his taxi thanks to the traffic to his office and just started thinking, "Hey, why don't I just design the space inside the taxi?
Thanks to this brainwave, Sanket started Taxi Fabric, where they take the help of local designers and design the interiors of transport in Mumbai – an example of cultural art with a societal impact. He spoke on how there is a visual culture in every city, unique to that city. Taxi Fabric quickly got global attention thanks to featuring in a Coldplay video (they actually had more airtime than a Bollywood actress!) and have now expanded to home decor. He ends with, "If design is used as a tool, impacting so many industries, imagine how it can integrate with your own industry and product. I want to be that bridge between design and society".
Nitesh saves the lives of babies from Respiratory Distress Syndrome (RDS). " I wanted to create a device with immediate impact – devices that can save lives without any delay".
Nitesh talks of identifying a gap in providing breathing support to babies with RDS. 32 per cent die during transportation to the hospital and the existing CPAP machines for that purpose work only in ICU, requiring continuous monitoring. Nitesh stepped in and developed a neonatal device 'SAAS' requiring no monitoring, no electricity, no skills to handle and costing less than half of CPAP – thanks to interdisciplinary team at Coeo Labs. "My goal is to prevent anything that is preventable"
The first session of Day 2 ended with Vita Dani in conversation with Lakshmi about sports entrepreneurship. She talked about her running a football club and eventually, a Table Tennis League with an established school program in 28 states of India. "I believe that Indian kids have tremendous potential in sport and that should be encouraged more than only academics".
Written by Varsha Venkatesh and Swathi Parasuraman