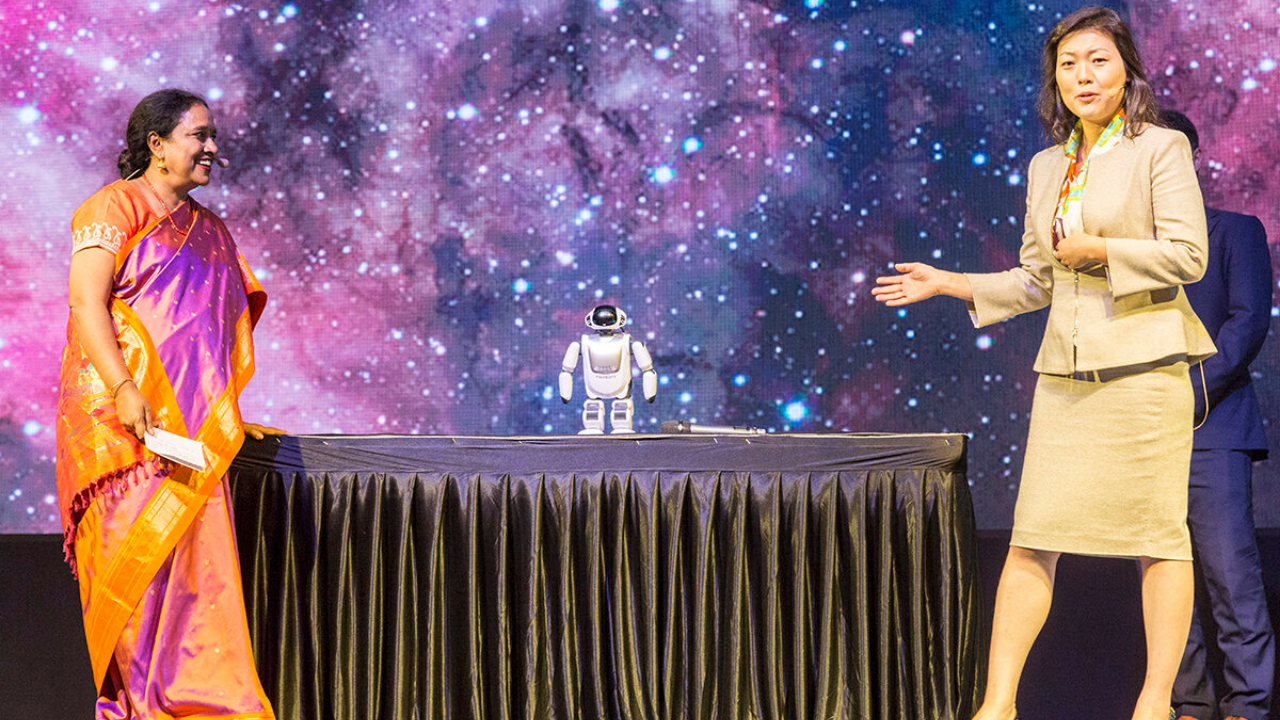 Aptly titled "Moonshots: Daring ideas to transform the world", the third session on Day 1 of Road to GES (26th November) turned out to be a eclectic mix of talks, featuring ambitious and ground-breaking efforts going on in the field of nanotechnology, space exploration, drones, AR/VR, and more.
It was an encouraging session and really did help us open up our minds to hitherto unknown but powerful opportunities that our country can wield in exploring the future of space.
Sheelika Ravishankar, People Lead at Team Indus, Google Lunar Xprize –
An Enterprising Moon Mission
Team Indus is the first private organisation, all set to launch their first private space craft from India, and leading India from the front into the next generation of space exploration, precision engineering and aviation technology.
Sheelika from the team gave a talk on their journey on developing ECA (Ek Chhoti Si Asha) – a robot that explores the lunar surface, through their space mission HHK (Hum Honge Kamyab). The team have a vision of taking India to the Moon and they are all geared up to do so in less than a year's time!
A team which consisted of 3-4 members having no idea of space technology and armed with a vision, is now a 100 member team all ready to create history. We wish them all the best!
Gadadhar Reddy, CEO, NoPo Nanotechnologies India Pvt Ltd
I Will Go to Mars
"Ever since I was a child, my goal was to land up in Mars", says Mr. Gadadhar Reddy, CEO of NoPo Nanotechnologies India. He set up a Mission Mars 2022 goal and whatever he did in all his years was a step towards achieving that goal.
NoPo, which ironically stands for "Not Possible", develops nanotubes, (the 'best in the planet'!) and at present NoPo is all set to develop Nano Satellites by 2019. So not only can Gadadhar go to Mars, but also India can take a giant leap forward in the application of nanotechnology in space systems. Win-win!
A panel discussion moderated by Lakshmi Pratury
Shifting focus of tomorrow's corporates
A panel discussion followed on stage, with Mr. Sunil Kanoria (Vice-chairman, SREI Infrastructure Finance Ltd) and Ms. Asha Jadeja, (Angel Investor) discussing about how large corporate houses are bringing innovation into their corporate culture today.
"It's more about the awareness of corporates that identify the existing challenges. Applying technology, partnering with start ups and collaborating with other domestic companies should be the key focus of these corporates to solve these challenges", said Mr. Sunil Kanoria.
"The next big thing in the technology space is AI and Blockchain, which is an open source to the whole world", quoted Ms.Asha Jadeja.
Mr. Sunil also predicted India's trillion dollars investments in infrastructure in the next decade and stressed upon the use of AI and robotics to bring down cost and build efficiency.
Judith Amores Fernandez, Research Assistant and PhD student, MIT Media Lab
Mindful existence
We all come with an unconscious bias to certain smells, colour, taste, feel, and sounds. Judith Amores Fernandez, is doing incredible work with human perception and capabilities. She is creating creative solutions that is going beyond the boundaries of design and technology. Truly expressing an altruistic act starts at connecting with yourself. She showed us a fascinating new way of meditation, Psychic VR, which helps you do what you want to do, and helps you think what you want to think.
The session ended with a fun demo of a robot by Fujitsu Inc. and an underlying feeling of hope for the future!
Written by Jay Mohanty and Varsha Venkatesh