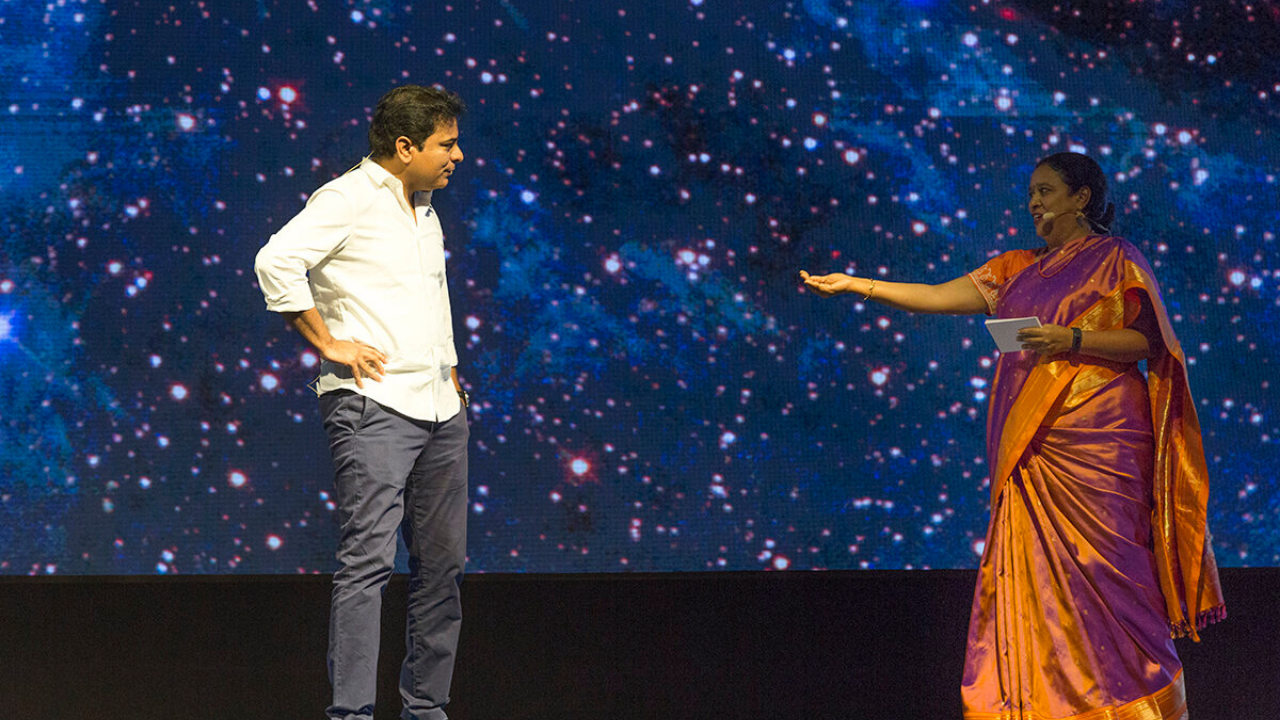 Day 1 of Road to GES: Beyond Boundaries was truly a visual treat!  Starting off with a beautiful Assamese song 'Tezimola', sung by INK Fellow Joi Barua, a welcome speech was given by Lakshmi Pratury, Jay Krishnan and Srinivas Kollipara, introducing the event and the organisations working together to make it a reality – INK, T-Hub and NITI Aayog and 5 other corporate sponsors.
While T-Hub gave us a sneak peek into their plans for the future, Lakshmi spoke of a quote by Kahlil Gibran, which sums up how we as humans should support each other to go 'beyond boundaries' into an innovative future. BVR Mohan Reddy, Founder & Executive Chairman of Cyient also took to the stage to express his thoughts on Hyderabad as a thriving start-up ecosystem and its path to become a global entrepreneur hub.
The first session, 'Power of the Journey' began with a starting line of visionaries and thought leaders –
Hon'ble Minister Kalvakuntla Taraka Rama Rao, Govt. of Telangana

"No one can stop an idea whose time has come".
Our headliner for the day, The Hon'ble Minister, spoke about the power of ideas and how India as a nation has the largest think force in the world with enormous potential for game changing ideas.
He stressed upon what India needs today – not leapfrogging, but propelling itself to join the league of top 10 countries in the world. We as a country need our own local solutions because of the diversity and challenges that lie before us, unique to our society alone.
At this juncture, we do not need venture capitalists but 'adventure capitalists' and in today's age, to evolve as a country, we need to come out with The Next Practices rather than adopting The Best Practices.
There's an entire paradigm shift and thanks to that, we need to adopt a new
3D Mantra – Digitize, Decommonalize and Decentralize and a
3I Formula – Innovate, Incubate and Incorporate.
At the same time the Government also needs to deploy the power of ideas so as to get executed on ground. KTR ended with a quote – "The best way to predict the future is to create it. We live in an age of uncertainty where ideas are the only tools to help!"
Dr. Gopichand Katragadda, CTO, Tata Group
"We are in exciting times. It's time to bring back the "ukku" was what Gopichand Katragadda started with. Ukku is the original steel of Telangana and the CTO of Tata group spoke at length about sustainable development and advanced research which the Tata Group is dedicated to. He presented a vision before the audience as to how AI can help automation of services and create work place solutions.
"Everything in India is changing every 100 miles"
Do you think in English or do you think in your mother tongue, the language you were brought up in? When you have to say something endearing or ask the grocery store to give you cardamom, what language spills out first? What language do you think in?
There exists a totally different set of technology users in our country, who want to express themselves but have no platform. However, as soon as they are provided with one, they are not reluctant to express themselves!
Next was one of our new INK Fellows, an IIT Kanpur Alumni and founder of India's own social network "Sharechat". Farid Ahsan gave a riveting talk on how his app has helped create a platform to reach out to millions across India, irrespective of language and geographical barriers. Like Lakshmi said, "Sharechat is all about vernacular beauty!"
Devi Murthy, Founder and CEO, Simple Farm Solutions Pvt. Ltd
Devi Murthy is a powerhouse lady, passionate about helping farmers. She gave the audience a picture on how her brainchild 'Kamal Kisan' has created simple solutions in agri- business with the help of technology and how that has redefined the industry by creating smart farmers thereby optimising their resources.
Perfect for the theme of Road to GES, India is clearly powering througthrough innovative technology and disruption of services to create a better tomorrow.
Sanjay Podder, Eisenhower Fellow and MD, Accenture Labs India 
Sanjay Podder gave an overview of technology to solve the major problems faced by the world i.e. healthcare/poverty/climate and expanded on instances where tech start-ups today have created models to avoid vulnerability of human trafficking with the use of AI.
He also spoke about Accenture's work with The Akshaya Patra Foundation and gave an example where they built a highly automated kitchen using it forecast the next day's meal to avoid wastage.
Prabhat Labh, CEO of Grameen Foundation
Prabhat, an international development expert, spoke about the 3 major barriers in achieving financial inclusiveness i.e. capacity barrier, trust barrier and access barrier and steps one can take to overcome it.
Capacity Barrier:- Mobile applications used by micro-financers can digitize financial procedures and train their clients on its use, transforming it into a behavioural change.
Trust Barrier:- Apps can be developed, making them user friendly for frontline workers so that they can use their local language avoiding any communication hindrances.
Access Barrier:- Apps can be developed to create a one place solution for banking needs wherein digital transactions can be done and cash barriers eliminated.
Kailash Satyarthi, Nobel Peace Prize Laureate
Nobel Peace Prize winner Kailash Satyarthi took to the stage amidst huge applause and appealed to the leaders of tech force today to find technological solutions to societal problems and overcome major challenges like education, child labour, trafficking and slavery to foster and create a better purpose of life where the sense of global citizenship can be inculcated in the minds of people.
Mr. Satyarthi went on to speak about the unprecedented tide of change in India where technology is transforming the livelihood globally and bringing sustainable change to the society and ended with "The need of the hour is innovation in healthcare technology and education, which are both fundamental rights of the citizens of this country. These basic facilities should not become a commodity"
Written by Jay