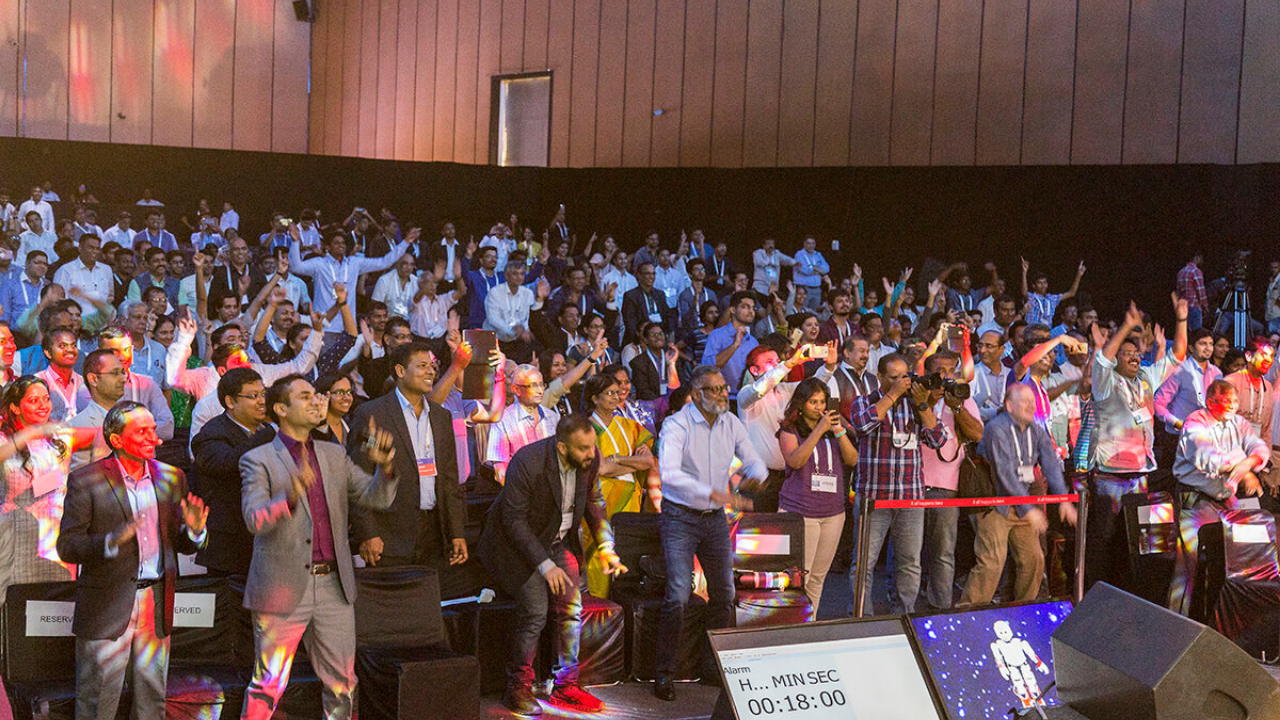 Titled "Future Billions: Education and connectivity for all", this session explored technologies, trends and ideas that have the potential to impact the future of the billion-plus in India
"Oppa-Robot-Style"

Is it still called robotic dance if a robot is the one dancing?
The afternoon session kicked off with Sarvesh Shashi who is the founder of Zorba and the dancing robots. Yes, you read that right! The crowd could not stop moving and grooving with these robots before they settled down to a session titled, "Future Billions: Education and Connectivity for all", which discussed technologies, trends and ideas that have the potential to impact the future of the billion-plus in India.
Blended learning with Amit Goyal, Country Head, edX
Typewriters evolved into laptops. People who fixed CRT monitors evolved into fixing flatscreens. Rigid classrooms evolved into…. rigid classrooms.
When every single aspect of the world we live in is evolving, why are our classrooms not? After all, learning begins in the classroom. Jobs are evolving with the advancement in technology. Then, why is education still rambling on instead of focusing on learning?
Harvard and MIT have come together to create an ingenious online education platform, EdX. Amit Goyal, the Country Head of EdX, shared a very moving anecdote about how the university is going to the students, breaking all gender bias and restrictions in Jordan. Through EdX, the women in Jordan now have unparalleled access to education.
Our educational degree cannot just be a fashion statement. When education meets skills, you learn. When you learn, you evolve. When you evolve, the world can change. It all starts at learning the way to learn.
Future billion through sports, food, and fashion
If Life is a Ball,
You need the perfect attire
To reach that sweet, sweet spot
And stay there,
Once and for all!
Setting personal goals and constantly learning is how Pooja Dhingra (Founder, Le15 Pattiserie Pvt. Ltd) keeps herself challenged. She took up the challenge of running a half marathon before she turns 30. And she did it. Each day she trained gave her not just great health but also led her to start a chain of healthy desserts. You'll never realise how what you're doing now is going to be an integral part of your story one day.
Reinventing the way people think about sports is what Somdev Devvarman's (Co-founder and Trustee, Life is a Ball Public Charitable Trust) Life is a Ball all about. It's not a placeholder in a kid's day which conveniently gets replaced by an impending doom of an exam. It's not something that you drop the ball on. He says sports builds a person and helps you become a better leader, more courageous, and teaches you integrity. Somdev brought this ball into his court and dreams of taking sports to the most economically disadvantaged areas. He believes sports is a tool to become better humans and that was a golden set!
Before our culture stops breathing and before our traditions become history, we need to gather and preserve it. That's what Yash Dongre (Business Lead, House of Anita Dongre Ltd.) is doing by finding and making the artisans of India the forefront of fashion. At a recent fashion show, the showstoppers were these artisans whose life's work is every piece of apparel they made. This indigenous work is precious because it is an art that only these artisans see, that only these artisans can breathe life into. Taking this global and making India's artisans and their art a force to be reckoned with in the fashion world is what he dreams of.
A keen sense of aesthetic repetition by Diya Mehhta Bhupal
Thoughts intertwine with spaces and each of these thoughts are experiences. Multiple experiences makes us who we are. Diya Bhupal is an artist who creates art from rolled up recycled paper. Growing up around a camera when everything was not digital instilled the art of construction of spaces in Diya. She didn't see a physical space as emptiness that needs to be occupied but as an experience. Our repetitive actions and thoughts is where we find out who we are.
What do marks truly mean?
When marks are just enough so you don't cross your parents or become victim to the blemish of failure doesn't translate into enjoying education. Why is enjoying education so important? The fact that this is even a question is a big problem. INK Fellow Ankit Durga, Co-founder and COO of Leap Skills Academy, is building a bridge between education and employability all the while changing the process of education itself. He told us stirring stories of people who have absolutely no access to education, and some to even think about education. They truly know the meaning of travelling for education and some even fighting for it. Everyone from the destitute to the affluent are victims of education which hasn't adapted itself to what the 21st century has to offer.
Finding love for everyone who wants to learn
When someone tells you "I don't want to study, I want to learn" and that's why I left school, what does that tell you about our education? Our current system treats education and learning as two different entities. They are not.
INK Fellow Shravya Reddy, Director of Transformation and Strategy at Presidency High School, is changing the landscape of learning. She is solving the biggest piece of the puzzle – How to spark a love for learning? When that puzzle is solved, coerced learning will stop and make way for gluttonous learning. She runs programs not just for students but also the parents and teachers since they are the facilitators of education.
Raju Reddy – Founder and CEO, Sierra Atlantic
A sandbox can be turned into a fully functional ecosystem, says Raju Reddy. With just three ideas, you can get this show on the road. One, the entire mindset of social change has to bring together the nonprofits with the profitable ventures. Two, to find local solutions to our local problems. And three, truly think about how to scale these solutions.

SheSays speak out!
She says "I will speak up against all discrimination".
She says "I will be resilient until I use up all my resources".
She says "I will breathe, first, and then continue."
Trisha Shetty, Founder & CEO of SheSays, gave a truly stirring account of a father who hasn't stopped fighting for his 4 year old daughter since the day she was raped. And parents who stop at nothing to get justice for their child who was murdered. Trauma doesn't kill hope. Trauma gives you the weapon to fight until you've won. If anyone tells you there's another reality to this, don't settle for that. Never settle for a reality where you feel disregarded, discriminated, or despair.
Written by Varsha Venkatesh