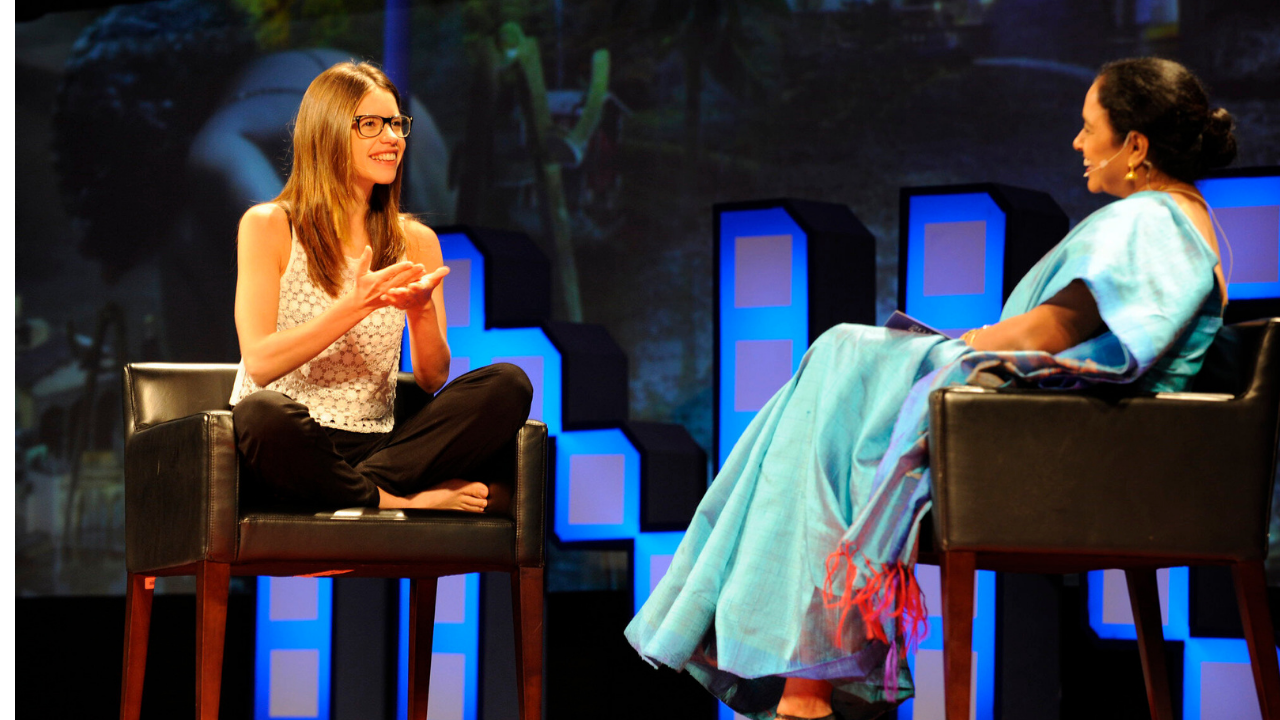 Everybody is on anticipation high — INK conference theme music plays loudly as a call to the attendees to drop everything they are doing and rush to the main hall to grab a seat. The time is now sharp 9:00 am, theme music subsides and all lights are dimmed. Out of the darkness, flood lights now focus center stage on singer Vasundhra Das; she begins to sing a soulful invocation that fills up the room with such energy. It's the beginning of 3 days of heart-wrenching stories, cutting –edge ideas, and surprising perspectives, 3 days of new connections, possible collaborations, and the much talked about 'brain spa'.
Lakshmi Pratury now takes the stage to introduce the theme of the conference. The stage lights up. A huge screen that spans the entire width of the hall becomes a live backdrop for all the action. For the next 3 days this screen will serve as a digital canvas displaying some of the most iconic works of art by some of the world's best known artists. The first session is called 'Blank Canvas', Lakshmi expands on the analogy behind the curation of the sessions and speakers. Just as the creative process for the creation of a masterpiece unfolds, the sessions lined up follow the same steps — we begin with the 'Blank Canvas', then apply the 'Primer', then make a 'Rough Sketch', then imagine and create 'the visual', follow it up with 'finishing touches', observe and add 'Shadows and Highlights', creating 'The Collection' until we are ready for 'Redefining Geography'.
Before Lakshmi calls on stage the first speaker, she urged us to have that one aha- moment, meet at-least that one person, find that one project — which we take further on from here at the conference.
SESSION 1: Blank Canvas (Featured Artist: Ranbir Kaleka)
Opening speaker Tania Luna, a surprisologist, wow-ed us with her talk on the Surprise Mechanism. In this age that we're in, with information right at our fingertips, we have less and less tolerance for the sensation of not knowing. She shared that, "We feel more comfortable when things are certain, but we feel more alive when things are not." Tania urged us to "unlock our surprise sequence" and "become producers of wonder."
"Surprise is life. Interrupt your patterns. Stretch the wonder. Create spaces where anything can happen," concluded Tania Luna.
Next up was Harish Hande, Co- founder of SELCO India, and talked to us about sustainable social entrepreneurship. "Have you heard of a single vegetable street vendor going bankrupt," asked the Magsaysay award winner. He made a point that street vendors have been doing sustainable social entrepreneurship for the last 80 or 90 years. He shared how his mentor was a street vendor, and he compared her business to that of Kingfisher.
Street vendors do better than MBAs when it comes to bottom lines and social entrepreneurship. Looking at our country, there are 20 million people who are showing us what social innovation is. "The poor are going to show us how to live sustainable," Harish concluded.
Next we had INK Fellow, Bollywood actress Kalki Koechlin engage in an interesting conversation with Lakshmi Pratury. Kalki took us through her journey as an artist and person, starting with being of mixed heritage in India to her acclaimed role in the movie Dev.D.
"My skin is white, but my heart is brown," she answered on the question of identity. Sharing her penchant for writing, she said that she writes either when she is unemployed, depressed or bored.
Kalki also read out a brilliant poem she wrote which can be found here
Next up on stage was Vinay Venkatraman, Co-founder of CIID (Copenhagen Institute of Interaction Design). His talk compelled us to take note of frugal innovations, the tinkering shops, how discarded computer monitors morph into 'the silicon cottage industry' on the Indian streets. How we could be using scrap waste to innovate, focusing on sustainability, taking things apart and re-building, and be fixing things. Frugal innovation takes inspiration from the tinkering ecosystems – which are disorganized, people are highly self trained even if they have had no formal education. Sharing that, "Constraints + Ingenuity + Imagination = frugal innovation (value creation)," Vinay demonstrated a frugally innovated hearing device, and an alarm clock which had been melded into a medical device.
"Come down from the cloud, we need street level –street computing," Vinay Venkatram concluded.
Next up on stage was promising young architect and INK Fellow Alok Shetty, he talked to about his passion for design and architecture, and shared some of the cool projects and concepts he is working on. He echoed the Occam's razor principal that "the simplest solutions are often the right solutions." Alok made a point that we should use the most abundant material for construction and we have trash – bricks from trash are the building material of the future. The most fascinating part of his presentation was when he shared a video of how a 40 ft. shipping container can be ingeniously transformed into a 250 seater auditorium, a design they are working on at bhumiputra.
This session concluded with a baul music inspired performance by the band Oikyottm featuring Bonnie Chakraborty. Bonnie shared in between the performance that it is important to create a sense of wonder, if an experience isn't wild — then it's not an experience at all. "Dive deep within to soar beyond," concluded Bonnie as he ended the electrifying performance, sharing the transcendental wisdom of the baul musicians.
Session 2: Primer ( Featured artist: Sheba Chhachhi)
After a 45 minute break (which felt like a few minutes) everybody was back unaware that a curious surprise was waiting for them. Lakshmi appeared on stage to announce that we are now going to connect via skype with Rob, chief engineer at NASA for the Curiosity Mars Rover. As the backdrop screen changed to the surreal images of the Martian landscape (recent exclusive pictures taken by Curiosity), a fascinating conversation between Rob and Lakshmi unfolded, as he took us though the cutting edge technology that went into this mission, and shared the motivation and drive that keeps them going.
The underlying theme for this session was going to be Education, with co-founder of the CK-12 Foundation Neeru Khosla as the co-host. "My education was done to me, and not by me, or for me," she said sharing her personal story. "Being educated means — daring to ask questions," Neeru put it brilliantly. Today in education we are not treated as individuals, which is a barrier to access, ability and knowledge. Education is about engaging with life, using multimedia we can allow students to navigate their own learning.
Neeru next introduced Alan Wagstaff, Learning Manager at Green School. Alan began with sharing with us that schools haven't changed over the last 180 years. "When will the current education system develop a love affair with learning?" asked Alan. He shared how the time table is the enemy, how we should work towards a more student centric approach to education. Alan discussed more effective holistic models which take into consideration the integral, proficiency, and experimental frames of learning. Also pointing out that it is the role of the parents to help their children fall in love with learning.
Alan wisely concluded that, "lead your horse to water, but please make sure it is water before you ask the horse to drink."
Next up on stage was INK Fellow Shayamal Vallabhjee, a Sport scientist and EQ consultant. With his brilliant talk he urged us to unlock the potential all of us have particularly the talent young India has for sports. Each dream of a young person that is not realized in India is a loss for India – we are losing something as a nation. Is it fair to judge a child, if the society doesn't put in the infrastructure to teach a child? "If you judge a fish by its ability to climb a tree, it will always think it's stupid." Shayamal stressed that it is important to change the moral fiber of our nation.
Next up was Co-CEO of Archie Comics, Nancy Silberkleit – on the love of reading. She began with sharing her story of how she had never read comics when young. She was a teacher and still is, and believes that comic books do not force a child to learn but intertwines topics which connect social issues and fun—comics are like a bowl full of candy. "Let your dreams be huge. Never let anyone define who they want you to be. You know who you are, be pro-active in your life," shared Nancy.
It was INK Fellow Dale J Stephens next, founder of the Uncollege movement. Dale introduced himself as an 'elementary school dropout' and his talk focused on 'hacking your education'. "Do we trust people's innate capacity to be curious?" asked Dale. He made a point that content and knowledge by itself is not education – communication and interaction is, and everything we gain from formal education, we can also learn and experience on our own. The cost of education is increasing, but the value of education is decreasing. Education loan debts will be the next housing bubble. Dale urged us to "Curate your own education at a fraction of the college price – uncollege yourself!
The second session came to a close with a performance by Composer and music director Shantanu Moitra, He performed for us the song 'give me some sunshine' from 3 idiots, very suitable for the conclusion of this brilliant session on education.
Session 3: Rough Sketch (Featured Artist: Wim Delvoye)
The last session of the day began with perfumer extraordinaire Yann Vasnier come up on stage and talk about – 'Star Jasmine', a fragrance exclusively crafted for the INK conference. Yann shared with us the inspiration and process that went into creating this limited edition fragrance. Artist Raghava KK collaborated with Yann to create the artwork for 'Star Jasmine'. "This fragrance epitomizes the spirit of the INK conference," stated Yann Vasnier.
Next up on stage was film-maker Jason Wishnow, the film director visionary behind TEDtalks. Jason took us on a journey of his career and his inspirations. "Sometimes what it means to be creative is to do something that simply has no point," Jason shared. He believes that in the future, when more and more people will have access to high quality cameras it will come down to the creators, and curators, and storytellers. He shared with us a delightful short film 'Oedupus' which he directed for us featuring vegetables as actors( watch it here)
INK Fellow and Physicist Isabel Pedraza was next to share some cutting-edge scientific experiments unfolding at CERN. She had got fascinated about physics ever since she learned about cosmic rays and that everything is made up of the same particles. The results from colliding protons at high speed are promising, and thousands of scientists the world over are now analyzing that huge quantities of data. What is the composition of the cosmos? Why is the universe expanding so fast? what gives mass?… is it because of dark energy? — these are the type of questions scientists are trying to answer probably in the next few years.
Followed by that was an a heart-wrenching talk delivered by Sandeep Divekar. Sandeep's wife Julie had suffered a stroke, had stopped breathing, and even after 30 days after her stroke all Julie could do was blink her eyes. Faced with the decision to protect his wife from a fate worst than death. He insisted and convinced the medical representatives to stop all futile treatment . " Is this living? do you want to see your loved ones suffer?," quesioned Sandeep and let Julie die with dignity.
Up next was Nitin Ron, a Neonatologist who at any given time has close to 32 very sick babies in his NYC hospital ICU ward. Nitin shared his passion and love for treating babies — "Do you know what is really cool about a new born baby? — many of them might be born with no heart rate, not breathing, practically dead. You are there! you do the right steps, the right resuscitation, the right procedure, and within two minutes you have a pink crying squalling bundle kicking you in the face, and the whole world is wonderful again."
Apart from Neonatology, he had a deep interest in genetic research, which seemed odd to his colleagues. But, Nitin went on and discovered a gene with direct co-relation with neonatal hemorrhage. The profound advise he has for us is –" When somebody tells you that you cannot do something — give them a beautiful smile, bow to them with humility, and say 'thank you very much for your opinion,' turn around, and do exactly what your heart is telling you to." Nitin is also a mountaineer and a nature lover, and shared how that inspires him. He believes that ",When the ego is smashed, when ego is humbled, that is when creativity arises."
Next INK Fellow Shankar Tucker mesmerized us with his clarinet playing. Shakar then talked about how independent musicions like him who are creating a new sound mixing musical traditions and collaborating with other independent musicians
Your own role is not as important as the vision you have for how the whole piece fits together.
Lakshmi introduced the next speaker — INK Fellow Sai Gaddam wicked
Sandesh Reddy most promising chef. His talk was a fascinating treat as he shared his passions for food and flavor. A curious smelling experiment .. can the mind be tricked to create flavour. Well, cooking is more scientific than we give it credit for.
by Vaibhav Mathur