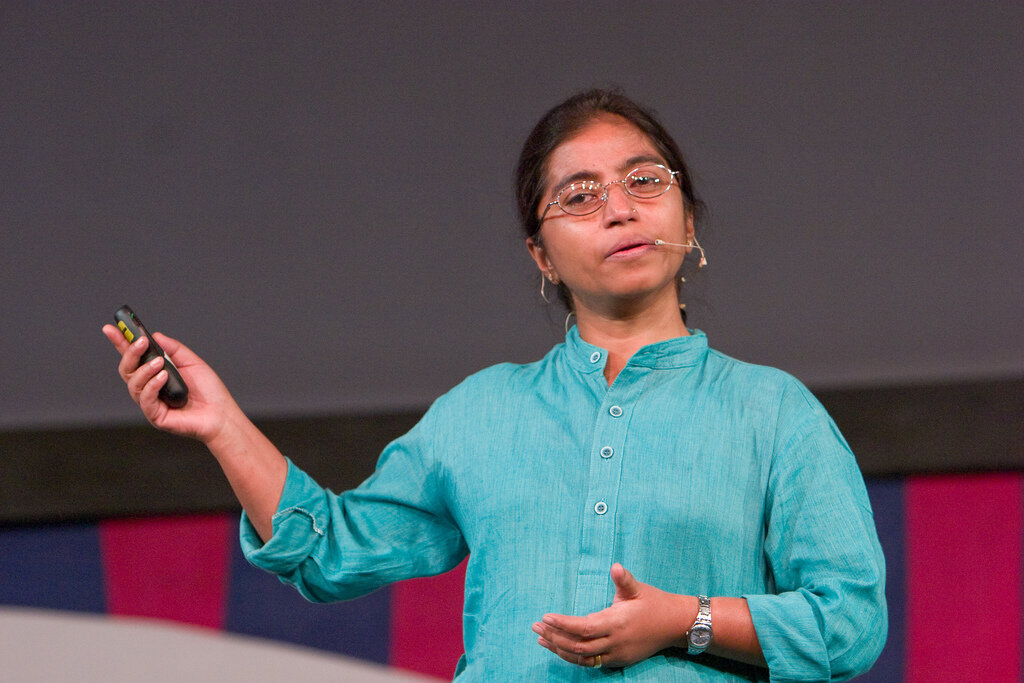 Why Sunitha Krishnan is a super hero…
When anti-trafficking crusader Sunitha Krishnan spoke at TEDIndia in 2009, there was perhaps not a single dry eye in the audience. Sunitha spoke from the heart when she gave voice to countless and nameless victims of modern day slavery. Sex trafficking is a $ 10 billion industry and the third largest organized crime in the world today. With her sensitive approach and firm resolve, Sunitha spoke about her "outrageous anger" and demanded that instead of keeping the issue reserved for seminars and conferences, we do something more concrete about it.
As founder and director of Prajwala (www.prajwalaIndia.com), she runs 17 schools in Hyderabad, India, for 5000 children of sex abuse. She has rescued more than 4,200 women from prostitution, 1,500 of whom she personally liberated. In the process she has been beaten up several times. But her biggest challenge, says Sunitha, is the civil society that is yet to accept the victims as one of their own. "I am asking you in your limited world, can you open your minds, can you open your hearts?" she asked at TEDIndia, referring to the need for inclusion of the survivors.
At INK 2010, she took the stage once again and shared how her talk at TEDIndia had changed things at Prajwala.
Google rose up to the challenge, and with its "highest ever grant to any organization," is helping Sunitha build a home for children and adult survivors that includes a hospital and a school. "When I came to TEDIndia my landlord had evicted me and I did not know where to take the 400 odd women and children who live with me," Sunitha said in her INK Talk.
"The Google grant is not only about the money. It is about inclusion of different kinds. My girls have found different opportunities. One is working as a camera person in a prominent TV channel. Another is in a software company, yet another works in an eye hospital," Sunitha revealed at INK.
…how you can play a part in saving the world
Two years ago Prajwala's 600 odd residents were forced to relocate because of the construction of a new mall in Hyderabad. Today, thanks to a grant from Google, the largest ever to any organization, Sunitha has moved her 'family' to a new home. (Watch video of her new home above) Prajwala has a multi-pronged approach that is aimed to help the victims. This includes Prevention, Rescue, Rehabilitation, Reintegration and Advocacy.
PRAJWALA PARTNERS
According to Prajwala, partnership has been the foundation for all their interventions.
Some of them are: UNICEF, International Organization for Migration, Government of India, UNIFEM, Catholic Relief Services, UNODC, Misereor (Germany), Leger Foundation (Canada), and Edukans (The Netherlands). These agencies have not only been financial partners but also have played a crucial role in mentoring the organization.
National level partners: STOP, Legal Services, Prayas, Sanlaap, Prerna, Rescue Foundation, Vanchit Vikas, Manav Adhikar Kendra, Odanadi
State level partners: Stree, HELP, Sravanti, CARD, RISE, Mahita, Divya Disha
At the international level Friends of Prajwala in United States and Switzerland have played a pivotal role in facilitating a global movement to combat trafficking.
YOU CAN HELP:
Prajwala is at a threshold today. As the organization evolves and they reach out to many more victims, they will encounter different challenges. By your active support and sponsorship, Prajwala will continue its never ending quest to bring solace to hundreds and thousands of victims of this modern day slavery. And turn them into survivors.
WEBSITE: www.prajwalaindia.com
INK Correspondent