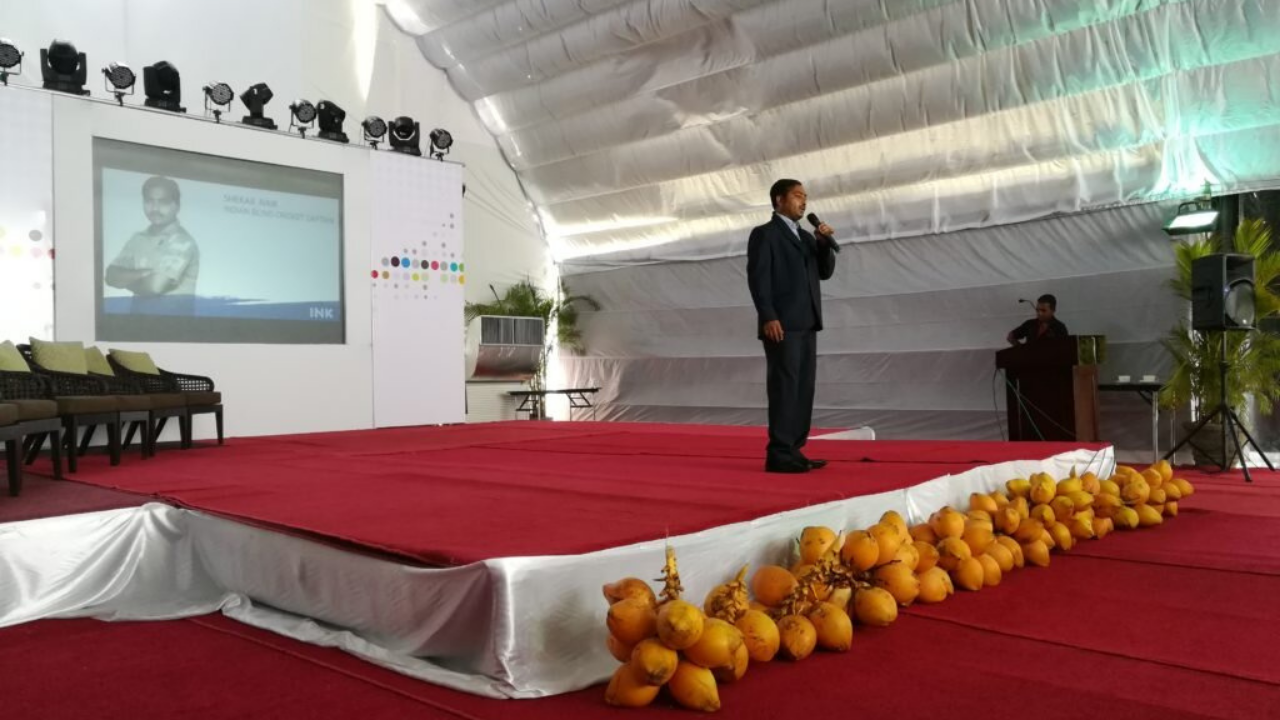 It's not often we do an INK Salon outside of India, but when we do, we make sure it is an extremely memorable experience. On 21st April 2017, we hosted a one-hour INK Salon for the IBM India South Asia Leadership team in the land of serendipity – Sri Lanka
Held at the Anantara Kalutara resort in Colombo, the theme of the day was to celebrate the stories of exceptional performers across different backgrounds. And INK is nothing if not a community of innovative gamechangers who all have amazing stories to tell!
The Salon (hosted by INK staff Yamuna Sastry)  began with a talk revolving around the lesson "It's all about self-learning" by INK Fellow and filmmaker Ere Gowda. Ere shared his personal journey of how he started out as a security guard who had no formal education but possessed a strong passion for films. He went on to constantly shift his profession, from an office boy one day to a production assistant the next, till he finally met Raam Reddy and made the short Telugu film Ika. A film which would eventually be shown at 22 International film fests. This spearheaded both Reddy and Gowda to make another feature length Kannada film Thithi , which turned into a blockbuster.
With his story as an example, Ere spoke about how he considered self-learning as the tool which helped him reach where he is now. "Google search is my guru", he candidly says. "Irrespective of the position we are in, we should explore and work on what we want without worrying about failures and concentrating on doing the task at its best".
The second speaker was Shekar Naik, the former captain of the Indian Blind Cricket Team. Shekar gave a talk on "Team and beyond" – the importance of working with your team for a common goal.
Coming from a family where blindness was a common hereditary condition, Shekar lost his parents at a very young age. Soon after, he shifted from a normal school to a special school for the blind and discovered a passion for cricket.
"I never considered my blindness a disability", he says frankly.
On the importance of team building, Shekar spoke about how in the beginning, he knew only his native language Kannada. For this reason, he made sure he was always surrounded by people of other languages and backgrounds. "I wanted to learn everything I could. So I always pushed myself to be outside my comfort zone".
Shekar went on to talk about how his team mates worked closely together and encouraged each other on the field, the result of which was winning two World Cups for India. He fondly recalls his best moment, when the Indian Prime Minister Narendra Modi took the the teams autograph, saying "You are all the true achievers". The signatures are showcased in the Prime Minister's museum till today.
Ere and Shekar both received standing ovations for their talks. And hopefully inspired the audience members to break out of their comfort zones as well!
If you would like to organize an INK Salon in your company/organization as well, please contact us at inkteam@inktalks.com and we will work with you to make it happen.