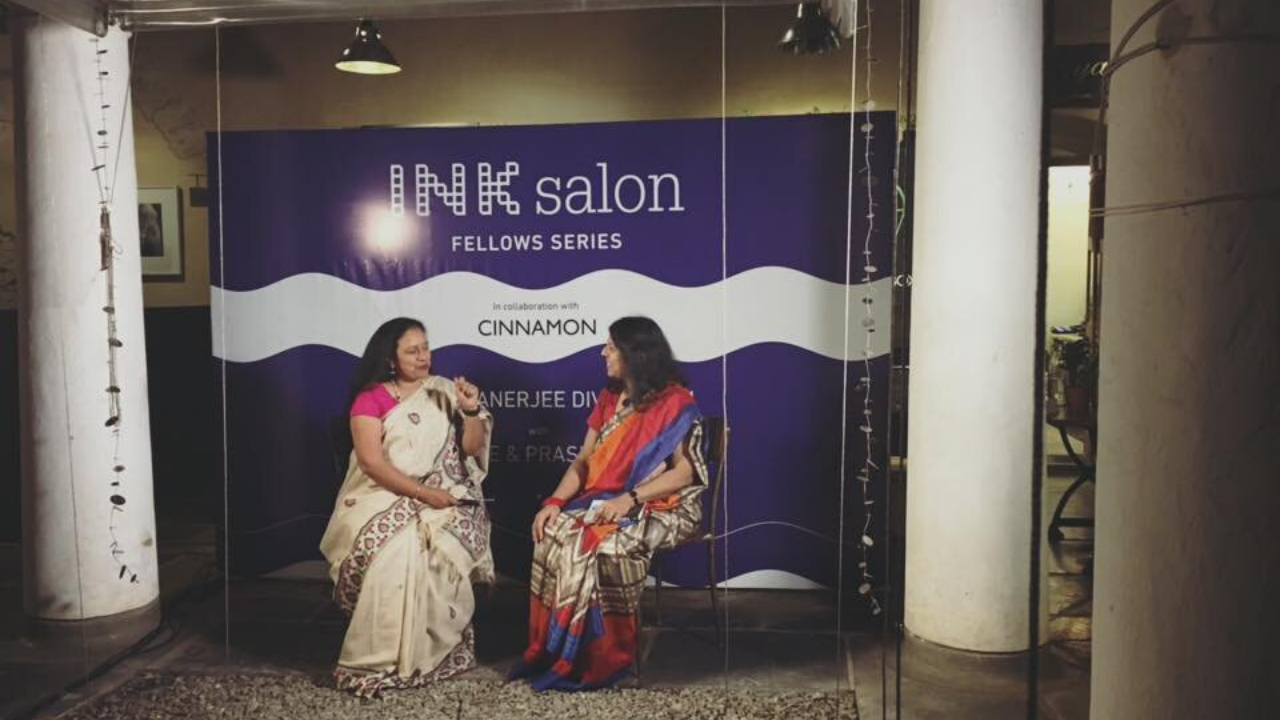 On 31st Jan, as part of our INK Salon Fellows Series, we hosted a special event featuring eminent author Chitra Banerjee Divakuruni  and two of our Fellows, Arshiya Bose and Prasenjeet Yadav at Cinnamon in Bangalore. It was, if we say so ourselves, quite an exciting one for budding writers!
We were thrilled to be able to have Chitra speak at this special event – with thanks to Jaipur Literature Fest for inviting her to India and Abhishek and Radhika Podar for hosting us at Cinnamon.
Arshiya Bose, a conservationist, coffee addict and a long time INK Fellow, gave the audience an enticing picture of  her journey navigating the coffee trails with her brand Black Baza Coffee Co, which supports coffee growers in India to follow biodiversity-friendly farming practices. Talking about the different species which exist in coffee plantations such as spiders, which act as natural pesticides and pretty much do the same, if not, a much better job than traditional chemical pesticides, Arshiya made it a point to stress on the importance of relying on nature and not on chemicals to grow our produce. She ended the talk with expressing a continuing desire to foster collaboration spirit with local communities through her brand by  guaranteeing a buy-back of coffee harvested from participating farms. Thanks to her incredible work, Black Baza Coffee has expanded from 4 growers to 200 and is still charging ahead with it's commitment to growing sustainable coffee!
Next up was Prasenjeet Yadav, a science photographer and INK 2016 Fellow who made headlines n 2014 for receiving a National Geographic Explorers grant to document the Sky Islands of the Western Ghats. Diving right in, he started his talk with sharing a desire to understand the mysteries of nature and express it to people who are less aware. Drawing from a fascination for Rudyard Kipling's works during childhood, Prasen decided early on that he wanted to develop molecular tools to understand natural wonders. While working as a researcher studying tigers, he realized that the gap between scientists and non-scientists was quite wide and resolved to bridge it with photography as a method of storytelling. Going on to talk about his Sky Islands project, he zeroed in the project's aim to bring attention to the lesser-known but highly threatened flora and fauna species which exist in the Western Ghats and their urgent need to be conserved and protected.
Following our two Fellows talks, came the highlight of the evening – the interview with Lakshmi Pratury and Chitra Banerjee Divakuruni!  Having known each other since 2001, the audience experienced a wonderfully, casual chat between two old friends leading to the atmosphere of the venue becoming relaxed and cheery. Author of bestselling novels like "The Palace of Illusions", "Sister of my Heart" and the book turned movie "Mistress of Spices", Chitra talked about how she started writing after observing the situations of young Indian  brides who come to America, fresh from an arranged marriage and enroute to experiencing an emotional culture shock. Drawing from her own experience as an Indian immigrant in the 90's, she talked about the subjects of her books and how she always starts her writing with a complete visualization of her characters and settings, like images in her mind. An advocate of giving women a strong voice, it is no surprise that she picked a character like Draupadi as the main heroine of her novel "The Palace of Illusions".  A couple of humorous anecdotes from the past relating to her growing popularity as a writer as well as a funny incident with Lakshmi years ago came up in the conversation, which drew many laughs from the audience.
The candid conversation ended with Chitra talking about her method of teaching creative writing at the University of Houston (which is her current position), her next book in progress which is based on the Ramayan from Sita's point of view (something which is of huge excitement to her fans!) and a big reveal of a plan to make "The Palace of Illusions" into a movie, directed by Aparna Sen (a statement which got the biggest reaction from the audience).
We wish Chitra all the best with her future books and hope to engage with more such diverse and exciting speakers for our future INK Salons. Make sure to keep a watch on our website and social media pages to get the updates!