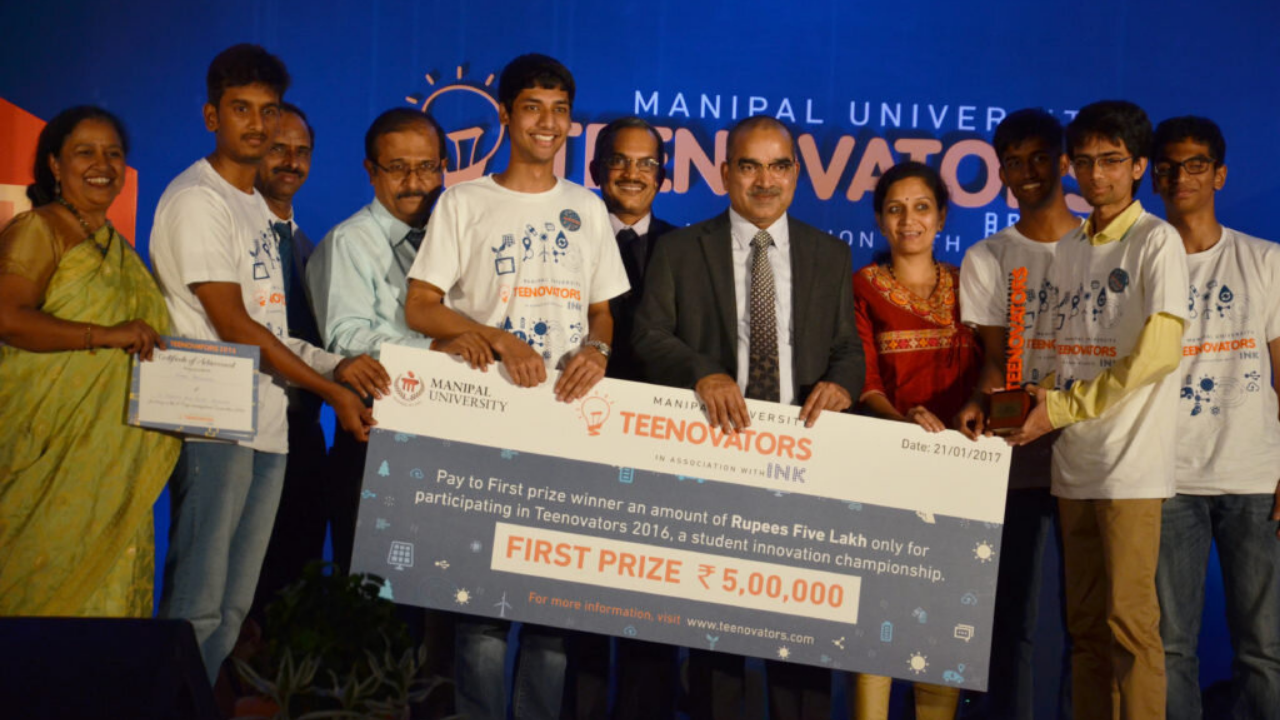 Last week, the Teenovators Finale event was held at Manipal University on January 21st, successfully wrapping up Teenovators 2016!
Teenovators is an innovation championship, targeted at students between standards 9 -12 in higher secondary schools. This program was originally initiated by Manipal University in 2011 and has been successfully implemented across India since then – held in major metros like Delhi, Mumbai, Bengaluru, Chennai, Kolkata, Pune, Hyderabad, Ahmedabad, Kochi and Chandigarh.  Designed to equip young adults not only with strong basic skills and specialized knowledge, the program also encourages the attitudes and wider skills to generate business plans revolving around radical new solutions.
Teenovators 2016 saw 450+ schools sign up from 10 cities across India. This year two new cities joined the bandwagon – Kochi and Ahmedabad! In the preliminary challenge phase, each school submitted a project synopsis in Sep-Oct 2016. About 100 teams shortlisted from this phase were asked to design a solution and present it to a panel of regional judges. 10 top teams – one from each city, were selected as finalists. The finalists were mentored and guided by industrial partners to develop working models of the proposed solutions.

Finalist teams presented their projects at the Teenovators Finale, before a panel of judges in the MIT Quadrangle at Manipal University on Jan 21st. The top three winners received the prestigious 'Teenovators of the Year' certificate and cash awards up to INR 10 Lakh. The highlights of the finale were special guests, Indian politician Shashi Tharoor, and  Additional Director General of Police, Karnataka State, Pratap Reddy.
Shashi Tharoor delivered the keynote address at the curtain raiser event of the Finale, where he spoke about the process of innovation and the Indian ability to do 'jugaad', amongst other things. He also had a candid conversation with Lakshmi Pratury, Founder and CEO of INK  on stage during the curtain raiser that preceded the finale.
Read up on his entire talk and interview published by The Manipal Journal here.
This year, like every, there were some truly brilliant projects by the student teams. Have a read of their demos below!
First Prize: St. Joseph's Boys' High School, Bangalore
Project: IFED – Infra-sound Fire extinguisher
IFED works on the principle that oxygen (needed for combustion) is vibrated away from the fire using infrasonic waves of less frequency and high amplitude. It eliminates use of water, sand, direct human intervention, is safe and more efficient and useful in high density fire prone areas like forests, agricultural land, factory buildings etc. A small sized model can be built easily with existing components in under less than INR 10,000. It can also detached from the drone and used as a handheld model akin to the current CO2 extinguisher, giving it a more household appeal as well. Read more here.
Second Prize: Abhaya School, Hyderabad
Project: V-Watch
Many vendors lose money as they are conversing / negotiating with the customer while transacting business. V-Watch is a wearable device that enables wearer to swiftly make calculations while managing business efficiently, with no interruptions. Using the speech to text translation technique with software tweaks, the device calculates transactional amounts while wearer is in a conversation. This wearable is independent of a smartphone, easy to use and affordable (< 1500 INR).
Third Prize: Kendriya Vidyalaya Naval Base, Cochin
Project: Hg recycler
A safe and eco-friendly method of breaking fluorescent lamps and the extraction of mercury for disposal, the Hg recycler is a metal furnace which will use negative vacuum to suck out the vapors of mercury when the shattered tube pieces are heated to the boiling point of mercury. The primary benefit is avoiding mercurial pollution in surrounding areas. Also, as it can replicated easily and not harmful it can be used by anyone who wants recycle, individual to organization.
Consolation prize 1: Samata International School, Pune
Project: CO2 Killer
The CO2 killer is a device that eliminates CO2 exhausts from vehicles and factory chimney using an absorbent (combination of Ca(OH)2, NaOH, KOH, H2O2).  Though similarities can be found in an existing product, this prototype can be produced at a cheaper rate with a low maintenance cost. With ever growing number of vehicles in the country, this product has great promise!
Consolation prize 2: Gurukul Global School, Chandigarh
Project: Musical colors: Boon to the Colour Blind
A non-surgical solution for color blindness converting the different wavelengths of light to sound waves. Target population is partial to fully color blind people. Simple hardware required like photodiode, integrated circuit, audio amplifier and audio output. Absence of any similar product in the market, with universal appeal, easy to produce and the non surgical nature make it a very attractive product for proposed users.
Some of the other projects and special mentions that came out of the competition were –
Loreto House, Kolkata 
Project: Chargecube, a portable energy charger that converts solar energy and atmospheric gases to electrical energy.
Navyug School, Delhi
Project: Fire Safe, a device to promote fire safety with sensors on a closed circuit that detect smokes and fires in cars.
Children's Academy, Mumbai
Project: WaterBot, an easy and simple way to keep your plans hydrated and healthy.
Lalaji Memorial Omega International School, Chennai
Project: VeCro, a method of cultivation which is eco-friendly and water efficient to encourage rural as well as urban farmers to adopt and increase food security of local communities.
Hayatnagar Jr. College, Ahmedabad
Project:  RescueBot, an all encompassing rescue operation device to help victims stuck in deep water bores.
Each team was connected to and mentored by a specific INK Fellow who generously gave their time for the program – including Ronak Samantray, Leonard Pauli, and Anirudh Sharma. Some of our Fellows were so impressed with the projects, that they decided to take things a step further! Ronak Samantray decided to help the Hyderabad team develop their product to market stage so that he could himself invest in it, in the future, and Anirudh Sharma offered the Pune team internships with his company Graviky Labs.
We hope to take Teenovators to greater heights in the coming years!