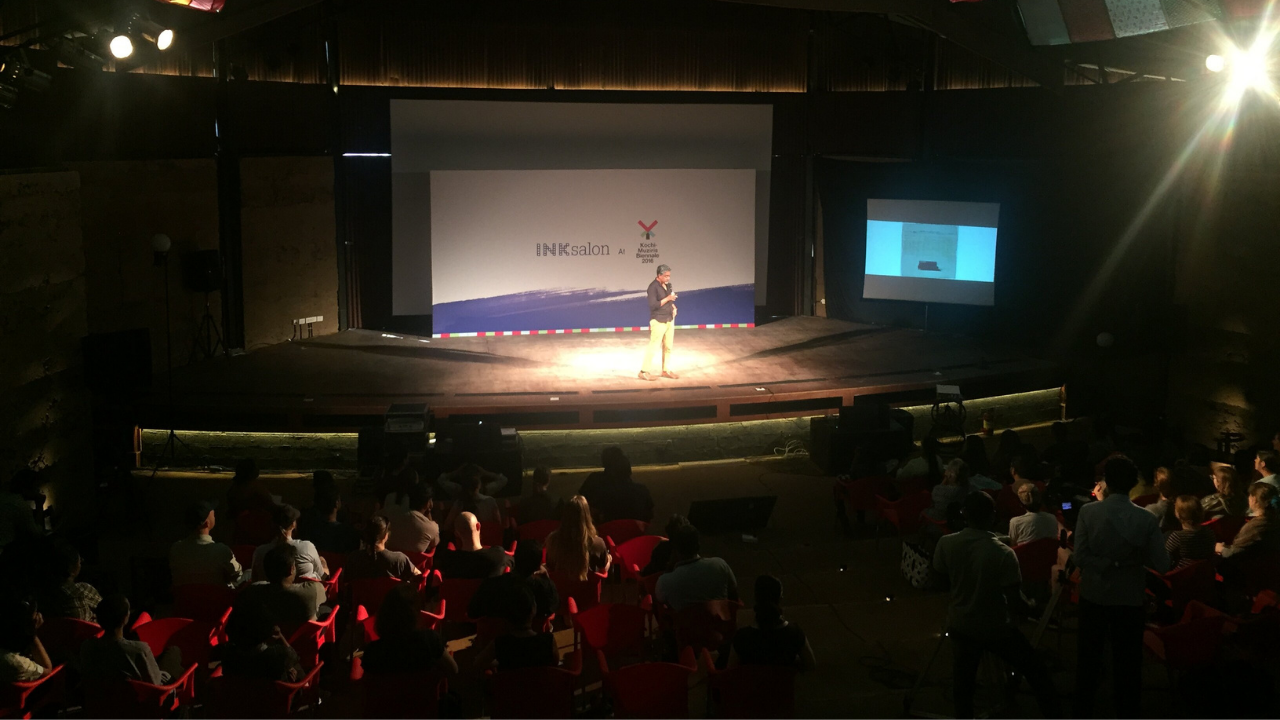 On Dec 17th 2016, we conducted a salon at the Kochi-Muziris Biennale  [The Pavilion in Cabral Yard at Kochi] featuring a sample of brilliant participating artists from this year; including the curator extraordinaire Sudarshan Shetty.
The Salon began with Lakshmi Pratury interviewing Sudarshan Shetty, curator for this year's Kochi Biennale 2016. He shared with us how he came up with the theme 'Forming In The Pupil Of An Eye', and its still changing and evolving curatorial note. The conversation gave us great insight into how he curated 104 artworks by 97 artists from 31 different countries – these are on display at 12 venues for the 108 days of the Biennale.
Our next speaker was Desmond Lazaro, an artist based in Pondicherry. He originally trained in the traditional miniature and Pichvai style of painting. Desmond shared with us the series of works he has done for the Biennale and the themes that the work explores. His interest in exploring where personal histories and collective histories collide, runs through his work and traces his ancestors lives. From reproducing the wallpaper design from the room of his parents, his father's passport, and the records that show that his previous 3 generations all happened to sail on the same ship –– Lazaro's work evoked nostalgia and sweet memories for everybody.
Up next was Hyderabad-based artist Dia Mehta Bhupal, whose installation at the Biennale, The Bathroom Set, has been a talking point for the art world. Dia shared her journey starting out as a photographer, a career in advertising and the feminist themes her earlier work had. Now exploring the idea of the staged image, Dia creates elaborate sets using rolled up paper from old magazines, which she then photographs. Displaying a set for the first time ever at the Biennale, Dia shared with us the process of creating such detailed elaborate sets. Using thousands and thousands of rolled-up pieces of paper, mixing and matching colors and patterns to create surreal stages – made to look like spaces such as a bookstore, inside of an airplane, a shopping mall, etc. She related what these spaces and her treatment with the material, form and her camera means to her.
Next was Abhishek Hazra, an artist based out of Bangalore whose work explores social history of science and the play of fiction and reality. He shared with us one of the projects that speculated on a counterfactual reading of early twentieth-century science where Einstein becomes a struggling physicist eager to have his voice heard by the scientific establishment. The legendary astrophysicist M.N. Saha at the University of Allahabad, India, recognizes the importance of Einstein's ideas on solar energy and publishes a translation of Einstein's paper in the influential Bengali physics journal Shomoshamoyik Podarthobidya.
The last speaker was Pedro Gomez-Egana, a Colombia-born Artist, working between Norway and Denmark. His installation 'Aphelion', is one not to be missed at the Biennale. His work explores temporalities, time, and most importantly, our attention. He shared with us how he attempts to create 'Sites of Exception' that are able to draw attention from the observer using the space and the point of attention. He shared with us works that not just require the observer to be in a closed, controlled space, but also how a 'Site of Exception' can be created using sculptures that move, utilizing motion as a way to frame temporality.
Hope for more such inspiring collaborations with Kochi-Muziris Biennale going forward!