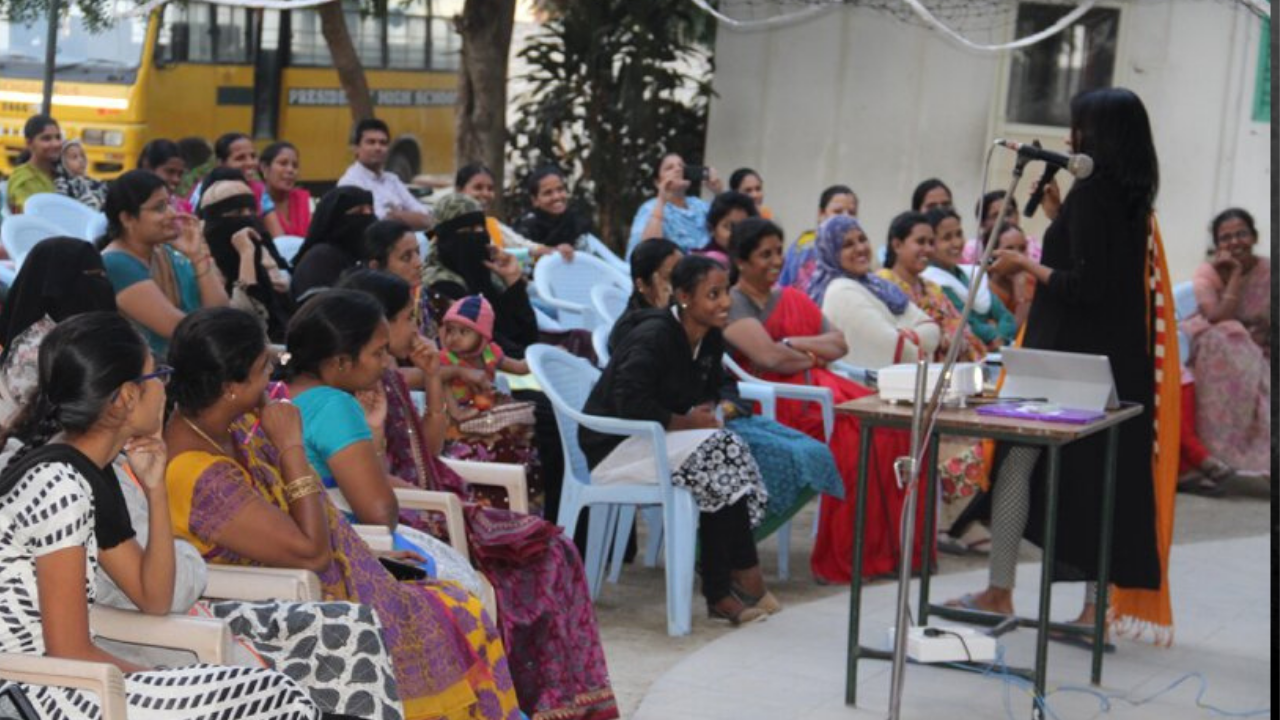 INK Fellow Shravya Reddy is an educator par excellence. She works as the Director of Transformation and Strategy for a school in a tier-2 town in Telangana. For the occasion of women's day, we had a candid chat with her to find out what significance it holds for her. Read on:
1. International Women's Day celebrates the scientific, political, economic and social achievements of women. In your experience as a successful woman, what is its significance?
A few years ago, I stumbled upon this amazing book called 'Good Night Stories for Rebel Girls' — an anthology of real life stories of ordinary women who have fought extraordinary battles within and around to make a dent in the universe. It's unfortunate that even today most kids are only exposed to stories of either Disney princesses or marvel superheroes. It is still hard to find girl superheroes or women centric plotlines.
Very recently, in a conversation with a friend, I found out about these amazing women in late-19th and early-20th century who were at the forefront of the computer science and information technology revolution. The only name that we are taught in school is that of Charles Babbage, as the father of computer science!
International Women's Day is a perfect time for us to reflect on the progress that the world has made due to the courage, determination and perseverance of women. We need to celebrate the journey that women went through and continue to go through to realize a future of equality. There is a need to sensitize our community and break the stereotypes and give the next generation an equal footing in life.
2. Which women are you inspired by in your local community, and globe?
I stay in Nizamabad, a tier-2 town that is still stuck in the past in many ways. Gender stereotyping is common and a lot of the girls and women continue to live by a code defined by the conservative society. Recently I met a homemaker who fought an internal battle to reinvent herself and inspire her two girls that women are no different than men. After being a homemaker for 10 years, breaking the status quo, finding work and juggling family is no easy task. She has proved it to her girls that women are not bound by the chains of the traditional society and are free to navigate their own destinies and establish their own identities.
Every now and then, I come across powerful women in my local community that are driven and have started the process of change no matter how small. These women are my greatest source of strength.
I look upto women like Michelle Obama who have come from humble beginnings and despite their success continue to retain their humility, values and fair play. Here's one of my favorite quotes from her book "For every door that's been opened to me, I've tried to open my door to others." This quote from her book is a reminder for us privileged women who have had the opportunity and access to better education to always do our part and take more women along with us.
With so many amazing women across the world, all I can say is that the list of women that inspire me keeps growing!
3. Based on your own experience, what advice would you give to women considering pursuing a career as an educator?
When I moved from a high intensity high pressure work environment to being an educator, I was expecting a much lesser workload! Little did I know that being an educator though gratifying can be very overwhelming.
In my first year as a teacher in a classroom I had many 12-14 hour long work days, spent researching teaching strategies, writing lesson plans, coming up with relevant and meaningful projects, grading student work and finally teaching. I realized what it really takes to be a teacher and that despite all the planning you can never predict what the 30/35 little brains in the class have in store for you!
Often in corporate jobs, a pat on the back from your boss, a promotion gives you immediate validation and gratification. Being an educator it takes a long time to see the outcome or the impact of your work.
Educators often focus on how to get students to learn values, skills and concepts. It is equally important for educators to focus on their learning and become lifelong learners along with the children they are teaching. Reading about cognitive science and understanding how the brain learns has helped me immensely in transforming the learning modules both for students and teachers at Presidency.
The biggest take away for me as an educator is to always find ways to make learning relevant, meaningful and fun for everyone!
4. How will you or your organization #BalanceforBetter in 2019?
One question that plagues, excites and intrigues me is how to truly empower women in my organization. In an organization and an industry where majority of the workforce is women, it is imperative that we think of relevant and meaningful solutions that can enable women to face challenges in their lives. We cannot be dismissive of the conflicts women have and the struggles they have to overcome – be it at home, with in-laws, with family or with themselves.
As an organization, learning how to #BalanceforBetter is an essential and continuous process for us. We have dedicated resources that work towards finding solutions to empower and groom women to be progressive leaders. Our learning modules for the staff are not limited to teacher training, they include family management, financial management and health and wellness. We are also supportive of women who enter in a new phase in their life – be it marriage or motherhood. We redesign their roles with reduced responsibility so they can use the much needed energy to adapt. Though on the surface this might look inefficient and expensive, the money we save on training easily outweighs the expense. This is not even factoring the brand loyalty, positive work environment and other things that we cannot quantify. I strongly believe that an organization is built to sustain only if it can support women through the different phases of womanhood.
Watch Shravya on the INK stage — In a crisp and uplifting talk, entrepreneur Shravya Reddy shares simple yet ingenious ideas that must be incorporated in the present (and archaic) education system to rekindle the joy for learning and teaching. Her talk reveals essential building blocks that go beyond just an engaging curriculum and infrastructure.