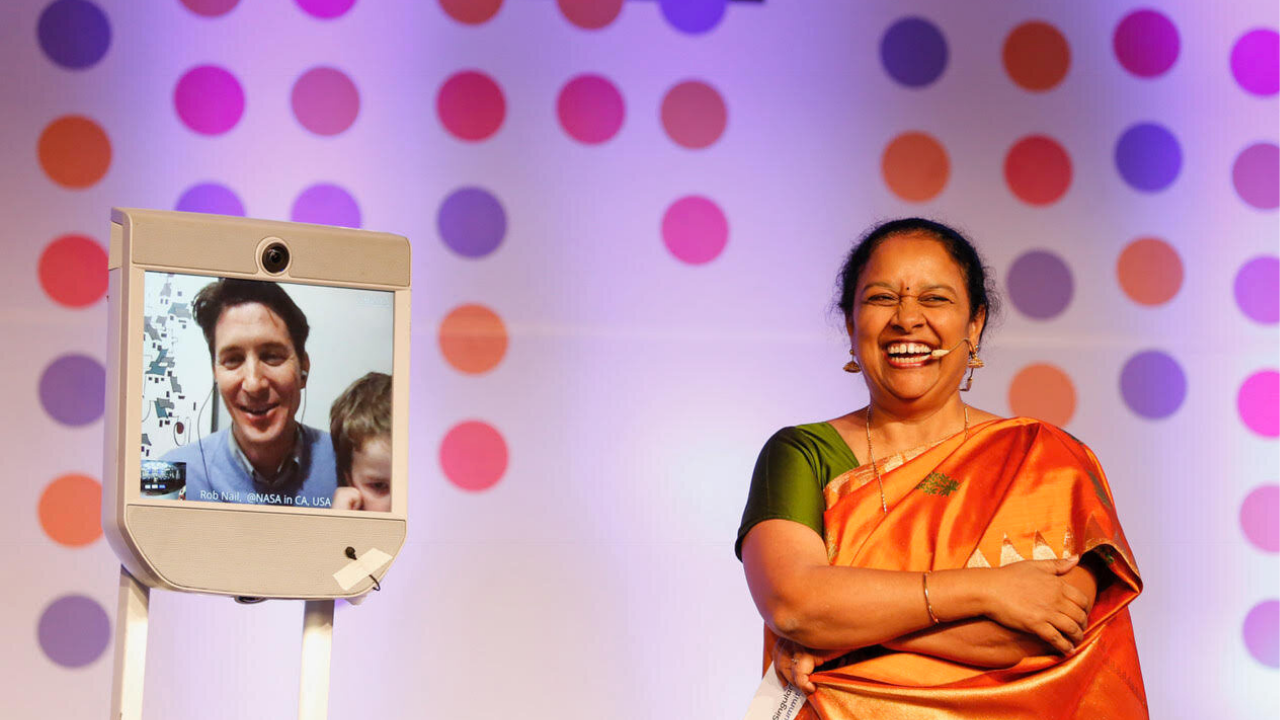 The excitement was "exponential" on the Day 1 of the SingularityU India 2017 Summit!
The morning of 7th April started on quite a musical note. INK Fellow duo Maati Baani opened the first session with a upbeat folk song, rousing the crowd from their morning daze.
1. A future of rapid growth
SingularityU India Summit's Director, and Founder and CEO of INK Lakshmi Pratury delivered the opening address. The highlight of the first few minutes was her back and forth with CEO and Associate Founder of Singularity University Rob Nail through a walking beam bot. It was quite an experience for the audience to watch Rob's face on a tiny robot screen, via online stream all the way from his home in California! He welcomed the audience to the Summit and talked about Singularity University's vision for an exponential future (along with an impromptu and entertaining appearance by his young son).
Quote of the day:
Rob Nail – "Technology and and its instruments change at a fast pace. We need to understand this pace and that is what SU does – to bring awareness around technology so that the world can think of it long term"
2. How I came across the idea of "being exponential"
With Rob setting the tone of the conference, Lakshmi drove straight into sharing her insights on the journey of exponential growth all around us.
When Intel began, cofounder Gordon Moore once famously said, "The computing power is going to double every 18 months". What is happening today? Technologies which were once the moguls of industry, are now fast becoming obsolete. Digital camera company Kodak replaced with the savvy Instagram, hotel chain
 Grand Hyatt overtaken by the unique Air Bnb – the question is, how do we keep up with these changes while escaping the risk of becoming obsolete ourselves?
The answer is "You either disrupt something or someone else will. Standing still = dead". We have to be unreasonable to expect something to happen exponentially and but at the same time, take care not lose our basic human nature.
Inspiration of the day:
A poignant video of Andy Grove's last speech before his demise, in which he says, "In face of all this advance in technology, let's help those who are less fortunate by keeping our humanity intact".
3. A dance of technology and crisis
A remarkable first speaker to kick-start the talks was Nicholas Haan, Vice President for Impact at Singularity University and Chair of the 'Global Grand Challenges', who delivered a scintillating macro outlook on the most pressing issues faced by the world.
"In an era of scarcity, yes, we can create abundance", he exclaimed with some interesting clinical trends to back that claim.
Why should we care about the Grand Global Challenges?
Before we begin to address the problems faced by humanity, we need to classify them.
In come the Global Grand Challenges: 12 broad-based challenges that cut through cultural spheres and geographies, challenges that Singularity University has comprehensively laid out. Spanning hunger, water, governance, learning, and health, Nicholas highlighted in-depth progress across all the fields, directly impacting the world.
Water, for instance, is one of the most critical ingredients to our civilization's survival. And yet, it has surprisingly seen limited innovation. Up until now!
Repeating Silicon Valley's motto, "Fail fast, fail forward", he showed an exponentially reducing cost of desalinizing water from the world's seas in the years to come.
Similar advances in artificial, lab-grown meat will address "…ethical, ecological, even religious, issues we face in today's environmental and political climate."
From Unable to Doable
Comparing our bias towards linear thinking to unreasonable fear of a trained elephant, he requested us to "…break the shackles of (our) linear thinking in favor of accepting the 'exponential'."
In the end, you could either appreciate problems before seeking technology solutions, or develop technology to address potential challenges. It does not matter which comes first. That, ultimately, is the dance of technology and crises.
Paradox of the day:
"In the most peaceful era for a human to ever live in till date, we are also facing the world's worst humanitarian crises…", a statement to compel us to evolve from old-school thinking.
4. Opening a billion gates to the 'Infinity era'
"Today's story is about the billion people outside the gate", announced Dr. Lalitesh Katragadda, a formally educated roboticist from an era when being one was not necessarily cool.
Having cofounded Google India among a host of other leadership roles, Lalitesh (an alumnus of IIT-Bombay, Stanford University's Design School, and Carnegie Mellon University's Computer Science Department) wondered how many sustain their daily life on just a single meal each day. And that is exactly what he did for almost a year when he moved base to India.
The result? A profound journey of discovery and empathy of large swathes of poverty-stricken India.
"2.5 million people die of hunger each year", he quipped. "60% of Indian college graduates do not have a job. But in order to solve these challenges, we must stop devising systems based on 'judgments', and take a first step towards living the life they live".
The 'Infinity Era'
Already many tasks in our daily lives are on their way to automation. In a scenario where there may be tens of millions of jobs lost to automation, will civilization actually progress?
"To match Canadian-quality healthcare, we need roughly $2.5 trillion, a figure greater than our current nominal GDP. But we do not have to train so many more doctors to fill that gap. We only need to automate the right skill-sets to fill the gaps we may never otherwise fill".
He highlights how indigenous startups like Bengaluru-based EkStep Foundation impart literacy to children through their very own illiterate mothers. This is an excellent example of an embrace of automation to solve present gaps in society. Indeed, the 'Infinity Era' is all about co-existing with technology, not opposing it.
The 'India Stack'
India's untapped land capital amounts to $4 trillion. India also has roughly 80 million entrepreneurs, spirited innovators he refers to as "California Indians". In five years, India will go from being "…a data-poor to a data-rich country, and only robust policy will empower these disruptors to help us reach our true potential."
Recounting his own experiences selling 'Map Maker' to senior executives in Google, he stresses on the importance of "…sacrificing not just the surplus, but the essentials…" on part of the entrepreneur.
"I was fired three times. My project was cancelled six times. In the end, my struggle to keep it afloat lit another 3 billion people from developing countries on the global mapping interface".
Yes, without this stalwart's struggles, we would not find ourselves navigating Mumbai's twists and turns with so much ease!