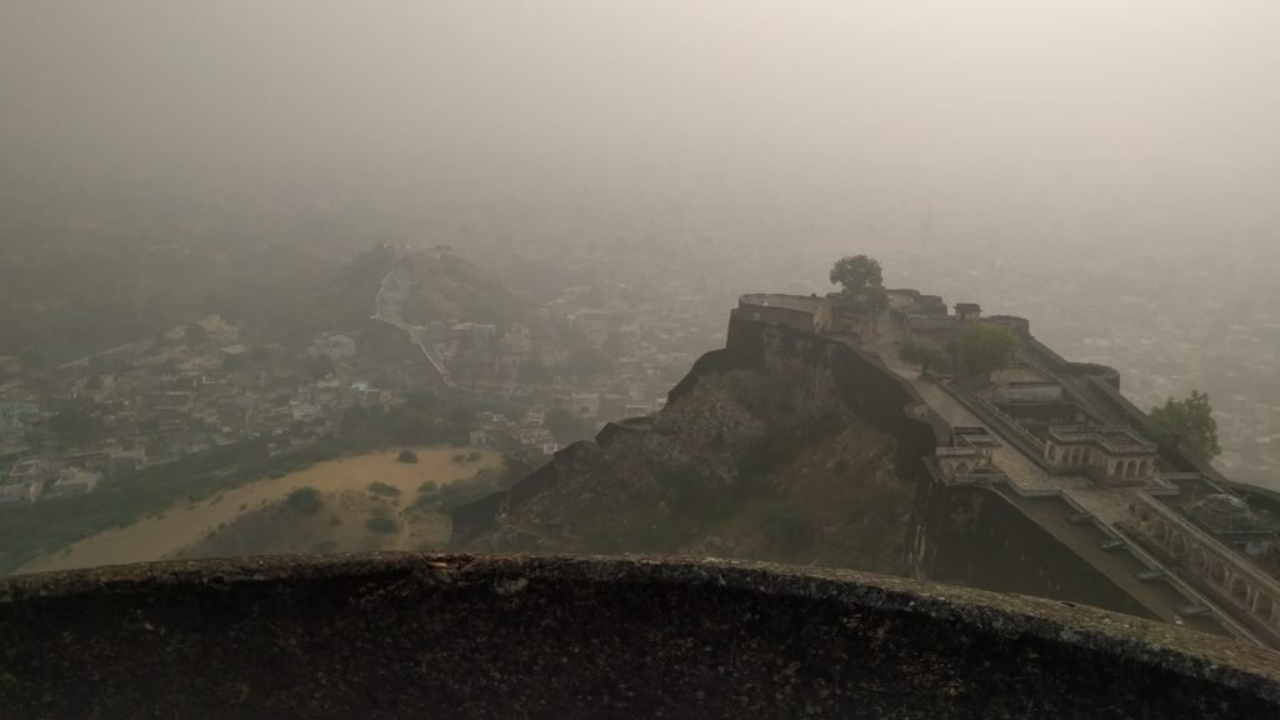 Continued from "Trip to Jaipur and Jaisalmer Part I" blog post – 
Temple on top of a hill
The next day, Manvendra took us on a drive across the desert to his favorite spots. We went by a set of huts that were in the midst of nowhere. He told us the story of the owner who came to Manvendra to get a small loan to build a small hut. He now has goats, chickens and his three hut settlement is the equivalent of a mansion in that part of the world. He stands alone across miles and miles of desert land, a proud owner of a well, goats and a happy mother, wife and family. We visited a set of tombstones where the ashes of the dead were buried with their sculptures erected over the burial spaces. In those days, the men had multiple wives and they were all burnt on the funeral pyre when the man died. So, there were sculptures of men with multiple women on top of each burial space. Then, we went up a hill to one of the most beautiful temples. It was a temple under a large tree and was totally quiet because the priests have taken off on Diwali holidays. We could see a small oasis from there and the scene was most serene. It is in moments like this, it feels as though the mind makes some permanent imprints of the experience and the camera simply fails. Throughout our journey, we listened to the music being composed by Joi. Late afternoon sky turned to night as we zoomed through the desert. Listening to its strong voices was somehow the perfect way to end the day.
Kuchaman Fort
On the way back, we went to Kuchaman fort, which is an old fort purchased by Manvendra with plans to renovate it and turn it into a hotel. A few rooms are functional but the place not open for residence yet.
Our beds were made on a small mound over looking the town, under a large tree. In the morning, we walked all across the fort, checking the secret passages, the sheesh mahal (palace of mirrors) and the large terraces.
Jaipur
After eating breakfast, we drove to Jaipur to see the latest project in Manvendra's journey. We entered a large piece of land, with trees that are growing around the circumference. Here is another project among INK Fellows – Manvendra is working with Shubhendu Sharma of Afforestation to plant thousands of trees in this property. Shubhendu's team planted the first batch of trees and taught Manvendra's team the process and now, they are completing the project. His plan is to have at least a million trees inside as well as outside the property.
The main structures in this land are large sheds where he is archiving and storing various parts of homes that are being demolished. He collected windows, doors, pillars and other parts of approximately 10 homes that are being demolished in the Bikaner area. Each of these pieces is being tagged and it's history, architecture and stories are being archived. One of the most absent trait in India is that we have amazing history that has not been archived. It was so heart warming to walk among centuries old remains with each piece telling a silent story of an erstwhile era.
I love following people's dreams, understand their passions and follow their journeys. It was wonderful to spend a few days with the INK family and watch how they all are supporting each other and how each one is passionate about their respective journeys. We all take center stage at times but the most significant work happens back stage where very few have the privilege to experience the journey. I was so glad that I could share this journey with Arnav and get a peek into the mind of Manvendra.
I came back with a deep love for the desert, for the magic of sparseness, majesty of architecture and the melody of the desert music.  One of my most favorite activities through the year is to travel to locations where our INK Fellows turn their dreams into reality. The journey continues and I look forward to what awaits me.