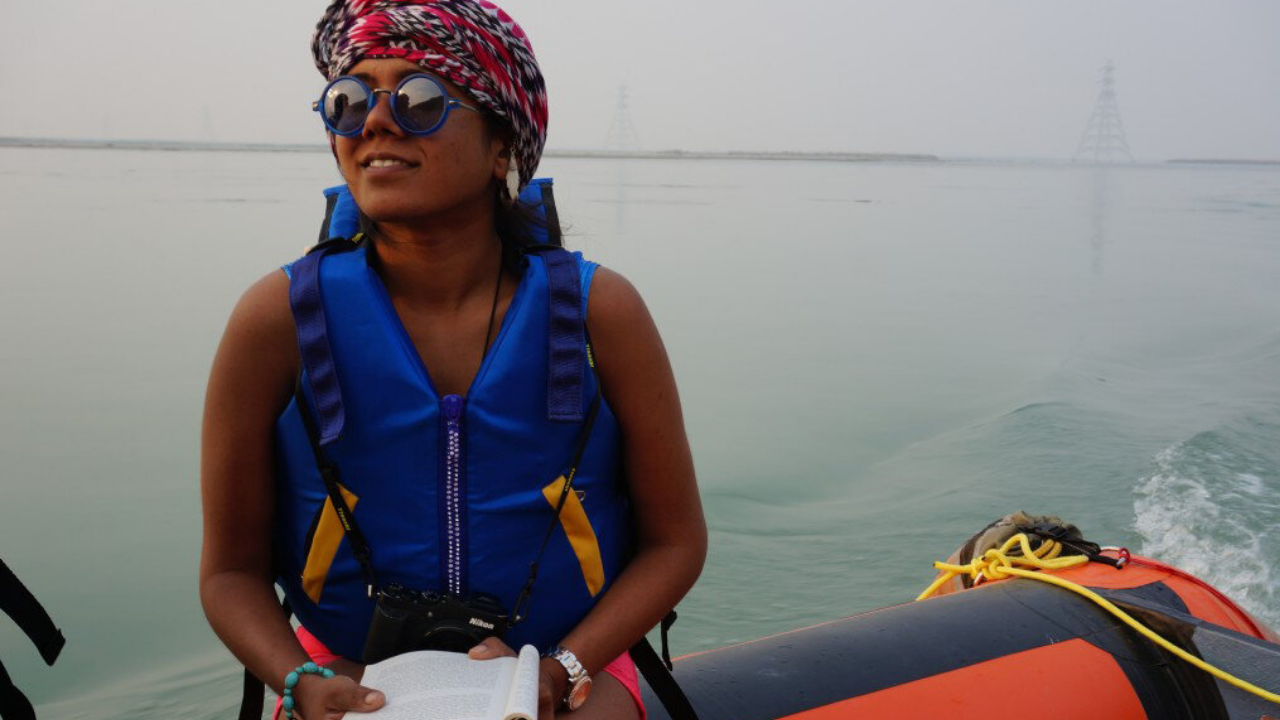 Mountain climber and motivational speaker Krushnaa Patil may be young, but she's assaying a million hats, each one more creative and different than the other. Read on to find out about her mountain conquests and adventure filled activities to help advance the issue of climate change in our world.
Its been 6 years since I first stood on the INK stage and talked about my most satisfying and  not to mention, death defying climb. Although I was the youngest Indian woman to climb Mt. Everest and also the first Indian woman to climb the highest peaks in Antarctica, South America and Europe, I still spoke about the first mountain I had ever climbed, Mt.Satopanth, 7075 mts in the Gharwal Himalayas.
That climb prepared me for all the climbs I had in my future, it was the foundation that allowed me to build a passion for climbing peaks around the world. Just as that first mountain had prepared me for every possible challenge ahead, the INK stage was my foundation for the speaking career that I was about to embark on.
INK is the grounding component of my 'high altitude' career. It helps me surround myself with brilliant minds that are all trying hard to change, innovate and aspire to a new world of possibilities. It is here where I get to engage with all the other professions that are very diverse from what I do. I now frequently speak at IITs and IIMs, sharing my knowledge from the mountains, in hopes that maybe I can give a fresh perspective to the engineers there and inspire them to think differently.  In many of my corporate talks, I do the same, where I sync my climbing challenges with business growth challenges that the corporate may face.
In 2012, Lakshmi (Founder and CEO of INK) introduced me to Liv Arnesen, the first woman to solo ski to the South Pole. Liv was putting together a team of women from around the world for the "Access Water" expeditions along with Ann Bancroft, the first woman to cross both polar ice caps to reach the North and South Poles, as well as the first to ski across Greenland. Liv and Ann were the first women to ski unsupported across Antarctica in 2001. As former teachers, they made this expedition into a climate change curriculum for schools and over 3 million students participated worldwide. Liv and Ann have now planned water expeditions on every continent, keeping in mind a 'Water Curriculum' for schools. To ensure more engagement with the children in each continent, they decided to recruit a member specifically for the expeditions, from each continent. And I was recruited from India.
We conducted our first expedition "Access Ganga" in 2015 and covered the entire 2700kms over 2 months, engaging with about 6000 schools in India. In 2017, we spent 3 weeks on the Yangtze in China, introducing the 'Water Curriculum' in China University and the local schools. We will be embarking on a 3-month expedition on the Mississippi this Sept-November, introducing our adventure based curriculum models to the American schools and universities, hoping to sow the seeds of systematic and sustainable methods on how we change our behavior towards river systems.
Over the years, I have had many titles attached to me since I became a mountaineer, roles that I have imbibed, shaping who I am today. I am a corporate speaker at companies, a motivational speaker at schools and a visiting lecturer at colleges in India and abroad where I talk a lot on gender roles. I am an UNCTAD facilitator, who lectures on social enterprise and entrepreneurship and also an environmental consultant with companies, where I am currently building toilets in the Versova slums using 30,000 PET bottles and 15 tonnes of non-degradable/plastic waste.
I also have my own company that is creating a digital space for mountaineering content. And example would be writing fiction stories about mountaineering for an online web series. The idea is to be able to share our high adrenaline pumping lifestyle to all those mobile screens out there, so our sport can have an audience too!
Besides all this I am a dancer, creating a production to narrate stories of my climbs through dance and choreography. Joi Barua a music composer, also an INK Fellow, has created a special song for my mountains and me. We will shortly be releasing it online. In this way, INK brings together all of our crazy souls to create magic, and share it with the world.
Being a mountaineer for me does not mean to just have the ability to reach the top. It is the ability to climb down and climb up again and keep repeating the process whilst being on the most fascinating path! And I plan to continue on my path henceforth as well.