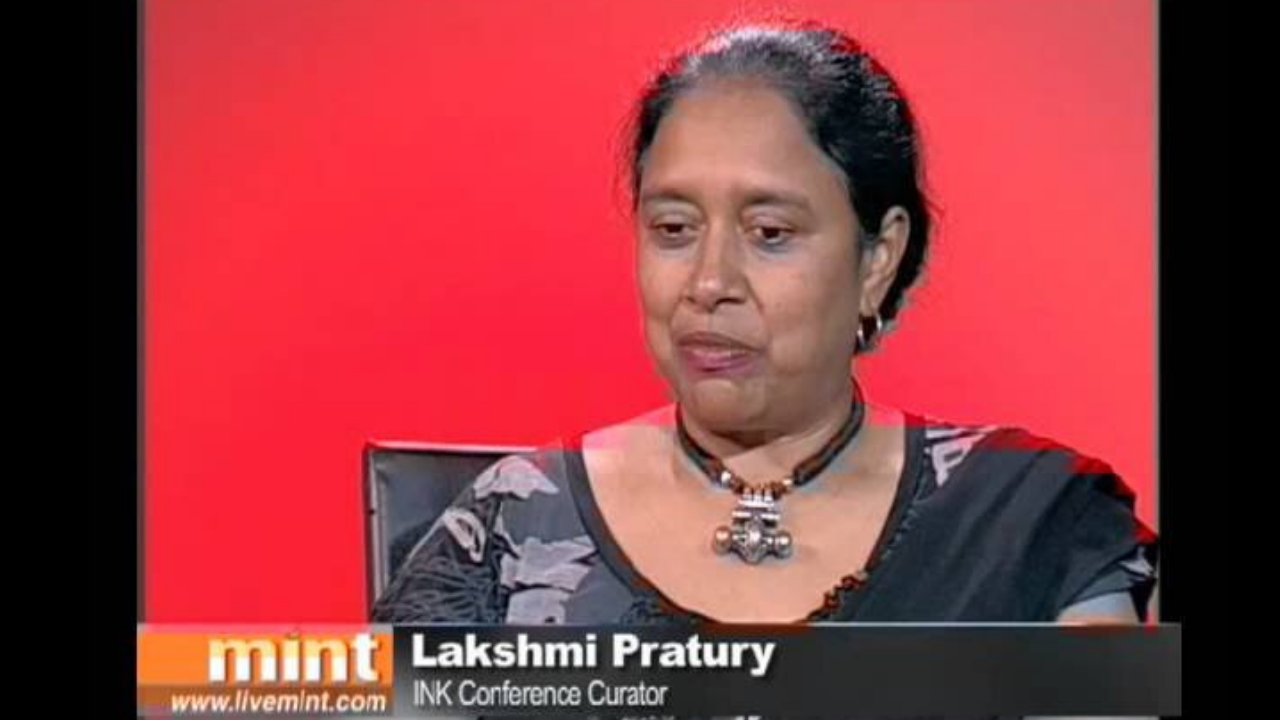 Mint's Malia Politzer talks to Lakshmi Pratury, the curator of the INK conference, about what inspired her to hold the conference in India and the potential she sees in Indian youth.
TRANSCRIPT OF THE INTERVIEW WITH MALIA POLITZER OF LIVEMINT
Malia Politzer: Today I have with me Lakshmi Pratury, the curator of the INK conference, to be held in Pune between October 11th and 14th. Lakshmi, can you tell me a little bit about the INK conference? what is it ?
Lakshmi Pratury: INK is a place where people come together to learn about what is happening around the world. We call it– it's the best brain spa there is. So, you learn a little bit of everything that is happening around the world, from art to architecture — to technology to business, who are some of the people who are doing cutting-edge work there. And we become a part of a community.
Malia Politzer: So, my understanding is — this is India's version of the TED conferences. So, first can you tell me Why you decided to bring TED to India in the first place?
Lakshmi Pratury: I wanted to do something here. And I believe in the intersection of corporate, community, and culture. I think they three should intersect very tightly. And that's really what we wanted to do. The original idea was– I was living in California, working there. I came here just to co-host TEDindia, and I was going to go back. But the year I spent really with people here — coaching them on their stories. I really realized that we are sitting on a treasure trove in India. we are just not telling these stories properly on a global stage. Not because we can't, it's just we don't feel it's necessary. I really feel it is necessary to tell the India's story in it's entirety .
Malia Politzer: And how is India INK different from TED? like what are the goals and how do they differ from the global TED conference? what's the India specific angle?
Lakshmi Pratury:
 I wouldn't say we are different from TED. I think we have added layers to it. Initially when we started, it was just to showcase the ideas. And, like TED did we had a 
Fellows program
, where we would bring all the young people — and we had a separate track for them, they would speak there, they would learn there etc., and  we had the main stage where we brought 40-50 great amazing thinkers, doers– who are all extremely accomplished.
But what we felt after the first year was — that in India we need to give more support to the youth because they don't have enough forums where they are taken seriously, and they are amazing thinkers. In fact, I feel I learn everyday from someone half my age and twice as smart — that's the only rule we have in our company about hiring.
And I felt we need to give them stage in a much more profound way. So, what we did was we said there will be no separate fellows track. we still have that where they get together, they learn. But, all the fellows, majority of them will speak on the main stage. So, we have blended in the conference to feature the youth in a much more significant way.
Malia Politzer: So, who is the key audience?
Lakshmi Pratury: The key audience is, you know… the thought leaders of India, the people from the corporations, communities,etc. And we do have a youth component. we bring about 20 fellows every years — who are very young, most of them can't afford to come to a conference like this on their own. But, they are all doing just amazing things in their own fields — so, we bring them for free. This year, for the first time we are doing a thing called INKlive, where we are webcasting the conference to a live location, 45 minutes away — where it costs someone only a 1000 rupees to come and attend that, and some of our speakers are going to go interact with them.
Malia Politzer: Why is there this huge emphasis on youth? I mean you have also spoken about this in previous interviews, how do you feel that youth in India right now are to contribute? and do you think they are different from previous generations?
Lakshmi Pratury: I think the youth today is very different. And, the reason first of all [that] I am passionate about the youth is that everyone does a business that is close to their heart. And to me, when I was young, and I started doing things out of the box — I remember feeling 'I was wrong', 'what was wrong with me'. Luckily I had a great home which was very unusual than any of my friend's had. I had a very supportive father, very supportive set of sisters who allowed me to stray out of the path, so to speak, and still feel okay… I'm okay, If I didn't have that, I really feel I would have lost my passion — I would have lost who I am .
And, I saw that happening a lot around me. where there are a lot of people, with a lot of passions and interests and capabilities, who couldn't pursue it because they didn't have that support structure. So, there is a personal passion for me — to let someone know 'there is a home here for you.. don't worry'.
Beyond that, from a business point of view, this is — we are at a very amazing time in India. anyone who is born after '91 is truly free in their mind, which is the most important thing. I was born way after independence, but somewhere in my mind I am not free, because I remember we were ruled by the British, I felt I had to leave here and go to America because the best education was there. So,  somewhere in the back of my mind I might feel, no matter what I say that someone else knows better than me, whereas, anyone born after '91 —  in 2000s there were teenagers, and they have seen India only rising, they have seen India growing.
And they feel that they can do anything they want, they don't have to leave India to pursue what they want. And, no matter what their pursuits are, there is some commercial angel to it that they can sustain themselves. If you loved Photography, in my time, what do you do?– there were like 3 papers and 1 television channel, and where do you go? — but today, if you want to be a photographer you can pursue many avenues.
So, I feel we are at an amazing tipping point in India. And, I feel we really have 5-7 years, and if we don't support the youth now, and give them this freedom to think out of the box — we will create robots, and they wouldn't be able to think out of the box. But, they can, and they are. So, that's why this is exciting for me to do this in India now, because I just feel I have gone back to school, there is so much for me to learn. And, the young people teach me all the time, my 8 year old teaches me all the times.
Malia Politzer: Thank you so much for joining us.
Lakshmi Pratury: Thank you.. Thank you..