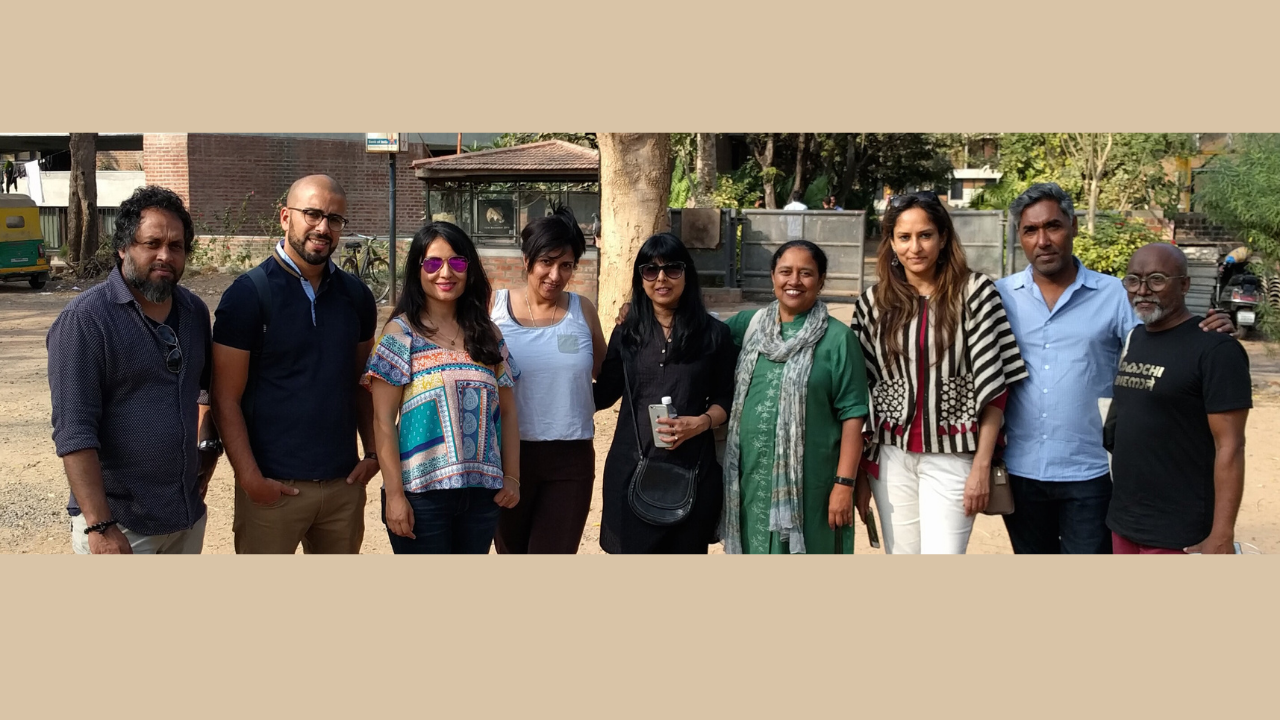 From the innovative and fun Maker Fest to MICA's  4th International Communication Management Conference (ICMC) on 'People, Planet and Profit: Synergistic leadership for social and communication innovations', January saw multiple events going on at Ahmedabad. Our CEO Lakshmi Pratury had the honor of being invited to both these events and today tells us about the magic of her trip!
It all started with meeting Bose, Riyas and Sunil of the Kochi Biennale fame on arriving in Ahmedabad on Saturday, 7th January. After a must-have dinner at Swati Tiffins, we went to the 37th Saptak Annual Music Festival and watched a live classical performance of the Gundecha Brothers followed by an amazing concert featuring Rahul Sharma and Zakir Hussain. This is a festival that has been going on for over a dozen years, free to the public ('standing room only'). Over 5000 classical music enthusiasts show up to listen to world class musicians, making it a visual feast for the performers. The concerts go on past midnight, sometimes till 2 or 3 AM and the space remains packed to the last minute. We stood for over an hour and a half and were thankful for the opportunity to listen to these music legends.
INK Inner Circle Member and my close friend Asha Jadeja Motwani, is the founder and host of the annual Maker Fest in Ahmedabad, a celebration where innovators, artists, inventors and makers from all over India come and gather to share their work. Sunday started with a home-made breakfast at Asha's home, followed by spending the day at the Maker Fest which had over 50 makers showcasing their projects. Mobile 3-D modeling, pop-up housing, apps that can control home appliances and take care of your plants remotely, robotic vehicles that can sort garbage, open source drones, 3-D printed jewelry – the choices were endless  and the energy was infectious! We also saw a robot that can follow you and carry your luggage and a few other apps, which were designed by Yash Bansal, INK Fellow Shashwat Ratan's protege. It was inspiring to see that a lot of the apps were made by high school students. I spent all day visiting the booths and ended up staying till the closing ceremony at 8 PM.
On Monday, I went to MICA for their 4th International Communication Management Conference (ICMC), to address their young scholars and researchers. MICA is dedicated to developing leaders in strategic marketing and communications; their dean is my talented friend Preeti Shroff. After distributing certificates to young scholars, I met INK Fellow Nirali Kartik and her family. We also met Pravin, the resident art teacher who teaches a course 'ABCD: Any Body Can Draw". At night, Preeti hosted a dinner for all the speakers. Over 15 members, including communications and marketing deans, World Bank execs from around the world, and key MICA staff joined us. As usual, I suggested doing "circle time" and was truly touched by the stories of all those present. And the connections were amazing. One of the members talked about doing research on the Blind People's Association of India in Ahmedabad that was started by 5 blind men and grew to be a huge institution. The next person who spoke said that one of the 5 blind men who started it was her uncle! Two completely different people from different continents connected just by sharing their stories. It was the highlight of the evening.
On Tuesday, had breakfast with the President of MICA, Madhukar Kamath and other council members including Santosh Desai, Sandeep Menon. The conference started at 10AM and I gave the keynote address on 'Communication for Social Innovation'. I was followed by Dean Ernest J. Wilson III of the Annenberg School for Communication and Journalism, USC who spoke about the third space of marketing – the need for soft skills in business. Finally, Prof. M.K Asante wowed the audience by sharing his journey from an impoverished background to being the youngest tenured professor at Morgan State University. (Read more on the speakers here).
After lunch, I went to the most awaited meeting of this journey – having chai with the legendary Ela Bhatt and her daughter-in-law social entrepreneur par excellence Reema Nanavati at their home. I interviewed Elaben in 2002 or 2003 at American India Foundation office in the Bay Area. She shared her journey of starting SEWA with a handful of women and how they designed it to be one of the most powerful self-employ organisations. When I found out that Elaben was learning Hindustani classical music, I had her sing, probably for the first time during my interview. Today, they have close to 10 Lakh members. Both of them embody Gandhian principles and Elaben looks still as elegant as she did 15 years ago when I first interviewed her. It was a fitting closure of the trip to share private time with two women, who I consider rock stars and Billionaires of Moments.