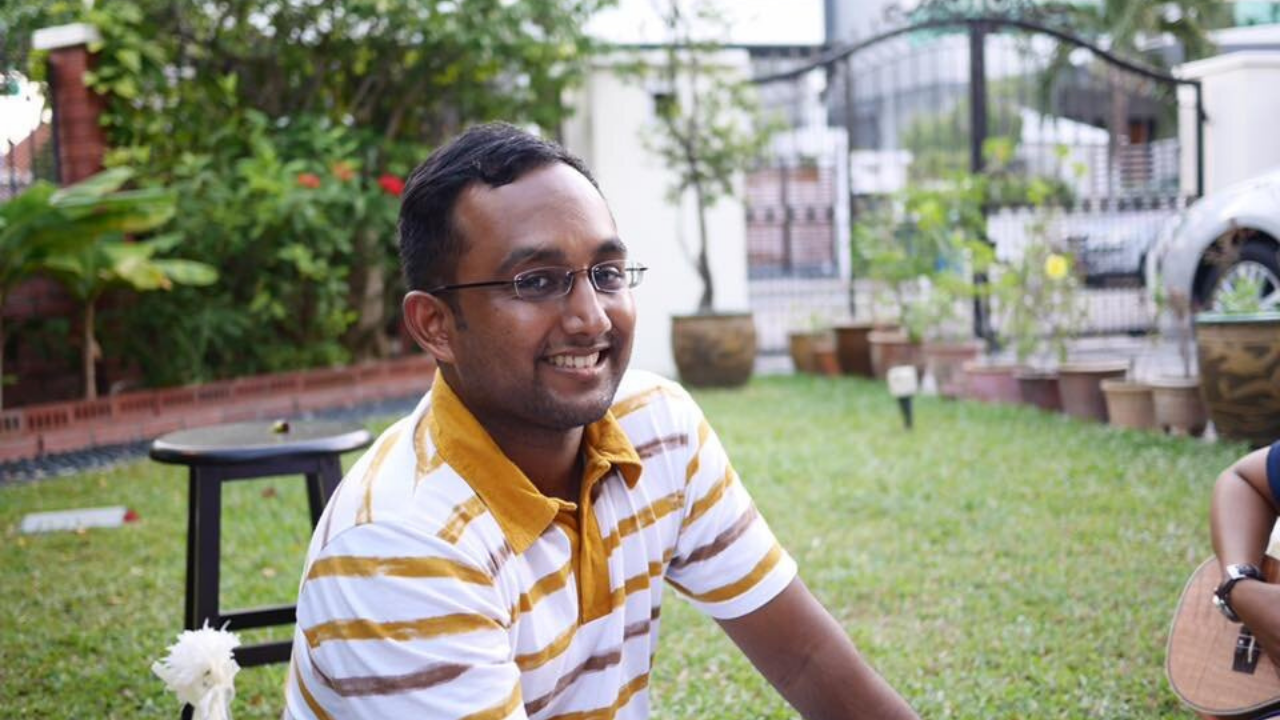 One of the pioneers of the 'Maker Movement' in Singapore, Veerappan Swaminathan takes us through the ins and outs of what it truly means to be a 'maker', the community spaces and sustainable initiatives he has set up to encourage the maker culture and the importance of this type of alternative education in Asia.
1. What has it meant to you to be an INK Fellow this year? Tell us a little about your experience at the 2016 INK Conference.
Being an INK Fellow was an incredible experience. It was an amazing introduction to the smartest, most caring and passionate people in India and from around the world. To be honest, I was totally feeling the "imposter syndrome", because I started to wonder how it could be possible to match up to all these folks. It was really hilarious to find a similar feeling shared by other Fellows as well! It was a real turning point for me, to realize that everyone was walking their own journeys and ever so often, we're lucky enough to cross paths with others doing beautiful work. Being an INK Fellow and being present at the 2016 INK Conference was a lucky moment for me.
2. As one of the kickstarters of the maker movement in Singapore, you've been involved in a variety of activities to push for the cause. Tell us a bit about the ventures you've started, in particular, the Sustainable Living Lab and its goal?
The thing with makers is that each and everyone of them is possessed with a strong streak of independence. This is great for breaking out of the norms, but not very useful for building up a powerful movement. The basis for movements generally start with having a strong grassroots support that morphs into the creation of strong institutions that form a complementary ecosystem which can continue to carry on the work.
To promote the maker movement, one of the sacrifices I made quite early on was to reduce my involvement in "making" per say and spend more time building up maker institutions. Till date, I've started the Sustainable Living Lab (a social enterprise), OneMaker Group (an events company), Makedemy (a provider of maker education) and the Singapore Makers Association (a trade association for Makers). With respect to Sustainable Living Lab, the goal is to advance sustainability goals with the assistance of the maker movement. At the time (perhaps even now), it seemed to me that many makers were using their immense talent for pursuing fun projects when they could be making significant impact through more socially useful projects. This was particularly so because the dominant US narrative for the maker movement was founded on the pursuit of personal interests and freedom. While the narrative may have been useful for the US, in Asia, I felt a more purposeful narrative was required.
Hence the term "purposeful making" was born and it describes perfectly the sort of work that we do with the maker movement through the Sustainable Living Lab. Some of the work that we have done include running a nationwide repair training program to address the 'buy and throw away' culture in Singapore, running a regional zero waste hackathon in 10 southeast Asian cities, developing sustainable corporate gifts that support vulnerable communities and converting upcycling from a craft activity to a cottage industry in its own right.
3. You also operate a makerspace in Singapore called CommunityLab@UWCSEA. How does it work? Tell us about a day in the life of a maker working out of your makerspace.
The Community Lab@UWCSEA is a pretty special venture for us. It's the 3rd makerspace I've personally setup but it's the first makerspace that brings both a school community and the general public together. The purpose of people coming together is to advance projects related to environmental, social or economic sustainability. Unlike a regular makerspace, we don't offer memberships and instead engage in barter trade for people to use the space. We can do this because the operating expenses are covered by workshops, events and products that come out of the makerspace.
As we're  a typical space, we get sudden bursts of activity when makers come into the space to complete projects. Our busiest days are during the weekends where we have about 30-40 people in the space at a time. You'll find people learning how to repair electrical appliances, taking apart pallets to reclaim wood for projects, working on some hardware programming for an environmental sensor or even putting shredded bottle caps through our injection moulding machine.
4. What insights can you give us on the importance of maker education in Asia? Why do you think it is necessary and what changes do you think will occur on incorporating it in our lives?
I am generally of the opinion that value derives from scarcity. We are at a stage of economic globalization where there is a tremendous amount of narrow skill specialization – which is really suitable for a factory style manufacturing economy. However, with a consolidation of manufacturing in China, not to mention increasing automation reducing the total pool of such jobs in the first place, young people have to think very differently about how to create sustainable value and live a "good" life (whatever they may deem that to be).
I think there is still tremendous opportunity for sustainable value creation, particularly due to the mess we still find ourselves in – immense income inequality, climate change, super resistant bacteria, food & water insecurity and so on. However, to successfully create value in these areas, a different mindset will be required – a Maker Mindset. It is a way of thinking that calls for a personal belief in the ability to learn, the intrinsic motivation of craftsmanship and a culture of open sharing. I believe maker education is the best way to expose young people to the maker mindset and enable them to unlock sustainable value creation in the next decade.
Maker education is particularly useful for Asia, with its huge populations, huger problems and massively untapped potential. It means a way for young people to define success on their own terms instead of relying on the trifecta of being an engineer/doctor/lawyer as the means to a good life. It also offers an opportunity for young Asians to advance from merely being mass consumers of technology to learning to create with technology, thereby reducing the technology asymmetry that underpins global power imbalances between developing and developed nations. Finally, maker education offers tangible hope for a better future in an era of uncertainty and global upheaval.
5. Lets say someone is interested to be part of this movement to spread the maker culture, but doesn't know how or where to start. What advice can you give them?
I would suggest looking through www.instructables.com and  www.makezine.com. Pick just one of the thousands of maker projects listed and complete it over a weekend  best to do it in a short burst. Then reflect on your experience and tell the world about it – take pictures, videos, write blogs. Did you feel a rush? Yes? Then the maker bug has bitten you. If you want to be part of the movement, you have to make! And get others around you to do so as well.
6. What are you excited about this year? Tell us a bit about what's on the drawing board for you.
This year in particular, we're very excited about two initiatives. We're currently working on a national partnership with a tech giant to bridge the technology divide among young persons from low income families in Singapore. Income inequality is high in Singapore and there is growing proof that social mobility is decreasing as well. As Singapore moves closer towards a tech based economy, it is likely that such gaps will increase and result in social instability.
The other initiative we are working on across all our programs is to move from a model of conducting workshops to creating learning communities that are self-sustaining and can continue to grow beyond our initial engagement. We're piloting this concept with the formation of Community Learning Clubs where people interested in certain topics come together physically and go through facilitated online course material which is supplemented by contextually specific information. It also means that we have to rethink from ground-up how we conduct all our workshops and classes.
Follow Veerappan's work with the Sustainable Living Lab through the website here.
UPDATE: INK is conducting a host of 'Make-a-thons' in 5 colleges across India, from January till March, as part of our college program INK Makers 2017. The Make-a-thons will culminate in a Makers Finale, where one team will walk away with the grand prize! Keep a watch on our website for real-time updates!