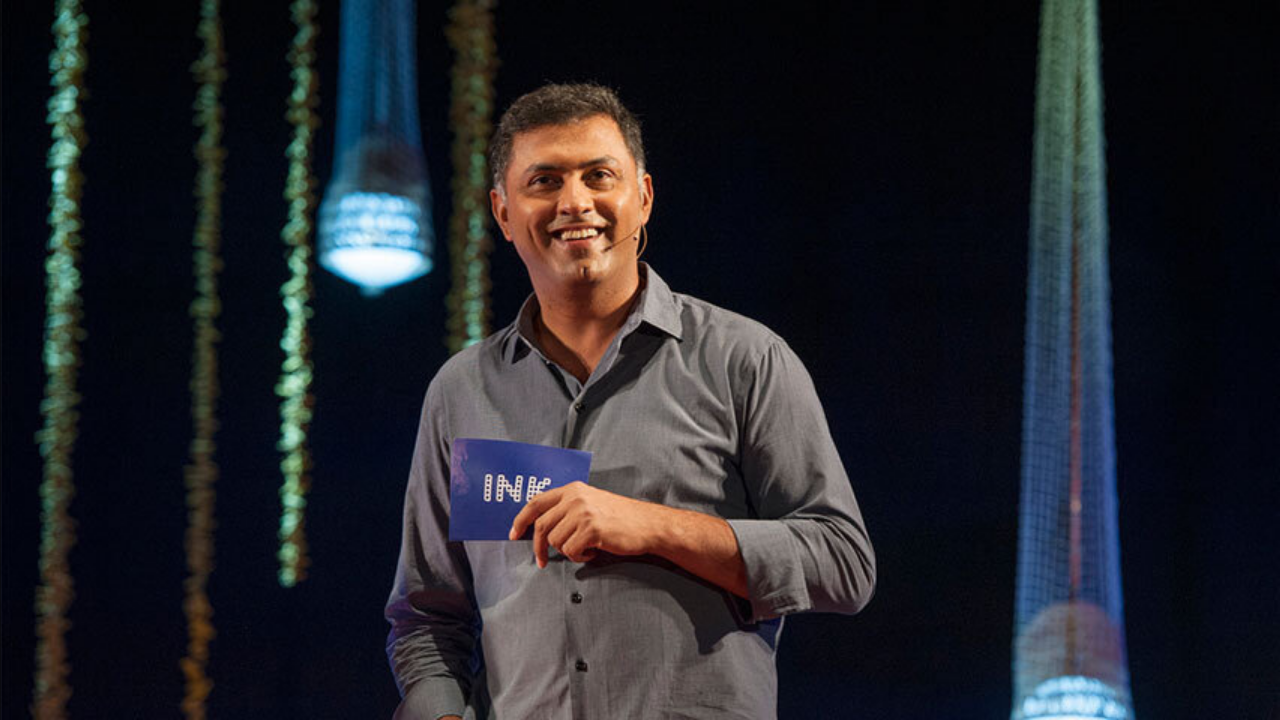 Session 5: Wisdom, Crowd
This session was all about the relationship between wisdom, which often evokes something personal, and the crowd. In order to reach true wisdom, we must honor our personal wisdom while accepting the wisdom of our communities, or crowds.
To kick off this session, Lakshmi introduced her co-host, Nikesh Arora, Senior Vice President and Chief Business Officer at Google. Nikesh believes that the secret to his success has been his restlessness and quest for change as his only constant He confesses that he never had a plan, and confessed, "Once your restlessness is satisfied, you are no longer restless, and you must become restless again."
Nikesh then introduced the first speaker,Alicia Souza. The extremely talented freelance illustrator explained that her inspiration come from simply noticing- the people around her in a traffic jam, the way a chaiwalla scratches his armpit, every small detail of daily life. Her illustrations speak to a broad audience because, as she explained, the humor is not in the act itself, but in the recollection of the act. When presenting everyday imagery, Alicia is able to make the viewer giggle by pointing out and recalling things we may not notice ourselves. She explains that to her, noticing is 'more like an insight', and that it leads to a wealth of other thoughts and ideas.
Sunil Thankamushy is a veteran of the gaming industry who shared some fascinating insights on how to create interactive and educational gaming content for children. He began his talk with a little bit of wisdom for everyone who has wanted to leave their job- if you feel like your work is turning into a job, it is time to either do something about it, or find another profession. After moving to Los Angeles, Sunil became a part of a very inspiring crowd in the gaming industry, and started working on games such as Call of Duty. Although the work was rewarding and satisfying, when he became a parent, Rohan began to ask himself- if this all I can do with gaming? He began working on games that were captivating and educational, and would teach kids how to be compassionate and caring, especially towards the environment. Sunil then showed us a demo of his incredible game, Pangaea, which allows children to explore and interact with a prehistoric world. Through his tireless work and innovation, Sunil has paved the way for more meaningful entertainment sources.
Following Sunil's presentation, Lakshmi sat down with Scott Cook, the founder and the Chairman of the Executive Committee of the Board of Intuit. Lakshmi and Scott discussed how Intuit came to be, Scott's radical take on leadership in a company, and some of the amazing examples of how Intuit is revolutionizing software and access to information. After working at Proctor and Gamble, Scott took his knowledge of product development and market research to a field that was devoid of such skills: computer software. He and his partner began testing software with housewives on home computers in the 1980s- something that had never been done before. They were able to refine their software and make it more user-friendly, so as to reach a larger consumer base. Scott and Lakshmi then discussed how Scott treats decision-making processes at Intuit. Every idea is heard and experimented with- this decision-by-experimentation process has completely changed how Intuit is able to grow and change. Scott told the audience several stories about how his team in India is using the experimentation mindset to make big changes in the lives of farmers throughout India.
Every now and then, an artist comes along that can capture the essence of humankind in a larger context. PS Jalaja is one such artist. She sat down with Lakshi to dicuss her life story and the meaning behind her breathtaking artwork. As a child, her carpenter father encouraged her interest in the arts and empowered her to follow her passion. Her artwork is impressive for its scale-her piece for the Biennial in Kochi was 30ft long and 4 ft wide- as well as its content. PS Jalaja is interested in exploring the duality of man as an individual with unique emotions, and also as a part of a larger context, a queue, and history. Her vibrant works had the entire audience eager to follow her career to see what she does next. After displaying some impressive artwork from PS Jalaja, Lakshmi discussed the fascinating journey that INK has been on since its inception. What began as a conference has evolved into so much more- INK is now comprised of 3 components: INK media, INK learn, and INK act. Each of these components have come into their own over the past few years, and are continuing to grow and change the way we think about conferences. Lakshmi invited everyone to join her and the entire INK team on this journey.
Balazs Gardi, the frontline photographer, shared some incredible images and thoughtful insights with the audience. Before diving in to his talk, he shared some jarring images and audio to illustrate what it is like to live and work on the front line. Balazs has photographed the war in Afghanistan while following a team of US Marines hunting for Osama bin Laden, and his experience there shaped his next project immensely. He explained that 'war is just the tip of the iceberg'- while in Afghanistan, be began to wonder about where the water given to the soldiers cam from. Thus began his most recent project, which has taken him to the frontlines of the global water crisis. Balazs shared haunting images of draught, water contaminated by untreated sewage, and the devastating effects a lack of clean drinking water can have on a community. He hopes that once people are aware of how dire global water crisis is, they will begin to change their habits. Balazs ended his presentation with a simple statement- 'the story of water is the story of how we treat each other.'
After this serious talk, Usha Uthup gave a crowd-pleasing performance with her rendition of Skyfall. She was then joined by her daughter and her granddaughter – something that has never happened before in the history of her career.
After that special musical treat, the Chief Minister of Kerala Oommen Chandy graced the stage and shared his appreciation for what INK is doing. He then kindly asked that we return to Kerala for next year's conference. LAkshmi Pratury took this moment to announce that the next edition of the INK Conference, INK2014, is indeed planned in Kochi, Kerala!
View more pictures from INK2013 Here
Click for more details on