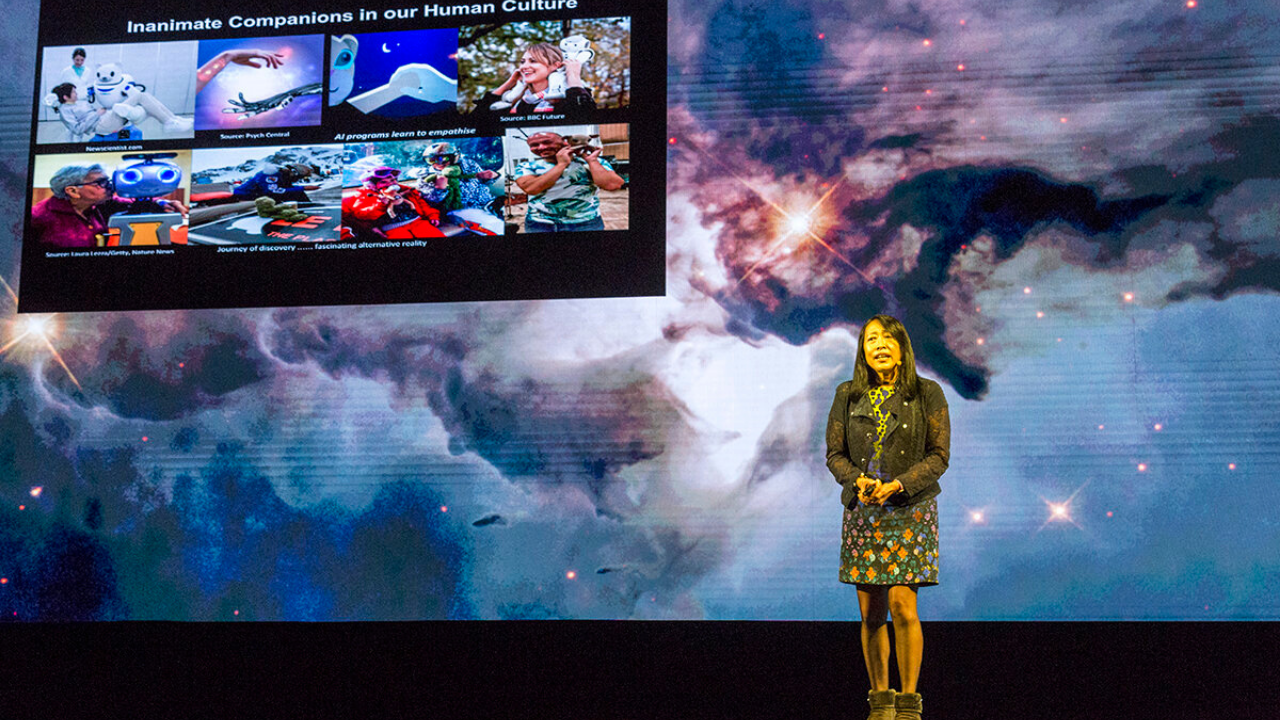 Titled "Giant Leap: Thrilling potential of AI and Robotics", this session explored the convergence of AI and Robotics and how they'll change the way we work and live along with discussing the technologies, and their social and legal implications. It was co-hosted by Sunil Rao, Partner, Lightspeed India Partners Advisors.
Future of companionship

Alan the AI : "Spend a little time with me"
And we did!
Susan Lim, Co-chair of the Global Advisory Council of the International Society for Stem Cell Research (ISSCR), with Alan, truly did open up our minds and imagination to what companionship could mean! It was all about blurring the lines between people and inanimates, the reality of science fiction, and a quest for imagination.
Everyone does want to believe in a little magic and Susan cast a spell on us leaving us all fascinated with the world of AI. INK Fellow and musician Joi Barua also took the stage with Susan, introducing a unique and beautiful collaboration with his music and her work, the blending of song and inaminates!
Robots are here, Superman can take a break!

"We need to create the future that we want."
Saving the world is not fiction anymore. If an inflatable plastic tube is capable of lifting strong objects, putting out fires, and unblocking pipes, do we really need Superman?
Andra Keay, Managing Director of Silicon Valley Robotics, told us why we need robots. Did you ever think that the nanobots and Baymax from Big Hero 6 could actually be real? We have agility robots that deliver parcels, robots that take care of the inventory, robots that monitor your medicine, and so much more! And no, there will not be a "Robot Apocalypse" because these humanoids really aren't that great with basic functions like standing up or opening the door. "In case you feel a robot is coming to get you, just keep the doors closed", Andra says jokingly.
Discussing education and technology
A panel discussion moderated by Sunil Rao followed, with Saad Nasser, Co-Founder of Ati Motors, and Aditi Avasthi, Founder & CEO of Embibe.
Saad is a science prodigy who is just 15 years old and is building an autonomous cargo vehicle. At Ati Motors, they are building machines that are powered by Artificial Intelligence and Machine Learning. Instead of having to code every single thing, these machines will start to learn on their own. That is the magic of AI and ML. These vehicles can be used by the government to manage a lot activities like sweeping the road, collecting garbage, etc and even in a warehouse.
Aditi's Embibe has a hyper personalisation engine that's developed a way to be with the child's learning journey every step of the way. By understanding the extensive amount of data, Embibe is making powerful knowledge interventions. The only metric that's important is understanding what the child needs and the child's learning style. Once you know this, a tailored education will facilitate massive learning.
Accelerating the AI revolution
Nivruti Rai, General Manager of Intel India, calls out AI adding intelligence to humans – adding memories and accessibility to the memory of humans. AI is helping us learn the way a brain works to help the machine, as opposed to in the past where we were building machines to help the brain! It's transformative. There is a massive amount of unstructured data in India making it the perfect hotspot for AI mining! AI thrives on a plethora of unstructured data, Nivruti says. So, let's begin the symbiotic relationship with AI where it thrives on our unstructured data, and we on its efficiency.
When we have a multitude of innovative technology at our dispense, we can revolutionise the way the world works. This session was all about that opening our eyes to that!