No one can stop an idea whose time has come
The Hon'ble Sri Kalvakuntla Taraka Rama Rao, Industries and IT Minister of Telangana, speaks about the power of ideas and what India needs today — our own local solutions catered to the diversity and challenges that lie before us, unique to our society alone. He stresses on how we do not need venture capitalists but 'adventure capitalists', and outlines a 3D mantra –  Digitize, Decarbonize and Decentralize for a paradigm shift.
The Minister certainly was the headliner of Road to GES: Beyond Boundaries, ending his talk with a inspiring quote, "The best way to predict the future is to create it. We live in an age of uncertainty where ideas are the only tools to help". Listen and be enthralled by his powerful oration!
Recorded at Road to GES 2017, Hitex Exhibition Centre, Hyderabad
About the Speaker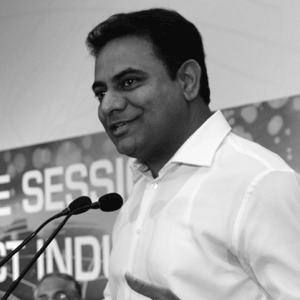 ITEC Minister
Sri Kalvakuntla Taraka Rama Rao, is the current Industries and IT Minister in the Government of Telangana. Popularly referred to as KTR, K.T. Rama Rao comes from a family of politicians, his father being the founder of the Telangana Rashtra Samithi. KTR holds dual masters degrees in biochemistry and business management from CUNY. He represented his party and directed his efforts in convincing India's Central Government to pass the Andhra Pradesh Reorganisation Act in 2014. Under his leadership top corporations such as Apple, Google, Amazon and Uber, have set up their largest bases outside the US in Hyderabad.
View Profile