The call of the Bauls
At INK2012, the contemporary folk music group Oikyotaan, fronted by Bonnie Chakraborty, performs captivating music of the Bauls, the mystic minstrels of Bengal.
Recorded at INK2012, Pune, India
About the Speaker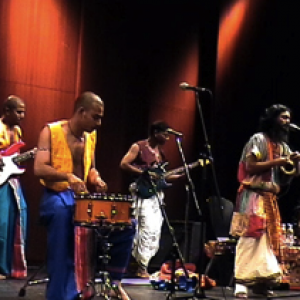 Folk music platform
Oikyotaan, a Contemporary Folk Platform founded by, Biswasjit "Bonnie" Chakraborty, aims at performing, archiving and spreading the infectious philosophy and melody of Indian Folk Traditions. The sound is rooted in the rhythm and melody of Indian folk music, with a special emphasis on Baul music from Bengal. Their foundation of sound is created, using an equal set of unique components from Indian Folk-Classical and other forms of Contemporary music. The magic of pulsating rhythms, weaving themselves together with soul-stirring melodies and spinning a web of lyrical arrangements. Oikyotaan aims at slipping through all the doors, being promiscuous with their music and simply spreading magic philosophy of the BAULS!! Centered around BAUL music from Eastern India, the sound concentrates on building lyrical phrases within a layered rhythm of Contemporary, Folk and Classical instruments. Elements of different Folk forms like Baul from Bengal, Mand from Rajasthan; Chaita and Neergun from Bihar; Carnatic Classical from South India are infused together to give birth to a new genre of Global Indian Contemporary Sound and Space, which is lyrically very rich in spiritual and esoteric content !
View Profile