Spirit of Mumbai
Musician Abhijit Jejurikar got together an enthusiastic group of children from the Dharavi slums in Mumbai to form the band Dharavi Rocks. Creating music out of waste materials like drum barrels, paint cans and plastic bottles, the ensemble has everyone up on their feet at INK2014.
Recorded at INK2014, Mumbai
About the Speaker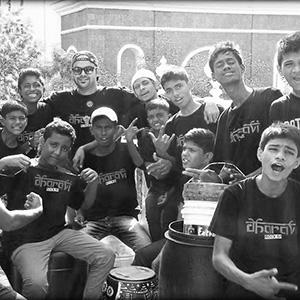 Junk Percussion Band
Dharavi Rocks is part of an educational project of Acorn Foundation, working for the welfare of slum children and waste collectors/rag-pickers. The band started a few years ago with children in the age group of 7-17 years. With a mission to give slum kids a voice by initiating them into music, Dharavi Rocks create music out of all the waste material like drum barrels, coffee shakers, paint cans, plastic boxes and all other type of junk stuff that we can find in the areas of Dharavi Slums emphasizing on the concept of Recycle, Reuse & Respect. Abhijit Jejurikar a musician at heart is an active volunteer at Dharavi Rocks. His little dream called 'Dharavi Rocks' is a culmination of a golden heart meeting his insatiable thirst to spread the healing, transformative magic of music with the thought giving back to the society. His knowledge imparting methods are exemplary, wherein he teaches music, in a way that it helps all the children towards recognizing their talent quotient. He is of the belief, that this learning tool will inculcate discipline and help kids in finding livelihood opportunities in future. Abhijit does duty in the corporate world but his heart is deeply entrenched in melodic, musical strains - somewhere far removed from the humdrum of manic Mumbai. He has been taking his music classes after work hours twice a week in Dharavi with managing perfect blend of Work life balance. After 3 years of selfless efforts, Dharavi Rocks is now become his identity and it has become a strong brand across India and few international markets too.
View Profile