Ramachandra Budihal: Digitizing history
If you thought history is best left alone between the covers of history books, here's your chance to think again. Watch Ramachandra Budihal as he marries state-of-the-art technology with ancient wisdom.
About the Speaker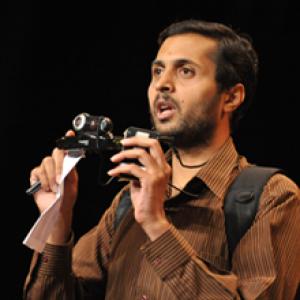 Heritage Imagineer
A software architect at Wipro Technologies, Bangalore, with geek credentials going back two decades, Ramachandra Budihal drew from his work in digital image processing and multimedia to co-found the Mahabharata Samshodhana Pratishthanam (Mahabharata Research Foundation), a non-profit organisation on a mission to digitize and protect works of Indian heritage and make them relevant to the contemporary society. One of the foundation's projects focuses on the Mahabharata, India's most famous epic. Budihal is helping develop and compile an encyclopedia of the Mahabharata - 18 volumes - that's set to debut in 2012. With the foundation, he also devised and built Samanveshak, a digital document-scanning laboratory housed in a bus with state-of-the-art scanners, satcoms and telepresence. To date, the team has digitised and documented more than one million folios of ancient medical manuscripts from remote areas in Tamil Nadu and Kerala. Ramachandra is also recepient of a presidential honour, 'Maharishi Badrayan Vyas Samman' (2007), conferred by then President of India Dr Abdul Kalam, in recognition of his breakthrough work in the area of cultural heritage preservation and promotion using technology.
View Profile