Raghava KK: How to burst your mind bubbles
Raghava lives his life in a big art bubble and keeps popping it to reinvent new ones. With his latest iPad app, which is a revolutionary interactive art toy, you can not only rub the cartoon character's belly and play with the toilet paper, but also record your own version of the story and in the process gather multiple perspectives and keep bursting your bubbles.
About the Speaker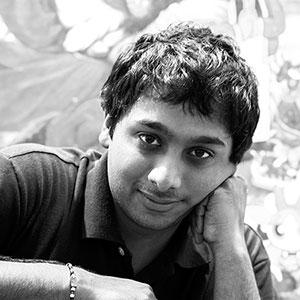 Artist
Raghava KK is a renowned Indian artist and a tech entrepreneur, named by CNN as one of 10 most remarkable people in 2010. He was inducted into the National Geographic Society as an Emerging Explorer for bringing together science, art, and technology in the field of exploration in 2013 and he recently wrote the foreword for Mass General Hospital's textbook on psychiatry, in which he discusses the importance of cultural sensitivity, perspectives, and empathy in psychiatry A four time TED speaker, his iPad art book Pop-it, launched at TED, shakes up the concept of the ideal family and presents children with multiple perspectives at the earliest stage. The book won several awards, including a Best of 2011 award from Kirkus. Currently, he is the CEO and co-founder of Flipsicle, a tech startup out of New York and Sweden, which brings together creativity, technology, and empathy. UNTOLD STORY: As a school kid, Raghava used to perform magic shows at children's birthday parties to earn pocket money.
View Profile