Poetry in Images
Watch as poet Bina Sarkar, fashion visionary Sangita Kathiwada, and musician Joi Barua come together for a soulful poetry reading session. The crisp 10-minute video shares poems from Bina Sarkar's book,' 'When Seeing is Believing: Poetry in Images' where she responds as a poet in verse to mesmerizing imagery of international artists and photographers.
Recorded at INK2018, HYDERABAD
About the Speaker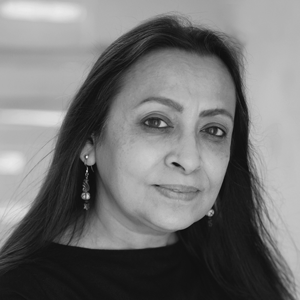 Poet
Bina Sarkar Ellias is founder, editor, designer and publisher of International Gallerie, the award-winning global journal encouraging unity in diversity, since 21 years. An art curator, poet and fiction writer, her book of poems Fuse, was taught at Towson University, Maryland, USA, and has a Chinese edition, while poems from it have been published in Arabic, Urdu and French. Her recently-launched book of poems When Seeing Is Believing is a tribute to the visual image. She has received a Fellowship from the Asia Leadership Fellow Program, Japan, 2007, the Times Group Yami Women Achievers' Award, Bombay, 2008, and the FICCI/FLO, Calcutta, 2013 Award for Excellence in her work.
View Profile