Learn, unlearn, relearn
In this punchy and energetic presentation, Facebook India head Kirthiga Reddy divulges how her daughters force her to push her own boundaries – and, at times, to rethink everything she knows. Kirthiga presents compelling evidence that the world is "going visual" and explores disruptive changes in the way we communicate. With a moving video from Facebook Egypt, she also showcases the power of technology and community to help us destroy old paradigms and create newer, more gender-equitable ones.
Recorded at INK2015, Mumbai
About the Speaker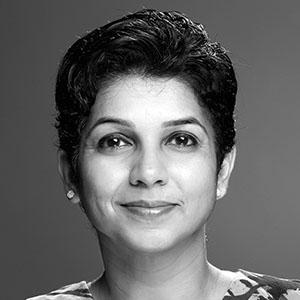 Managing Director, Facebook India
Kirthiga Reddy is the Managing Director of Facebook in India. She has been featured in Fast Company's 100 Most Creative People in Business 2013, Business Today's hottest young executives, Fortune India's Top 50 Most Powerful Women in India, #1 in IMPACT's 50 Most Influential Women list in media, marketing and advertising 2015. Kirthiga is also on the Governing Council of the Internet and Mobile Association of India (IAMAI). Kirthiga joined as the first Facebook India employee in July 2010 and set up the India operations in Hyderabad. Prior to Facebook, Kirthiga was VP and GM of SaaS-based Consumer Security business unit and India operations at Phoenix Technologies. She led a global team located in US, India, Japan, Korea, and Taiwan. Kirthiga has also held the position of Director of Product Management at Motorola, Director of Engineering at Silicon Graphics and Associate at Booz Allen Hamilton. She holds an MBA from Stanford University, where she graduated with top honors as an Arjay Miller Scholar, an M.S. in Computer Engineering from Syracuse University and a B.E. in Computer Science from Ambedkar University, India. She serves on Stanford Business School Management Board and Indian School of Business (ISB) Next Generation Leadership Board.
View Profile