Curating the Kochi-Muziris Biennale
In a conversation with Lakshmi Pratury, renowned contemporary artist and the curator of Kochi-Muziris Biennale 2014, Jitish Kallat shares the themes that inspire his work.
Recorded at INK2014, Mumbai
About the Speaker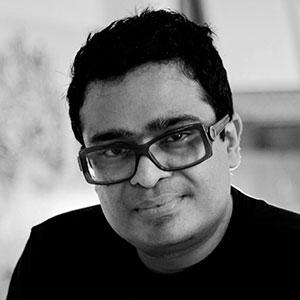 Artist
Mumbai artist Jitish Kallat's work takes form in a wide variety of media including painting, sculpture, site-specific installations, animation videos and photography. Jitish's work often overlays disparate historical dates, everyday images and events into interconnected palimpsests and portrays themes like time, sustenance and mortality. Kallat's work has been exhibited widely at museums and institutions including Tate Modern (London), Martin Gorpius Bau (Berlin) and the Institut Valencia d'Art Modern (Spain) to name just a few and has been a part of the Havana Biennale, Gwangju Biennale, Asian Art Biennale, Curitiba Biennale, Guangzhou Triennale and the Kiev Biennale amongst many others. His recent solo exhibitions were held at the the Art Institute of Chicago, Bhau Daji Lad Museum in Mumbai, the Ian Potter Museum of Art in Melbourne, and the San Jose Museum of Art. Jitish Kallat is also the curator of Kochi-Muziris Biennale 2014.
View Profile