Ancient chants for world peace
In this grand musical showcase, composer Kannikeswaran opens up the possibility for world peace through ancient prayers. Collaborating with vibrant young kids from the Green Batti project, Dharavi Rocks, Abhijit Jejurikar and Boombay Djembe Folas as they perform the Indian verses in the traditional western choir style.
Recorded at INK2015, Mumbai
About the Speaker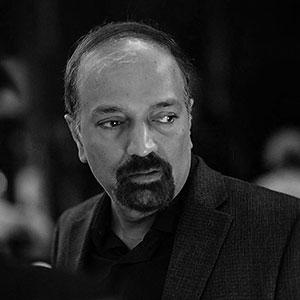 Composer
Dr. Kanniks Kannikeswaran is an award-winning composer, music educator, and scholar whose musical productions have been performed at venues around the globe. His productions are consistent with his vision of building bridges across cultures by celebrating threads of commonality. He is the recipient of several awards such as the McKnight Fellowship, the Ohio Heritage Fellowship, the Just Community Award, a lifetime achievement award from the Geeva Foundation, the Hindu American Foundation and more. Kanniks is credited with creating a new sound -- the coming together of Indian voices with traditional western choirs. In doing so, he has broken new ground. The Indian-American choral movement he pioneered has caught on in several cities. His work spread to Europe where the first ever Surinamese-Hindustani choir founded under his leadership performed his work 'Ragas in Symphony' alongside the Dario-Fo choir and the Residentie Orkest in the Hague, Netherlands. Kanniks has the distinction of having had his composition 'Mahavakya' performed by his daughter Vidita Kanniks at the historic reception in honor of Prime Minister Narendra Modi at the Madison Square Gardens in New York to an audience of about 18,000. His magnum opus 'Shanti A Journey of Peace' -- a contemporary oratorio for large choruses, a chamber orchestra, dances and visuals recently completed its 10th anniversary in Cincinnati, featuring mixed choruses, western and Indian instrumental ensembles, dancers and more. Shanti has touched the lives of over 1500 performers over the last 10 years. Kanniks is the founder of Greater Cincinnati Indian community choir, which won two silver medals in the prestigious "Champions Category" in the 7th World Choir Games. Kanniks' musical capabilities have led him to collaborate with renowned artists such as Lakshmi Shankar, The Gundecha Brothers, Mallika Sarabhai, the Cincinnati Chamber Orchestra, and the Cincinnati Pops.
View Profile